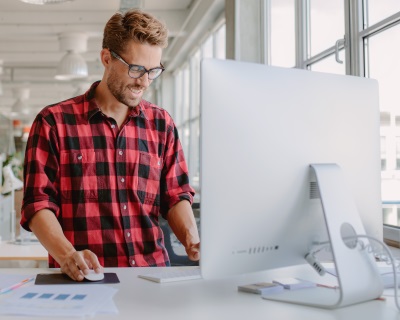 From Leonardo da Vinci to Thomas Jefferson, using a standing desk while working on a masterpiece is hardly a new phenomenon. However, the majority of employees in the world sit instead of using a standing desk while at work. For those of us who sit for hours at a time, we often forget to stand, to take breaks, to stretch or even go for a walk in order to get our blood flowing again. In a recent study, researchers from Norway and Australia concluded that people who sit for a typical 8 hour workday but were physically active had a lower risk of death than those who sat for hours a day but were not physically active. The American Cancer Society agrees, the best thing you can do for your health is to become active. But the hours in our day are limited and most of us have to work, so how do we achieve a similar level of consistent activity? Enter the sit-stand desk and our team of experts at Santa Fe Office Interiors in the greater Kansas City area.
Benefits to sit-stand desks and adjustable standing desks
While there are a lot of claims to the benefits of sitting vs. standing at work, not all of the claims have been verified to be true. However, we have compiled a list of 5 benefits of the sit-standing desk. And note, we are not encouraging an immediate change, to go from sitting to standing all the time, because that can come with its own set of issues. At Santa Fe Office Interiors, we believe that a sit-stand desk provides a healthy option to incorporate into your office environment.
1. Capability to sit-stand in one desk setup
Promoting a sit to stand desk philosophy is one way to optimize your health and create a
workplace routine that not only benefits your body, but it helps keep your mind fresh and alert through changing positions. Spending too long sitting or too long standing at work can put unnecessary strain on your body.
2. Relieve Chronic Pain
The Center for Disease Control published a study which found that the use of a sit-stand desk could reduce back and neck pain by 54% in about a month's time. Not only that, but using a sit-stand desk solution will help to improve posture in and outside the workplace because it puts your spine into a more natural position.
3. Promote a healthy metabolism and heart
From heart disease, stroke and diabetes to other metabolic syndromes, using a sit-stand desk to increase your movement and vary your working posture throughout the long workday can help burn calories as well as process various nutrients, sugar and cholesterol that is not done when leading a sedentary lifestyle.
4. Enhance your mood and brain matter
A sit-stand desk system can help promote good circulation, a huge aspect of a healthy lifestyle. Good circulation means more oxygen to the brain and more nutrients to the brain. That means more productivity, better performance, and increased concentration. Changing your position from sitting to standing can also promote endorphins which can lead to being happier.
5. Various types of sit-stand desks
For the employer or employee looking for a sit-stand desk solution to bring into your office life, there are several types of desks to choose from.
Fixed standing desks
These desks sit at a single height for standing adults and does not lower to a seated height. This style desk is a cost-effective solution, but is limited in that it is built mainly for standing or use with exercise.
Hand-cranked desk
This is usually the most affordable option in the sit-stand desk line which relies on a rotary crank to raise and lower the surface of the desk while the base remains stationary.
Powered sit-stand desks
Relying on a small hidden motor, a new wave of ergonomic sit-stand desk use electric power to adjust their height. These tend to be the most elaborate of the desk options, however come with integrated power systems and programmable settings.
Sit-stand desk brands
There are a number of sit-stand desk brands and manufacturers to choose from, however, we have worked regularly with some of the best brands in the business and choose to continue our business with a handful of trusted companies.
A sedentary lifestyle can often lead to an increased risk of diabetes, heart disease and a shorter life expectancy. Fortunately there is a solution for employees and office workers who remain at their desk for 8+ hours each day. An adjustable sit-stand desk system by Lorell is one system to help promote the healthier habits we previously listed. Equipped with an ergonomic keyboard tray, the desk has the ability to adjust to five separate height positions through a spring system.
Conset puts a spin on the traditional looking desk option by offering adjustable height desks. Round column legs are designed with a double telescopic mechanism allowing it to overlap between the adjustable tubes, resulting in improved travel and stability. If you are looking to capitalize on a new way of desk life, the sit-stand trend with ConSet is here to stay.
Sitting for too long is bad for your health. With adjustable desks by Think Global, they offer not only a solution to sitting for 8+ hours during the workday, but they offer products with a quick shipping program so you and your business can receive what you need in a hurry. The eO+ modular panel and desk system is implemented throughout their products with an ergonomic-forward system for user-friendly comfort.
Harmony height adjustable tables can help promote a healthier and more efficient workplace. From a single-leg adjustable table base to a three-leg corner electric height adjustable table, the height range is anywhere between 26' and 51.5' and can accommodate a range of tabletop widths.
Owner operator, Jim Lust, has over 30 years of experience in the industry and is here to answer your questions. Come visit us and our inventory at our Overland Park located at 8106 Santa Fe Drive, Overland Park, KS 66204. We are open Monday through Friday from 10:00am to 4:00pm and are also available by appointment to help fit your busy schedule. When you are ready for your next office redesign or looking to furnish a new office space from Overland Park to Kansas City and beyond into Missouri or Kansas, contact our team at Santa Fe Office Interiors at 913-901-8800.