Most catalogs discounted
40% to 50%

off!
At Santa Fe Office Interiors, we proudly offer the greater Kansas City area a variety of office chairs, used office chairs and seating solutions from traditional, modern, and contemporary to any style for your business. From ergonomic-focused seating to comfortable seating that accommodates big and tall people, our team and showroom in Overland Park, Kansas is ready to outfit your current or new office environment.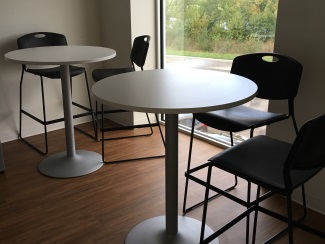 As a business focused on productivity, providing a safe and comfortable office environment for guests and employees is a top priority. At the center of every employee's workday is the office chair. Whether it is a guest chair in an executive's office or a task seating solution for a department, having comfortable seating will make or break not only someone's posture, but overall work performance and level of productivity. At Santa Fe Office Interiors, we offer businesses in Kansas City more than simple chair solutions, we offer a variety of customizable, ergonomical solutions from the leaders in seating and seating accessories. Our expertise goes beyond simply aesthetics, understanding what is below the surface of a chair and what is necessary to build a comfortable, sustainable work environment. A happy employee is a more productive employee and a happy comfortable guest or client will return. Often, the start of this relationship, the first impression, comes down to the comfort level of the seating provided in an office setting.
Seating solutions exist beyond a surface level of a standard chair. It is where most people spend over 40 hours a week. It is the command center of an office desk and should be comfortable, efficient, and provide the necessary support to minimize poor posture and fatigue in the workplace. Making or breaking seating comfort is as simple as the cushion, the back and the ability to make adjustments to the chair's position. But finding a quality build for that perfect chair at an affordable price to outfit an entire office building can become complex. Which is why we offer incentives to help you and your business find a new look while keeping costs down.
Buy 10 chairs and get a 10ft. conference table for FREE!
Buy 12 chairs and get a 12ft. conference table for FREE!
Buy 11 chairs from selected lines and get the 11th FREE!
SAVE 10% on RFM "Big & Tall" and "24/7" seating!
With a number of chair, seating and office furniture accessories to choose from, here are a few we offer.
Operating for over 35 years, RFM Seating is based in Oregon and has transformed from a one-man operation to one of the leaders in the chair manufacturing industry today. From fully customizable ergonomic seats to promoting a healthy and productive workforce, RFM Seating brings top notch products to any work space. Fully customizable from fabric to seat size, back height arm options and more, RFM Seating orders regularly ship within 10 working days from their locations across the country with expedited options available.
ES Robbins is a company that leads the way in innovation both in and out of the office. They have created the first clear chair mat with their Natural Origins line, replacing the traditional petroleum and fossil-fuel based mats. Offering seating accessory solutions, they have been leading the industry for over 50 years making those ergonomic chairs sit flat and roll with ease.
A furniture manufacturer whose products focus on style, function and affordability, Lorell takes a common-sense approach to office spaces while holding their products to a rigorous and comprehensive standard for low emission production.
Cherryman furniture offers a wide selection of commercial office furniture through a commitment to sustainability. They design products for the long-term, meaning their products are built to last through strength and modularity decreasing waste from short-term consumption.
Ready to outfit your office space? Seating is an important aspect of any business large or small and should be taken into account when outfitting or upgrading your office. Most catalog orders through Santa Fe Office Interiors are discounted 40 to 50% off, so swing by today and visit us at 8106 Santa Fe Drive, Overland Park, KS 66204. Our Overland Park, Kansas location serves the greater Kansas City area Monday through Friday from 10:00am to 4:00pm and are also available by appointment to help fit your busy schedule. Give the team at Santa Fe Office Interiors a call today to set up an appointment at 913-901-8800.
Contact Santa Fe Office Interiors for great pricing. Get lead times and delivery information.
Call Jim at: 913-901-8800
Visit our Contact page and let us know what you need.
Visit our show room at: