Interior office space design is not just about looks, it is also about creating an environment that hosts comfort and functionality for both employees and potential clients. Having access to the right office furniture and accessories are integral to not only the aesthetic appeal of a commercial business space, but also the productivity level which comes out of that space. Working to bolster the physical representation of a business, Santa Fe Office Interiors works with only the best in the business, showcasing products in our 9000 sq. ft. showroom which serves the greater Kansas City metro area out of Overland Park, Kansas. ES Robbins is a company that leads the way in innovation both in and out of office. With their Natural Origins line, they have created the first clear chair mat, replacing the traditional petroleum and fossil-fuel based mats, phthalate and Cadmium free made right here in the USA. It is no surprise they are first, as they have been leading the floor mat industry for over 50 years. Other firsts include- first hand and carpet friendly cleat system, first folding mat, first sit or stand mat, and they are still enhancing workplace solutions.
ES Robbins Solutions for Home Office
Anchorbar
For their Anchorbar chair mat system, gone are the dangerous cleats that hurt to handle and destroy carpets. The anchors replace the previous sharp pin cleats creating the same secure hold without the damage.
Dimensions Linear
Innovation and reimaging what has been done is a strength of ES Robbins and comes across through their chair mat products. For the Dimension Linear, the crystal clear design creates an ergonomic, smooth-glide surface for any office chair. Stability, comfort, and style are brought into the office environment and with a GREENGUARD Gold certification for low chemical emissions during production.
Crystal Pane
The Dimensions Crystal Pane chair mat is like the Linear design- clear, protects medium pile carpet, and holds in place- but it also comes with superior ergonomic characteristics and design creating an effortless roll across this 45" x 53" window pane design.
Sit or Stand Mat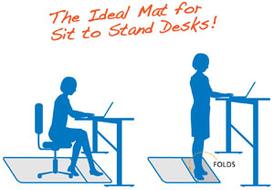 Tired of sitting, why not stand? Tired of standing, take a seat. With this versatile dual-purpose design, the mat combines an anti-fatigue support with hardwood or carpet protection. A supportive foam cushion easily folds and unfolds on in innovative hinge system creating two chair mats in one. With a dual purpose design, ES Robbins carries their innovative Anchormat system to protect low pile carpets with this mat. Encourage a healthy and active lifestyle within your office space by providing the option for a sitting or standing desk arrangement.
Natural Origins
The future is here. With Natural Origins chair mats, the time has come to replace traditional petroleum and fossil-fuel produced mats with this clear, straight edge chair mat for the environmentally responsible, sustainable workplace. The mat features the patented AnchorBar mat cleat system built with renewable plant-based materials creating the first USDA certified biobased chair mat.
Foldables
Is your office environment always changing or on the move? The Foldables line makes transporting and moving the chair mat smooth and easy. These versatile mats fold and unfold to protect the floor and include a handle for easy transport.
Trendsetter
Clear plastic design not doing it for you or your office space in the 21st century? With the Trendsetter chair mat design, ES Robbins brings style and function to the workspace. From replicating looks of metal to creating a tough laminate wood-like surface, these mats update an office aesthetic at a low cost while incorporating some of the same innovations that have carried ES Robbins as a leader in office chair mats for over 50 years.
As an office furniture and accessory supplier serving the greater Kansas City region from Overland Park, Kansas, Santa Fe Office Interiors works to stay on top of the industry so you do not have to. We are continually stocking our inventory with new products while working with area business owners to fill their needs. No matter the space or the style, our team of professionals are ready to help choose the best furniture and office accessories to create a comfortable and productive work environment. Reach out to our Kansas City team at 913-901-8800 or drop by the showroom Monday through Friday. Located at 8106 Santa Fe Drive, Overland Park, Kansas 66204, our doors are open from 10:00 a.m. to 4:00 p.m. You can also reach us and set up an appointment at your convenience.
Contact Santa Fe Office Interiors for great pricing. Get lead times and delivery information.
Call Jim at 913-901-8800
Visit our Contact page and let us know what you need.
Visit our show room at: