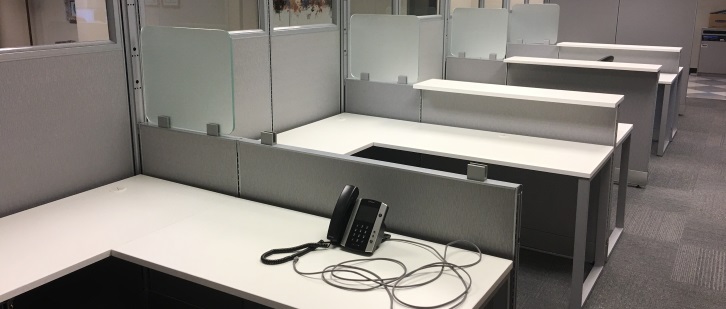 When it comes to tables and partitions, we offer a wide range of options including tables from 6ft. – 12ft. with a variety of shapes, and custom features to ensure a perfect fit.
Click here to view ABCO's conference table brochure of available table options.
Whether you are operating a large corporation or just starting up a small operation in the Kansas City metro area, Santa Fe Office Interiors has the furnishings and experience to help not only find your next office design style, but execute it quickly. As a local, family owned business in Overland Park, Kansas, we bring over 30 years of experience to the industry of furnishing and consulting on interior office and commercial spaces. For many businesses, many factors play into the design of their workspaces. From ergonomics, function, and visual appeal, all the way to how a design can promote efficiency, productivity, and comfort for employees and guests in the workplace are all important factors when deciding how to design a space. Two important features in this process are tables and partitions, each complementing one another while offering very different purposes.
Tables
When we think of coming together, many of us will think of a certain place or time. Such as a meal shared on a holiday with loved ones gathered around a table. This table becomes a central component to the experience. Similarly, when creative minds and decision-makers come together, they need a place that is not only pleasing but is functional and not distracting. Harmony Collection and Mayline bring a formality to their tables that fit seamlessly into the larger narrative of an office space of any size. From the executive boardroom to the creative department to a common meeting room, a table can make or break a room and more importantly, a business deal or process.
From large to small, Santa Fe Office Interiors has table solutions for your Kansas City business. Looking for power/data modules for a high-tech meeting room? We have you covered. Looking for something sleek and simple for a boardroom? We have that too. From large to small tables, it is important to know what you need and hope to accomplish. When you are looking to have more intimate and meaningful group conversations, a smaller table size is often the best option. Likewise, when you are having a large gathering who need ample work space, a larger table should do the trick. With each table some a different style or color or base which helps to distinguish it between a traditional or a more contemporary option.
Partitions
While Santa Fe Office Interiors offers a variety of tables that are often used for communal gatherings, partitions can serve as a way to add privacy to those meetings or to section off different areas within a larger space. Depending on the space and design aspects, a partition can provide a wealth of benefits and options less permanent than a constructed wall.
Natural light
Glass partitions are great at effectively maximising the use of natural light within a room. Rather than blocking it with a solid wall or partition, glass allows for a level of privacy while also helping to reduce the reliance on electricity. Not only that, natural light within an office workspace has a positive effect on employees and their productivity and happiness within the workplace. Natural light creates a natural environment to work in and should be harnessed and used to your advantage when designing an office space.
Cost effective and practical design
Having the ability to create a wall and move it whenever necessary makes partitions a necessary piece of any open office space that needs a little more privacy, but does not want to build a permanent wall. Not only is it cost effective in the long run providing the ability to rework a space, but it also helps to cut on energy costs because there are less spaces to heat or light. Not only that, they are also quick and easy to install. Partitions are a perfect and stylistic way to redesign and repurpose many of the older buildings in the Kansas City area.
Privacy
Whether it is for an employee, an interview process, or to handle an issue that arises, privacy is an important factor in any workplace. Not only are partitions used to reduce the noise in a given area reducing distractions from other parts of a larger room, partitions provide an element of personal space that is clearly sectioned off from the larger workplace. They often inspire quiet working environments as increased productivity.
Owner operator, Jim Lust, has over 30 years of experience in the industry and is ready to answer your call. Come visit our showroom at our Overland Park location at 8106 Santa Fe Drive, Overland Park, KS 66204. We are open Monday through Friday from 10:00am to 4:00pm and are also available by appointment to help fit your busy schedule.
Contact Santa Fe Office Interiors for great pricing. Get lead times and delivery information.
Call Jim at: 913-901-8800
Visit our Contact page and let us know what you need.
Visit our show room at: