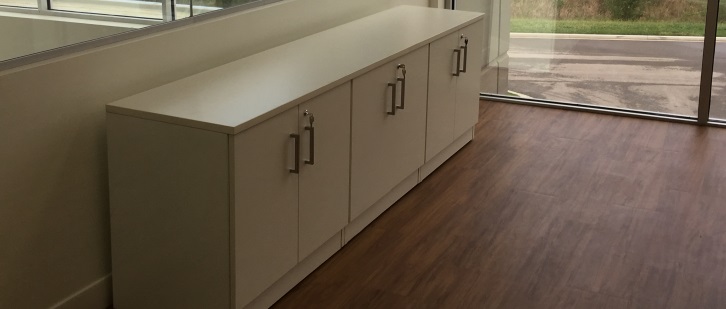 Jim Lust and his team at Santa Fe Office Interiors in Overland Park, Kansas is ready to help you get organized with their large inventory of storage and filing solutions! Did you know that an organized workspace will encourage employees to be productive as well as reducing work related stress? Not only that, but an organized work environment is an efficient use of space and time as it promotes cleaning up after oneself and spending less time looking for things. Efficiency in the workplace helps provide structure in the workplace which is necessary in most working environments for a creative and productive team.
From traditional, modern and contemporary to additional styles that fit your brand's aesthetic, storage and filing options are practically limitless when thinking about organizing your home office or commercial office space. Filing cabinets for binders and books to office shelves to modular shelves and mobile shelving systems, finding the perfect fit for your next office space can be a challenge. Swing into Kansas City's own Santa Fe Office Interiors to connect face-to-face with a member of our team and we will help you navigate the countless variables while looking for a filing and storage solution. The key in any situation is to be organized and save space to maximize storage capacity and minimize distracting clutter.
Ask about our business services including furniture moving, liquidation, and installation!
Mayline is one of the leading mid-market furniture manufacturers in the United States today and offers a large collection of filing, storage and customized solutions. From their Laminate Series of Sterline, Medina, Aberdeen and Brighton, they excel by offering a durable and versatile product that is affordable for most interior office spaces looking to organize and stay organized. Beyond being functional pieces that come in an array of styles, they are also aesthetically appealing to seamlessly fit into nearly any office setting. The Veneer series boasts Corsica, Napoli, Sorrento, Luminary and Mira styles. With the Quick-Ship program, products offered ship within 72 hours from the manufacturer, getting you what you need when you need it. Swing by our showroom in Overland Park, Kansas to talk with a member of our team and look at the pricelist and color brochure for Mayline products.
Santa Fe Office Interiors is a supplier for the greater Kansas City area of Phoenix products, providing fire protection for office space materials. From Class 350, products that provide fire protection for paper records, to Class 125, which provides protection for all types of computer media. The Phoenix products have been tested at temperatures from 1700ºF to 1859ºF for a range of 60-120 minutes.
Among the office furniture and fixtures throughout our extensive showroom are filing systems and storage solutions aimed at helping businesses stay organized. Businesses of all sizes accumulate data and records that varies from receipts to sensitive financial information, and there are benefits to having these files and records properly stored. The complexity of data security and filing systems starts with a reliable means in which to hold the files and records. Not only is it integral for a business to retain their files and have them safe but easily accessible, but it is important to maintain an efficient and clutter-free work environment for security and productivity reasons for employees.
Our showroom is located at 8106 Santa Fe Drive, Overland Park, KS 66204 and we are open Monday through Friday from 10:00am to 4:00pm. Stop in and talk with our team to get you set up with storage and filing solutions for your business. If those times do not work, feel free to make an appointment and stop by whenever it is convenient for you and your schedule. Our team and owner, Jim Lust, at Santa Fe Office Interiors can be reached at 913-901-8800 and are ready to answer any questions you may have as well as discuss everything from lead times to delivery and pricing. Looking forward to working with you soon!
Contact Santa Fe Office Interiors for great pricing. Get lead times and delivery information.
Call Jim at: 913-901-8800
Visit our Contact page and let us know what you need.
Visit our show room at: