Find Similar Ones in Our Store Full of Office Furniture in Kansas City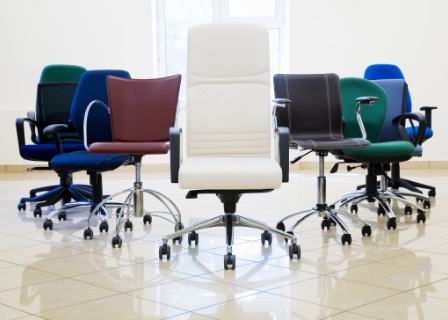 Investing in a great office chair is smart if you want to ensure you're comfortable while working. A supportive office chair can improve your health, productivity, and well-being. Spending a little more on an office chair is worth it if you spend hours upon hours sitting in it each day. And as home offices are becoming more prevalent, it's even more important to find the office chair that supports your back properly.
There are all kinds of different chair options, so it's all a matter of finding what works for you and finding a store that sells them at the best value. With that in mind, the team at Santa Fe Office Interiors created a list of some of the top office chairs and why we love them.
Branch Ergonomic Office Chair
The Branch Ergonomic Chair is a great overall pick because it's easy to assemble, and it can be fully adjusted the way you want. You can push the armrests any direction you want, and even the seat can be extended. If you need to lock the recline, this chair can accommodate you.
This ergonomic chair helps you keep your back straight when you're working, and its traditional style means it will fit into any office environment. The backrest is double-layered mesh, a breathable option that keeps you cool. The style is quite striking, especially if you choose the two-tone color option.
Thankfully, other office furniture brands also carry stylish office chairs, including the modern lines from Lorell. Santa Fe Office Interiors can help you select the best chair for the job – and establish a certain style aesthetic, too.
FlexFit Hyken Mesh Task Chair
What we like about the FlexFit Hyken Mesh Task Chair is its contemporary design, but also the fact that it's very comfortable. It has a great mesh fabric system for both the seat and back, and the contoured mesh back always ensures adequate airflow.
This chair has a single four-in-one control used to adjust the chair's height, back, and slider. It's rated for up to 275 pounds during an 8-hour workday and comes with a generous 7-year warranty. Overall, if you want a great ergonomic chair that's not super expensive, this is it.
Not sold on this particular mesh task chair? Our Kansas City office furniture warehouse has affordable options in stock.
X-Chair X2 K-Sport Management Chair
The X2 is highly configurable, coming in two seat widths, four choices of fabric, and with or without a headrest. You can choose to add armrest upgrades and a footrest, and there are no fewer than three choices of wheels.
Some people sit for hours and hours on a chair, so having good airflow does matter. That's why this chair is a great investment: because it has a mesh seat and backrest. It delivers a comfortable work experience, and the design itself is very impressive, too. Other variants of the chair add heating, cooling, and massage into the mix.
Don't want to invest in such a pricey, high-tech chair? Choose a gently used office chair from Santa Fe Office Interiors and add a heated or massaging chair mat to it.
Steelcase Gesture Ergonomic Office Chair
With the Steelcase Gesture, you really get to enjoy a comfortable sitting experience, no matter how you choose to sit. The armrests and backrest are the standout features of this office chair, as they're highly configurable and designed to match the natural motion of the human arm and spine.
It delivers great support, and you can fully adjust the seat the way you want. You can also pick from different fabrics too. Another thing to consider is the fact that it comes with a 12-year warranty.
Even used Steelcase chairs are a great investment. Ask us about our ever-revolving inventory of used office furniture today.
Humanscale Freedom Headrest Office Chair
The gold standard in office seating, according to the New York Times, there are many things to like about the Humanscale Freedom Headrest chair. It's focused on eco-friendliness, but it also delivers a stellar reclining experience.
The chair is simultaneously simple and highly supportive, with seamless support for your back and head. Without adjusting the chair, your head and neck will be supported throughout the day. It can be fully adapted to your needs, and the 15-year warranty is a major plus.
But used office furniture is just as eco-friendly as the Humanscale brand, if not more. You can find quality pieces in our showroom in Overland Park, including matching sets for your entire office.
Shop for Used Furniture in Kansas City to Deck Out Your Office From Wall to Wall
You can easily find great used office furniture if you need to kit out an entire floor. Santa Fe Office Interiors supplies both new and used office chairs and more with used pieces available at a steep discount.
It all comes down to what you need. As you can see, some chairs can do it all, while others are specialized for certain niches. Regardless, you will have no problem finding a great chair; just take your time and narrow down your options – and talk to our experts.
Used furniture in Kansas City from Santa Fe Office Interiors ranges from bookcases and desks to workstations and conference tables. With the purchase of high-quality used office furniture, you can ensure your staff is comfortable at work without needing to spend a fortune on brand-spanking new ergonomic chairs.