Our Kansas City Office Furniture Warehouse Carries Them All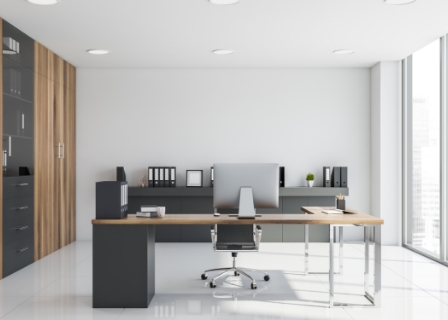 Working from home has become a reality for a huge percentage of the population now. The way we work will never be the same again.
When your home also becomes your workplace, it's important to ensure you have the right setup so you can be comfortable, efficient, productive, and healthy. Choosing the right home office furniture is arguably the most important step to having a fully optimized work-from-home experience.
In this guide, we'll look at four of the top types of desks for your home office, all of which you can find at our used office furniture store in Kansas City.
Computer Desks for the Home Office
Most of us will use a computer on our home office desks, so choosing a desk with ample room for all its requisite parts is important. You might only use a laptop, but adding a monitor, keyboard, and mouse makes working from home ten times better. If you use a desktop computer for better performance and storage space, consider whether you plan to keep this heavy item on top of the desk and plan accordingly.
Some people like to keep their keyboards on a separate keyboard tray, allowing for even more space on the desktop.
For computer desks, it's important to choose a desk that fits your height. You should be able to keep your feet flat on the ground while being able to comfortably rest your wrists on the desktop. Another consideration is power and cabling – a desk with space for hiding most of your power cables will look much cleaner and more organized.
In general, a used office desk described by the manufacturer as a computer desk will fit the bill nicely and come with all these features and capabilities.
Standing Desks for the Home Office
Standing desks for the home office are growing in popularity, as remote workers realize spending every moment of the day sitting down is a recipe for poor health and tight muscles. A standing desk, which is tall enough for you to use your computer, keeps you energized and alert and often results in greater productivity. Your back will thank you, too.
The best standing desks are height adjustable, either with a manual crank or a hydraulic lift. You can even find them with the option for a built-in power adaptor, which makes plugging in your laptop and other accessories a breeze.
L-Shaped Desks for the Home Office
L-Shaped desks are usually positioned in the corner of your home office space. The extra room this desk shape offers can be invaluable if you need to sometimes work on a laptop but also need separate desk space for your books and notepads.
Choose an L-shaped desk that's deep enough to position a computer monitor comfortably on. Around 28 inches deep is about right. Width will come down to personal preference; you may want to sit at a few L-shaped desks at our used office furniture store in Overland Park to get a feel for what you like.
Compact Desks for the Home Office
Not everyone has a spare room they can use solely as an office, and even if you do, space can come at a premium. A smaller desk is a requirement, then, and if you're truly pressed for space, we recommend a compact folding desk that can be stored away when you don't need it, or one that pulls double-duty, with a drawer for stashing away necessities as it serves as an extra console table in your home.
While smaller-sized desks designed for office use can be hard to come by, major office furniture manufacturers offer an array of them, thanks to the surge in people working remotely.
Come Shop for Office Furniture in Kansas City and Snag a Great Pre-Owned Office Desk
It's worth noting that with so many companies in Kansas City closing or downsizing their traditional offices in favor of remote work, there's an abundance of professional used office furniture for sale.
You can pick up high-quality, ergonomic used furniture in Kansas City at a fraction of the cost of buying it new by visiting us at Santa Fe Office Interiors, located at 8106 Santa Fe Drive. Our used office desks are the perfect base for your work-from-home situation.
Or, if you prefer, we can order a brand-new one for you from one of the top manufacturers we carry, including Express, Lorell, and Cherryman.
Your health, well-being, and productivity are all affected by the furniture you use in your home office, so choose ergonomic, functional home office furniture that makes you want to jump into your work each day.