Get More Done When You Shop Our Kansas City Office Furniture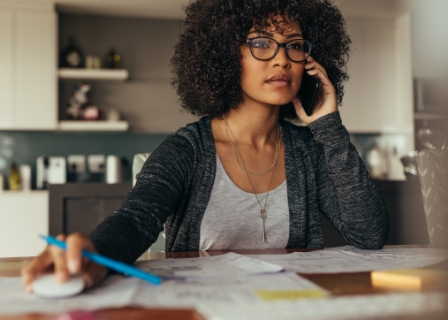 Working from home has quickly become our new reality. And while it allows you to get a little extra sleep in the morning, it can also come with a lot more distractions. From your dog barking in the background of your Zoom meeting to your kids constantly asking you for a favor, it can be easy to take your focus elsewhere.
As you work from home, it's important to limit distractions as much as possible to achieve efficiency and productivity. This can be done by the way you set up and furnish your at-home office. Because you'll spend a lot of time here, you'll want your setup to be comfortable and practical. The first step is choosing the right office furniture, and that's where we come in.
In this guide, we'll explore three pieces of office furniture that will help keep you productive in your home office, all of which you can find at our used office furniture store in Kansas City.
1. A Functional Used Office Desk
One of the most important parts of your at-home workspace is your office desk. The good news is, a used office desk will do the trick. You'll want to find one that's spacious enough to comfortably fit your computer, notes, or anything else you might use as you work from home.
For optimal productivity, we recommend using more than just your laptop. Purchasing a monitor, keyboard, and mouse can facilitate your work-from-home experience, and make it that much better.
When it comes to used office desks, you have a lot of options. A standard computer desk can do the job just fine, but if you really want to make the most of your home office, you can opt for something more specific to your needs.
A standing desk is a great option for remote workers who don't want to spend their whole day sitting down, which can lead to back pain and stiff muscles. Many standing desks are height adjustable, so you can find what's comfortable for you. Standing as you work can help keep you energized and more productive throughout the day.
Or, you may decide to go with an L-shaped desk. This type of desk fits conveniently in the corner of your workspace and its unique shape essentially leaves you with two desktops, allowing you to spread out your belongings.
Don't worry if you don't have an extra room to solely dedicate to your home office. There are still ways you can incorporate office furniture into your space without taking up a ton of room. A compact office desk is a great option, or if you're really tight on space, a desk that can be folded up and stored when you aren't using it.
Your desk is an essential component of your home office, so make sure you select one that is comfortable and will be tailored to your needs.
2. A Comfortable Office Chair
To really be productive in your at-home workspace, you'll need a sufficient office chair. Because you'll be sitting down for a prolonged amount of time, it's vital to find a chair that is comfortable, efficient, and supportive. To prevent any neck, back, or hip pain, make sure you're making a conscious decision in the one you select.
With less pain, you'll be able to be more productive. When searching for an office chair, look for one with adjustable height, padding, arm rests, and lumbar support.
An ergonomic chair is best, as they're specifically designed for maximum comfort and efficiency. These chairs usually have certain features, like seat depth, adjustable arm width, and lumbar support, to provide you with a seat made to last the entire workday.
3. Lots of Storage
People often overlook storage space in their home office, but clutter can be distracting and unmotivating. Organization is key, and storage and filing solutions can help.
Use containers or tray organizers for small, miscellaneous office supplies or electronic cords. Wire mesh pen cups can store your collection of pens and pencils. File cabinets are perfect for keeping and organizing important documents. Shelf space can also work wonders and declutter your desktop. Place books, storage bins, and other decor on shelves to display them, while also keeping them out of your way.
A tidy, organized workspace can keep you productive and more focused on what you have to get done.
Shop Our Kansas City Office Furniture at Santa Fe Office Interiors!
Rather than breaking the bank to furnish your home office, shop our Kansas City used furniture store instead! At Santa Fe Office Interiors, we offer gently used office furniture to fill your space. We have a vast selection of used office desks, chairs, and various storage solutions.
If you have any questions about our Kansas City office furniture, give us a call at 913-901-8800. You can also send us a message on our website.
We can't wait to help you find the perfect office furniture to fill your at-home office!