Fill Your Office Without Breaking Your Bank with Our Kansas City Office Furniture
So, you just bought a new office. There's so much potential within those four empty walls. How will you furnish it? How will you afford to furnish it?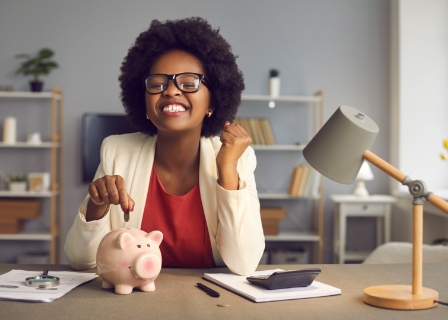 It's no secret that operating a business isn't cheap and, as costs continue to rise, you'll want to know how you can save some money. Additionally, it's important to be smart with your money and properly plan for future investments.
Truth be told, filling your office space shouldn't cost you an arm and a leg – which is why we're here to help. At Santa Fe Office Interiors, we specialize in gently used office furniture, and can provide you with some tips and tricks on how to furnish your space without breaking your bank.
1. Make a Plan
First thing's first: you need to have a plan. If saving money is one of your biggest priorities, it's important to take cautious steps to ensure you're getting the most bang for your buck.
When planning how exactly you'll furnish your office, make a list. Determine what you need, how much you need, what it'll cost, and even take measurements to guarantee that your office furniture will fit in the space.
Don't purchase the first office chair you see. Instead, take time to search for office furniture that will work best for you and your space.
2. Determine Your Budget
Like with any spending, it's a good idea to have a budget to determine how much you can spend on office furniture. A budget will drive you to find affordable solutions and eliminate the risk that you'll overspend.
Budgets allow you to get creative, find the best deal, and will save you the time in the long run when you know what you can and can't afford.
3. Buy What You Need
Sure, an office equipped with the latest technology and equipment is desirable in theory, but can end up costing you a lot more than you bargained for. Ask yourself if you really need all the bells and whistles that come along with technology today. If your business can do without them, don't waste your money.
Use equipment that will help you run your business professionally, but isn't over the top. Buy essential office furniture first, like office chairs, and come back to more advanced technology later.
4. Account for Shipping
Say you've found office furniture that will not only fit into your new office, but also into your budget. If you're shopping online, don't click the checkout button just yet. Make sure the item still falls within your budget after shipping costs have been included. Oftentimes, large items, like office furniture, can have higher shipping costs compared to other products.
If possible, choose to pick up your office furniture in-store. This will help save you a few extra dollars, and you'll most likely receive your furniture faster than if you shipped it!
5. Shop Used Office Furniture
Just because your office is brand new doesn't mean your furniture has to be. In fact, used office furniture has its own benefits that can outweigh buying it new.
Purchasing used office furniture is the best way to save money when furnishing your office because your investment won't depreciate as quickly, and you're buying quality products that have already been tested and tried.
If you're wondering where to find Kansas City used furniture, look no further than Santa Fe Office Interiors. We carry a variety of office furniture, ranging from desks to used office chairs. We're your one stop shop for Kansas City office furniture!
Furnish Your Office With Our Used Kansas City Office Furniture!
Don't wait! If you're looking for desks and office chairs, shop our used furniture in Kansas City. At Santa Fe Office Interiors, you'll find high quality, gently used office furniture to fill your space at a fraction of the cost of buying it new.
Visit us at 8106 Santa Fe Drive and take a look at our amazing showroom. We promise you won't be disappointed!
If you're looking to splurge on brand new office furniture, we have that, too! The choice is yours between some of the top manufacturers, including Express and Cherryman.
If you have any questions about our Kansas City office furniture, don't hesitate to call us at 913-901-8800. Our team will be more than happy to assist you.
We can't wait to help you furnish your new office with our vast selection of used office furniture!