Create the Home Office of Your Dreams With Our Used Kansas City Office Furniture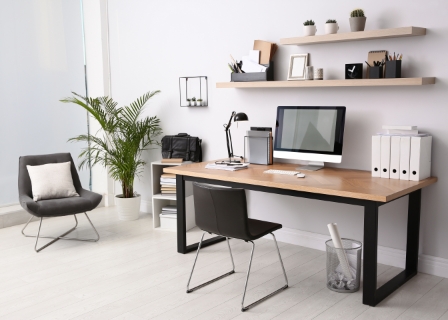 With more people now working from home than ever before, decorating your home office has never been so crucial. It has to be somewhere you can be productive, inspired, and most importantly, stay focused.
The way you decorate your space can have a huge impact on your work. If you don't know where to start, don't worry! Our Kansas City office furniture store can provide you with tips and tricks to revitalize your home office and truly make it your own.
1. Organization is Key
It's common knowledge that organization leads to greater productivity, but we aren't just talking about using a planner. You can also stay organized with the office furniture you use. Selecting stylish, yet functional pieces allow you to store work items and supplies away and out of sight, ultimately creating a cleaner workspace.
To eliminate clutter, incorporate storage into your design. This could mean finding an office desk with built-in shelves or using traditional cabinets. Documents and folders can be stored in a file cabinet while pens and other office supplies are displayed on a shelf.
Regardless of how you choose to organize your at-home office, giving everything a place will save you more time in the long run.
2. Work With Nature
Bring the outdoors into your home office. Whether it's utilizing a neutral color scheme or decorating with elements of nature, this can give your space a soothing, more relaxed vibe.
An easy way to do this is by adding houseplants – even faux ones will do the trick. You can also experiment with various types of wood, decorative rugs, rocks, or water elements. If possible, place your office desk next to a window. This will fill your office space with natural light and allow you to get some fresh air whenever you need it.
3. Make it Personal
You spend a lot of time in your home office, so you'll want it to truly feel like yours. A simple way to do this is by adding the things that mean the most to you.
Frame your favorite photos to sit atop your office desk, and incorporate your favorite color into your decor pieces. Or, you can purchase a letterboard and customize it to a quote that inspires you. Whatever it may be, adding some elements that make you, you can help make your workspace your own.
4. Take Care of Cords
You're going to have a lot of technology in your work from home setup. With that, comes cords which aren't exactly the most aesthetically pleasing things to look at. In fact, they can be quite distracting. Luckily, there are ways to hide them and make them less noticeable.
First, ensure that your equipment is near an outlet and can easily be unplugged if necessary. You can then place the cords in a fabric cord cover to instantly make them look more appealing. Or, find an office desk with a desk grommet, a plastic cap that guides cords through a hole in the desk and hides them.
5. Don't Forget Seating!
Another way to enhance your home office is with seating. Of course, you'll want to ensure your office chair is comfortable and supportive. Ensure that it has a back support and armrests for maximum comfort. It's also a good idea to find one that is height adjustable, so it can easily fit under your desk.
Get creative with other seating as well. Consider adding a loveseat or beanbag to your home office for those times when you just can't sit in your office chair any longer. This will not only allow you to move around, but you'll also have options when it comes to where you get your work done.
6. Incorporate Used Office Furniture
Why spend more to get the home office of your dreams? Purchasing used office furniture is a great way to save a little money and furnish your workspace. Pre-owned office desks and office chairs can do the job and make a statement within your space.
Even better, when you purchase used office furniture, you're benefiting the environment because less fossil fuel, materials, and waste are being used to make new furniture. This sounds like a win-win to us.
Shop Our Kansas City Office Furniture at Santa Fe Office Interiors!
At Santa Fe Office Interiors, we carry gently used office furniture that you can use in your expressive home office. Shop high quality, Kansas City used furniture including office desks, office chairs, and even conference tables!
Or, if you prefer new furniture, we also carry some of the top manufacturers like Express, Lorell, and Cherryman.
Come see our Kansas City used furniture for yourself! Visit us at 8106 Santa Fe Drive. If you have any questions, contact us on our website. We'd be happy to help.
We can't wait to help you furnish your home office!