As Office Furniture in Kansas City Evolves, So Must Your Accessories
Generally speaking, American culture is far more aware of the dangers of a sedentary lifestyle due to the emergence of step-tracking technology, as well as warnings from their doctors. Because of these changes, more and more office furniture designers – and more and more workers – are opting for standing desks.
These desks, which are designed like typical sitting desks, but are elevated at the legs, keep people up on their feet, which burns more calories, strengthens the body, and generally puts less stress on a person's cardiovascular system, including the heart.
Americans who may not have been able to benefit from cozy office chairs in the first place – like those with back problems and other sources of pain – now feel vindicated that everyone is beginning to understand the medical benefits they've known for years. Standing desks have become so popular that it's even easy to find standing desks at any used office furniture shop in Kansas City and beyond.
When you decide that a standing desk is for you, it's important to know that these desks don't sacrifice anything in terms of style. In fact, many of these desks are more sleek and modern-looking than the traditional sitting desk.
You can make your standing desk even more contemporary, too, by adding accessories. Let's browse the internet and see what some of these standing desk accessories could be.
After Falling in Love with a Standing Desk, Go Ergonomic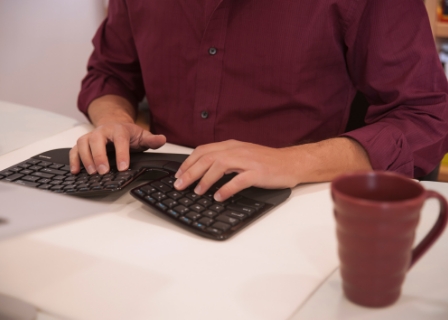 If you're browsing for a new or used office desk in Kansas City, you're going to end up finding some great new standing desks, or even sitting desks, that can be modified. At Santa Fe Office Interiors, for instance, we feature so many unique pieces that are just waiting for the right owner who might wish to use the furniture as-is, or stain, paint, or modify it to their liking.
A used sitting desk could even be modified at the legs and turned into a standing desk. Then, once you have the standing desk you love, you're going to want to pair it with other ergonomic features that protect your body while you work.
Ergonomics is a commonly used word when referring to office furniture, but many would be hard pressed to come up with a precise definition. In short, ergonomics is the study of how people move physically in the workplace, and how that movement can be protected so that people don't injure themselves. When people move efficiently and effectively, they are more productive, safe, and happier workers. Therefore, items like ergonomic chairs and keyboards are to keep you healthy while you work.
The Ergonomic Chair
Ergonomic chairs, while seemingly contradictory as an accessory to pair with standing desks, actually complement them quite nicely. You are going to eventually need to sit down while you're working, even if you spend most of your time standing.
Think of it this way: most of us sit for most of the day at work, and then we get up to walk around. When you use a standing desk, it's the opposite: you stand during your work day – and then you take breaks by sitting. You'll want a chair with support for your back, shoulders, neck, spine, and legs to continue your pursuit of a health-conscious lifestyle, so consider an ergonomic chair to go with your standing desk.
Recommendation: When you're in the market for a new or used office chair as well as other superior new or used furniture, go browsing at Santa Fe Office Interiors, Kansas City's go-to used office furniture shop for high-quality, affordable, comfortable items for your workplace needs. Take a look at what we have to offer, and see if we can help you find a desk and chair that are perfect for you.
The Ergonomic Keyboard
Ergonomic keyboards have the same goal as ergonomic chairs. The keyboard is positioned so that your wrists, as well as your posture, are protected from a typing angle that could eventually lead to muscular pain and carpal tunnel syndrome. When your body is already protected by a standing desk and an ergonomic chair, springing for an ergonomic keyboard is the next logical step.
Recommendation: Popular Mechanics as well as The New York Times recommend the Kinesis Freestyle line of keyboards for comfort, control, and intuitive features.
Standing Desk Mat
A standing desk mat is a kind of cushion that plays a role much like the soles of excellent footwear. When you're standing all day, you still have to make sure your feet, legs, and back are protected as a standing desk won't do you much good if you're not standing comfortably. Many of these standing mats are recommended by physical therapists and chiropractors, and some of them – because of their springiness – even encourage movement from one foot to the other during the day. For the most comfortable way to stand while staying healthy in the workplace, opt for a standing desk mat as well.
Recommendation: When you think you have your new or used desk, chair, and keyboard figured out, complete your accessories package with a standing mat for maximum comfort. New York Magazine recently did a feature on several brands in its The Strategist column, presenting several of the best mats on the market, thanks to their solid consumer research.
Let Santa Fe Help You Select the Perfect Kansas City Office Furniture
Santa Fe Office Interiors, in business for over fifteen years, is a 9,000-square-foot showroom of excellent new and used office furniture including top-of-the-line brands and designers as well as a curated selection of used items.
Our inventory rotates daily, so you never know what treasure you might find out on our floor. A new or used standing office desk and chair could be waiting for you today.
Come visit us at our new and used office furniture showroom in Kansas City, every Monday through Friday, from 10 a.m. to 4 p.m. If you're looking for something in particular, you can always get in touch with our owner Jim at (913) 901-8800, or send us a quick message online.