Simple and Effective Ways to Optimize Your Space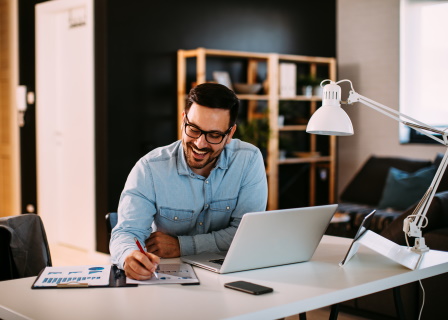 In the wake of COVID-19, more and more companies are being forced to adapt their business strategy and how their employees utilize the office space. Some larger companies – such as Cerner, for instance – have put their employees on a work from home schedule until the entirety of their workforce is vaccinated. Others have gone to a hybrid model or they have implemented social distancing measures within their current office space.
More people are working from home now more than ever, and it doesn't appear that will change for the majority of 2021. For employees, this has been beneficial in that they no longer need to commute to work and there's generally less distractions. The challenge is turning what was once a private residence into a professional home office. The following are our top five tips on how to accomplish that.
Tip #1: Find Your Work Space
Your kitchen is a very specific area with a specific purpose. The same can be said for your bathroom, bedroom – and yes – your home office. The first step to creating a productive home office is to identify the area that is both free of distraction and will allow you to comfortably work eight hours a day. If you don't have an additional room that you can repurpose, try designating an area of your home that is currently neutral or unused. Now that your work is part of your home, it's important to keep your office separate from the rest of your life.
Tip #2: Invest in a Quality Office Chair
We can't stress the importance of having comfortable seating enough. Remember, this is the place you're going to be sitting for hour-after-hour Monday thru Friday. If you don't have enough cushion or support, your body will start to ache in ways that will make working that much harder to do. A good office chair can be pricey upfront, but your comfort is a worthwhile investment. Always try to choose a chair that is adjustable, supportive, and contours to your body.
Tip #3: Choose the Right Desk or Work Surface
The beauty of technology is that it allows us to work from anywhere. Your office can be anything with a flat surface, however, it's important to choose this wisely. If the surface is too high, too low, or at an awkward angle, you'll begin to feel the strain in your wrists when you type. Choose a desk or work surface that is ergonomically correct and appropriate for your height when seated. If you can't afford a brand-new desk, try searching for a pre-owned one that you can get at a discounted rate.
Tip #4: Brighten Your Area
The best part about converting to a home office is you have full autonomy to do whatever you want with it, and you should take advantage of that. Decorate your workspace with items that you enjoy seeing that improve your mood. That could be framed photographs of your family, colorful décor, or calming office items like stress balls. If you can do it, we also highly recommend stationing your office near a window so that you can get natural light. This will vastly improve your mood throughout the day.
Tip #5: Stay Organized
Now that you're working from home, it can be easy to slip into the habit of being messy and disorganized, especially if part of your job is working with hardcopy files. Treat your home office as you would a regular office. When you're officially done for the day, make sure that your area is picked up so that you don't walk into a pile of clutter the next morning. A great way to stay organized is by investing in filing cabinets or storage containers. This keeps your area clean and keeps your work materials out of view when they're not in use.
Come to Santa Fe Office Interiors for Your Home Office Needs
We've helped countless customers get the chairs, desks, and supplies they need to turn their homes into offices. Not only do we carry the best new and used office furniture in the Kansas City area, we're also competitively priced for those who are working within a tight budget.
The best way to see what Sante Fe Office Interiors can do for you is by visiting our store at 8106 Santa Fe Drive in Overland Park, KS. We have a huge selection of top-quality furniture in our showroom that can meet any home office need.