Virtual Learning Works Best in an Environment Conducive to Concentration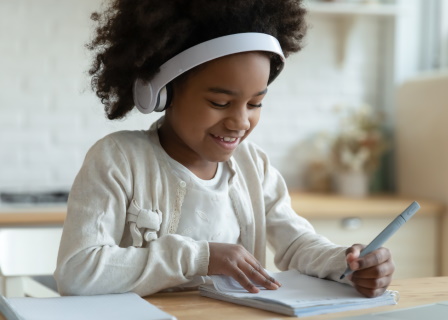 So, you've opted for your student to participate in virtual learning this school year! We know it was a tough choice, but we're glad you made the decision you felt would best benefit your family. For the past couple of months, your student has been attending classes and completing coursework online, in what might not be the ideal learning environment.
According to research conducted by a consumer reviews website, children need a functional spot to minimize distraction and keep them focused on online learning. But they also need the physical and mental space to complete their work. Even if they complete their learning in a dedicated corner of their bedroom, or if their favorite spot is in the dining room, there are a few ways you can help your child do their best in the virtual classroom. Here are our tips for creating the perfect student workspace in your home near Overland Park, Kansas.
A Good Desk Chair is Necessary
Children are growing and need furniture that will support their spine. If you've ever tried, as an adult, to sit in a regular dining chair for eight hours a day, or hunch over in an armchair with a laptop on your lap, then you know the devastating effects poor ergonomics can have on your body. (Thankfully, it seems children recover more quickly!)
Even if you don't do anything else to set up a learning space for your kids, you should purchase them a quality chair. You don't have to spend hundreds of dollars on a chair, but you should make sure you're getting one that can be ergonomically adjusted for height, depth, recline, and lumbar support, especially for your teenage children. (This may be more difficult for smaller children, but using a child-size chair and showing them how to sit up straight with their feet on the floor will work best for the littlest kids.)
You can find second-hand office chairs – and even brand-new ones – at a discounted price in Overland Park, Kansas when you visit us at Santa Fe Office Interiors. We can find the right chair for your big kid, so they don't feel sore, stiff, or in pain after a long day in their virtual classroom.
Cut Out Distractions with a Desk
If your living area is small, it might be hard to accommodate a separate desk for your child's education. A cardboard pop-up divider – or even a science fair backboard – can help you keep your child from being distracted by siblings or other household goings-on. Your children can personalize their own backboards with construction paper, printable art, stickers, markers, and more.
If you have the space, we recommend setting up a desk with an office partition, like a small cubicle, to eliminate opportunities for distraction. As a bonus, commercial office furniture tends to be sturdier than big-box pieces, so your child can keep the desk for years to come. The partition you choose can attach directly to the desk, or it could be a standalone wall installed to cordon off an area of the room devoted to schooling.
Any other distractions you can remove, the better. Turn off the TV, and keep the remote off-limits. Avoid taking phone calls in the same room where your child is learning. And encourage class participation and paying attention when you see your child not doing so.
Keep A Variety of School Supplies On Hand
Your child may receive paper packets of work to complete and return, or they'll need various supplies for special projects. Perhaps they're in high school and need a dry-erase board for practicing math problems, or spare paper for taking notes. Whatever supplies it is that your child needs, keep spares on hand, tucked away in their own office storage furniture, or in a caddy you can move out onto the dining table for class time.
When you have all the school supplies your child needs to learn, they can accomplish so much more than if they're lacking something important.
Enforce Learning Time and Keep It Separate from Mealtime or Playtime
Making virtual classroom time flexible and encouraging snacking or other activities during it is a recipe for your child to not take it seriously. Especially for younger children, creating a chart they can understand that explains their daily routine can be helpful for keeping them on task and knowing what comes next. Elementary school teachers use this same tactic!
Create a visual, colorful chart that shows times of day and what your young learner will do during those times. For example, perhaps 9 a.m. to 12 p.m. is online school; from 12 p.m. to 1 p.m. is lunch and naptime; and from 1 p.m. to 2 p.m., school continues. After 2 p.m., your child has a snack and free time before dinner. Use imagery to describe what happens during these times for kids who aren't yet proficient readers. For example, a picture of a laptop can indicate online learning. A meal plate can represent lunch time. A photo of toys can represent free time. Hang this chart on a wall near their desk or other workspace.
Let Your Child Complete Their Own Work
It's tempting to take care of any additional coursework your child may be missing just to get it out of the way and avoid frustration and fighting. However, this is yet another change your child will have to contend with later; their lives are already turned upside down with virtual learning and mask-wearing.
If your child has difficulty completing their own work after school hours, set aside time to sit down with them to help – without giving them answers or doing the work for them. Asking probing questions to spur them to think critically, or making small suggestions ("Here is the green marker to highlight the nouns.") can help inspire them to get busy.
Need Help Creating a Great Learning Space?
Take measurements of the area in your home you'd like to dedicate to your child's learning space. Then, visit Santa Fe Office Interiors, and we'll help you choose used office furniture, including ergonomic desk chairs, desks, and more. In an organized space without distractions, your child is more likely to retain information during virtual learning.
We're open Monday through Friday, from 10 a.m. to 4 p.m., in Overland Park. We can't wait to help you set up your virtual learning space soon!