Find Pre-Owned Cubicles and Wall Partitions for Sale in Overland Park, Kansas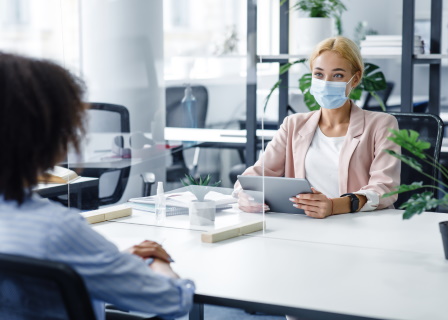 Are you finding that your open office space isn't working out? Or do you need to simply change up your office layout to make it more useful for your team? Upgrade your business offices with pre-owned office furniture in Kansas City, including office partitions, from Santa Fe Office Interiors.
Let's take a look at the ways you can use partitions in your office space to make it more conducive to productivity and positive employee culture.
Partitions Divide Desks to Create Employee Work Spaces
The BBC reported that workers in open office spaces are 15 percent less productive and have trouble concentrating, as compared to those working in dedicated cubicles. This is unfortunate, especially as more and more companies choose coworking spaces over separate workstations.
The novel coronavirus pandemic also throws a wrench into the idea of coworking spaces; employees seated without separation at the office is a recipe for spreading the contagion, because of the lack of physical walls between them to help block respiratory droplets.
If you're furnishing a new office space for your business, or if you're looking to take some preventative steps for COVID-19, adding cubicle walls to your workspaces is a great idea. See our full selection of desk partitions for sale at Santa Fe Office Interiors.
Office Partitions Provide Privacy in the Kansas City Metro Area
Employees working on confidential projects or handling sensitive information should never be put in a position where they're at risk for divulging company or trade secrets. Without office partitions, it can be quite easy for another team member or even a guest to see what's on an employee's computer screen.
If your team signs non-disclosure agreements regularly, help them to keep sensitive information to themselves by adding office partitions to create a more private environment. Partitions to cordon off a certain section of your office space will likely be adequate for these team members, and when you buy these temporary office walls secondhand from Santa Fe Office Interiors in Overland Park, you'll save a bundle, too.
If you need a place to conduct interviews or hold other human-resources-related conversations, office partitions can create privacy for that, too!
Office Partitions Decrease Noise Level
In open plan offices, noise ranges from 60 to 65 decibels. And, thanks to the Lombard effect, the noise levels only get louder and louder as people have to raise their voices to be heard over the din. This noise level is considered too loud for effective concentration, and for collaboration due to speech interference – not every piece of the discussion is fully audible thanks to background noise.
Improved acoustics in your office space can lower the decibel level. Even if you can achieve 55 decibels – only 10 fewer decibels than coworking spaces – you'll vastly improve employee performance and productivity. While you could demand your employees not converse unless it's work related, you risk creating a negative workplace culture in doing so. Instead, quieten your office spaces with upholstered partitions to absorb excess ambient noise and divide workspaces. Find them at Santa Fe Office Interiors on Santa Fe Drive in Overland Park, Kansas.
Make Useful Spaces with Used Office Partitions
In a lot of offices, meeting space is lacking, which means teams battle to reserve conference rooms, and administrative assistants are left to play mediator and determine whose work has the biggest impact on the business.
Some might propose a solution that instead of holding meetings, simply send an email to the team! And while that might work out well for quick, dispensable discussions, not every meeting can be replaced with an email, due to complexity or importance.
You can, of course, create meeting spaces with simply a small table and spare chairs (which you can get a great deal on at Santa Fe Office Interiors), or you can carve out a more private space by purchasing office partitions in a variety of designs to section off new meeting spaces in unused corners of the office. Tuck away a conference room in the back corner, where you've been storing your spare office supplies, or erect a meeting space along a wall where you normally display your latest projects.
Creative office arrangement and design means you can uncover extra room for office gatherings without breaking your lease and paying more per month on rent for a larger space.
Used Partitions Let in Natural Light
Erecting framed walls finished with drywall and paint can be a simple solution if you're looking to create a completely private office. It is most effective when natural light streams in from windows in the new office area. However, if you're simply looking to provide some separation between workspaces and don't want to sacrifice the view, emergency exits, and energizing sunlight, the right office partition can make a big difference.
Glass partitions are sanitizable and create a barrier between office spaces, but allow the same amount of light in and out. Similarly, low cubicle walls don't darken spaces, but still help your team concentrate on their tasks. If you assume that office partitions will make your work areas seem small and uninviting, Santa Fe Office Interiors would like to challenge that thinking. We invite you to come to our warehouse and see for yourself the modern and effective office partitions we have in stock at affordable prices. You'll be inspired to design a new office layout that is both inviting and purposeful.
Visit Our Showroom in Overland Park to Furnish Your Office Space
Outfit your business offices or even your personal home office with gently-used, high-end office furniture for sale at Santa Fe Office Interiors. For the last 30 years, owner Jim Lust has been working in the office furniture industry, and his expertise will guide you through choosing all the furniture and partitions you need to create a productive work environment.
Visit us between 10 a.m. and 4 p.m., Monday through Friday at 8106 Santa Fe Drive in Overland Park, make a private appointment by calling 913-901-8800, or send us a message online to get started on upgrading your office.