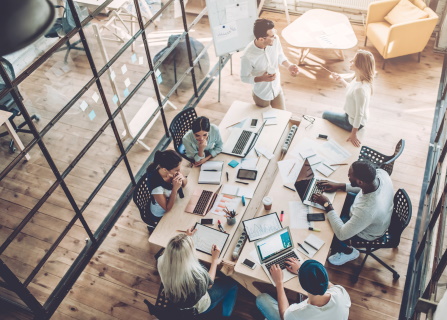 When we imagine the office environment, the first thing that comes to mind is a desk. Then maybe a chair. So central to the idea of work, the desk and the chair have become synonymous with more than office furnishings. They are the functional supporters and integral champions of inventions, startups, times of great joy, and times of deep thought for centuries. At the center of every work day is the desk and the chair. If there was ever a que that work begins, it does not happen when you get in your car or walk through the door at your business or swipe your key fob, it happens when you sit down in your chair, at your desk. In an office environment, little is more important to the future of your productivity than a solid desk and a comfortable chair. And little is more necessary than finding two that sing to you at an affordable price. At Santa Fe Office Interiors, we offer Kansas City metro businesses looking to upgrade or purchase new or pre-owned furniture a variety of styles, shapes and sizes to meet all your office needs. Understanding what makes a chair a chair and what qualities to look for in a desk, our team will work with you to find the best possible solution at a price within your budget. We believe that a happy employee is a productive employee and the central point of that happiness can often be found in the comfort of their working furniture. As a business owner concerned with budget and the bottom line, purchasing pre-owned chairs and desks may be the perfect solution to a new-to-you upgrade of your office.
Benefits of Buying Used Office Furniture
Affordability
It is rare to race out thinking that money is no object. It is rare, as a successful business, not to be looking at profit-margins, debt, collateral, gains and losses. As a leading furniture supplier in the greater Kansas City area, we think the same thinking should apply to buying your office furniture. Beyond shopping local for its obvious benefits of contributing to the economy, encouraging growth within your community, encouraging employment, and building a relationship with your neighbors who will help in times of need or deadlines, shopping at Santa Fe Office Interiors means you will have your items faster than an online purchase. It also means coming in with a budget and working with our team who will help get what you want and what you need, all while keeping that budget in mind. Buying pre-owned desks and chairs allow you to affordably purchase recent models of chairs and desks of quality. For some businesses, they chase the trends. Each year they may jump on what someone told them was the latest and greatest, forcing them to offload like-new office furnishings. What this means for someone looking to find affordable solutions is that the perfectly good furniture ends up in our 9,000 sq. ft. showroom in a huge variety of styles and functions at an affordable price.
Seeing and trying a variety of styles, first-hand
When shopping for pre-owned furniture, or any office furniture in the greater Kansas City area and beyond for that matter, it is important to understand functionality. Take the desk for example. From glass to metal to wood to laminate, there are dozens of shapes, sizes and styles to choose from. Looking through a catalog can be helpful, but it is not until the desk is in front of you that you really know if it is a good fit for you and your office. And that is not about looks, it is about function and comfort. A desk is more than simply a flat surface just as a pre-owned chair is more than someplace to sit. Although nuanced, their purpose is far greater than they are trivial. For a desk, it is important that your viewing angle is no more than 35º from your computer screen when placed directly in front of your face. Most desks are 30-inches high, but not everyone is created equal, so seeing a desk first hand is important to size and see the space underneath the desk. When shopping for desks, it is also important to keep in mind the range of shapes and styles available. For instance, sit-stand desks allow a versatile solution for physical needs. Within that style itself there are a variety of engineering options from hand cranks to hydraulic systems to raise and lower the desk. U-shaped desks, on the other hand, allow for a large surface space and promotes a natural way to compartmentalize and organize your work surface.
Providing a safe and comfortable office environment for guests and employees should be a top priority as a productive and healthy business. While the desk is often the anchor point in a room, finding a pre-owned seating solution for your office is just as important and has just as many variables as the desk, if not more. From an executive-style chair to task seating, each serves a purpose and each comes in a huge variety of styles and prices. At Santa Fe Office Interiors, we offer businesses in Kansas City more than simple chair solutions because the chair is important to a healthy workday and lifestyle. Our inventory is continually growing, adding new and pre-owned ergonomical solutions from the leaders in seating and seating accessories. Beyond aesthetics, our experts will dive into the engineering and functionality of the chair to help you understand the importance of what to look for to promote and sustain comfort.
From a desk to seating, these are both important aspects of any business large or small and should be a top priority when upgrading or furnishing your Kansas City based office. When you are ready to get started, swing by and visit us at 8106 Santa Fe Drive, Overland Park, KS 66204. Our Overland Park, Kansas location serves the greater Kansas City area Monday through Friday from 10:00am to 4:00pm and are also available by appointment to help fit your busy schedule. Give the team at Santa Fe Office Interiors a call today to set up an appointment at 913-901-8800.