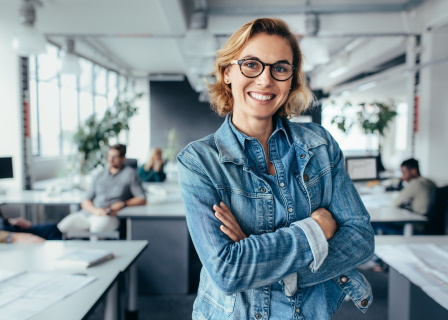 Whether you are a startup business working out of your home or you are a successful company ready for another round of expansion, the success of your business is directly tied with how you manage your finances. When it comes to where your money goes, you need to ask yourself what is important to you, your employees and your business as well as what you can afford. Prioritizing in a business is one of many keys to success and one huge piece that can often be overlooked when operating a business is the furnishings and decorations throughout the commercial space. Your office space is often the first impression potential clients and employees have of your business, so you want to keep it professional, clean, and up to date. But doing all three does not mean you have to outfit your space with the latest design trends or over the top furnishings. In fact, it does not even mean you have to race out to the store and buy a brand new set of desks, chairs, office partitions, or conference tables.
Used office furniture from a reputable store like Santa Fe Office Interiors in Overland Park and the greater Kansas City area is your one-stop-shop for finding the best line of used office furniture. Beyond saving money, you will be saving time because it will only take you one trip to our extensive 9000 sq. ft. showroom to find the best deals, quality products, and perfect style to match your office space and your budget.
Why should you consider buying used or preowned office furniture such as used desks, used chairs or used conference tables?
Reducing Environmental Impact
How about reducing environmental impact for starters? Plastics, rubbers and even some wood takes years to break down, if they do at all. Most materials used these days do not break down and therefore remain in the landfill forever. Every moment of every day around the world, waste is growing in landfills, natural habitats and our oceans. Of that collection of waste are used office furnishings as an 'out with the old, in with the new' mentality sweeps organizations globally. This often perfectly fine used furniture sees its end instead of seeing a new life at an affordable price. Whether the clearing is from stores that are making way for new inventory or office spaces who irresponsibly update their 'look' in an attempt to mask underlying issues, it is shortsighted behavior and mismanagement of resources that contributes to global waste. At Santa Fe Office Interiors in the greater Kansas City area, we believe that there is value and benefit in buying pre-owned furniture because in the act of saving the world from pollution and waste, every little contribution helps. Which brings us to another reason why you should buy pre-owned furniture for your next or first office redesign.
Depreciation
Let someone else take the hit for buying new office furniture. Keeping up with the trends of new furniture can be expensive and often result in taking a larger loss than reasonably necessary. Similar to a vehicle, new office furniture can depreciate rapidly while used office furniture often retains over 75% of its resale value. When you are looking to by the newest model desk or chair on the market, there is a high chance of unnecessarily breaking the bank. However, finding a similar design or style from a previous year, you are able to save money, not take a depreciation hit, all while keeping with the trends.
Saving time
At Santa Fe Office Interiors, our showroom is filled with over 9,000 sq. ft. of pre-owned office furniture. Having a large inventory of office desks, chairs, seating solutions, conference tables, office partitions and more products means we have a style to match every need. While we also work closely with new furniture suppliers and carry such furniture, stopping by our shop allows you to not only see and test out the furniture before buying, but it also means speedy delivery to your business location. While there are some benefits to buying new furniture, buying used means having it readily available at the drop of a hat instead of waiting weeks for delivery. This benefit saves you time and money in the long run, allowing you to get on with more important business matters. Turnaround time is almost immediate.
Vetted Quality
Pre-owned furniture purchased through a trusted dealer like our team at Santa Fe Office Interiors provides confidence that you are purchasing vetted, quality furniture at a competitive price. The nearly unlimited selection of styles to choose from have all been hand-checked for quality and wear marks by our staff and priced appropriately. Pre-owned furniture that still holds up today means it has stood the test of time and is of a higher quality than something that may be new, but could have a shorter life after use. With decades of experience among our staff, we have seen furniture come and go and we know quality pieces when we see them. That knowledge is at your disposal when you work with our team to outfit your home office or commercial space. With every space being different in shape, size and style, it is important to find the right furniture, the first time, to match the aesthetic look and feel you want.
Outfitting your office with pleasing furniture does not have to cost a fortune. It should not put a dent in your budget or business expenses and one way to save costs is by shopping Santa Fe Office Interiors in the greater Kansas City area for pre-owned office furniture. Not only can we help you find deals on recent models of furniture, but buying pre-owned furniture means investing in higher quality furniture at a lower price point. Pre-owned furniture is affordable, accessible and economical. When you are ready to outfit your office or upgrade your furniture, swing by Santa Fe Office Interiors at 8106 Santa Fe Drive, Overland Park, KS 66204. Our Overland Park, Kansas location serves the greater Kansas City area Monday through Friday from 10:00am to 4:00pm and are also available by appointment to help fit your busy schedule. Give the team at Santa Fe Office Interiors a call today to set up an appointment at 913-901-8800.