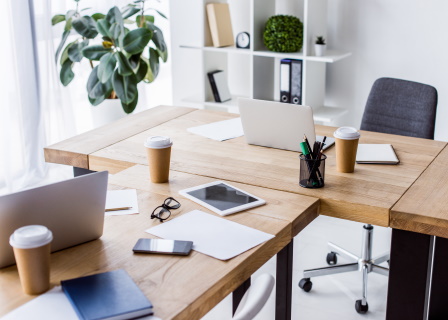 Where is a used office furniture store located? How about a new office furniture store?
The answer is Overland Park in the greater Kansas City area. Imagine finding a new or used office furniture in the same store! What's better? When you buy local, that money stays local and helps boost the Kansas City economy. By contributing to the local economy of Kansas City you are directly helping your community provide greater opportunities for others. Santa Fe Office Interiors is your go-to office furniture store in Kansas City because we not only have the office furniture you are looking for, but we look beyond the bottom line to help the people in our community present themselves and thrive.
What is the Go-To Spot for Furniture in KC?
From an economics standpoint, twice the amount of money spent in the community stays in the community when buying locally. Since 2005, Santa Fe Office Interiors has been a staple in the Kansas City area. Who provides Kansas City with their office furniture? Santa Fe Office Interiors works to bring quality furniture to the masses, from residential to commercial office spaces. Not only does the selection of new and used furniture cover a 9,000 sq.ft. showroom, but we also order direct from our suppliers through several catalogs.
How to retain costs when you start a business?
Find a local furniture store like Santa Fe Office Interiors who will supply financially affordable new and pre-owned furniture while also working with you. It is important to establish a working relationship with your local businesses because people want to help you succeed. People want local businesses to thrive and grow, and they are looking for ways to always contribute to the success of others. As a local and family-owned furniture supply business in the greater KC area, we know what it takes to own a business in your community and we pride ourselves on providing affordable, quality furniture and interior solutions for your local business.
What are Office Furniture Options in Kansas City?
If you swing into our showroom and meet the team, you will see that Santa Fe Office Interiors has a huge selection of office furniture ranging from chairs and desks to partitions and organization solutions. By contacting our team, you will have over 30 years of experience at your disposal when looking to outfit your next office or upgrade your existing space. Come visit us and our inventory at our Overland Park, Kansas location at 8106 Santa Fe Drive, Overland Park, KS 66204. We are open Monday through Friday from 10:00am to 4:00pm and are also available by appointment to help fit your busy schedule.
How do I make my office different?
Every workspace throughout Kansas City is different and each business operates differently from the next. However, a few constants in the working world are efficiency, health, and productivity. Each business can trace its success and failures on one or more and each of those characteristics can be traced to the quality of office furniture. As a business owner or employee, how you furnish and plan the interior workspace can greatly affect the level of productivity, morale, and the bottom dollar of your business. This is the main reason we not only supply the highest quality pre-owned furniture, but it is also why we work with the best products from the best manufacturers in the business including:
Safco products
Lesro seating reception
Best Furniture Inventory in Kansas City?
Santa Fe Office Interiors has a wide range of inventory and the ability to order from nearly any manufacturer in the industry. From our Overland Park location, we have been outfitting area businesses with new and pre-owned office furniture helping to create a safe, productive and efficient environment for each of our clients. Not only do we help Kansas City area businesses furnish or upgrade their current interior design, but we help businesses save money by working hand-in-hand to find the best deals and the best quality furniture in the city. Ever wonder about fatigue in the workplace? Ever heard of ergonomics? Check out some of our previous blogs to dive more into what we do on a daily basis and our expertise in everything office furniture and design.
Buying local has obvious benefits. Not only are you contributing to your neighbor, you are contributing to your neighborhood and helping the local economy through growth. In turn, a local economy can help you whether you own a home, own a business, or frequent stores and restaurants. Stimulating a local economy by shopping local means investing in your community. Shopping at Santa Fe Office Interiors means contributing into the greater Kansas City area. It also means jumping the line and instead of waiting weeks for shipping from an online source, items are delivered to your office faster and more efficiently. Furthermore, buying local forms a relationship with a team who knows you and your office space should you ever need assistance in the future. Buying pre-owned desks and chairs allow you to affordably purchase recent models of chairs and desks of the best quality and within a budget without having pushy salespeople hovering over your every move. Pop into our showroom and meet the team today!