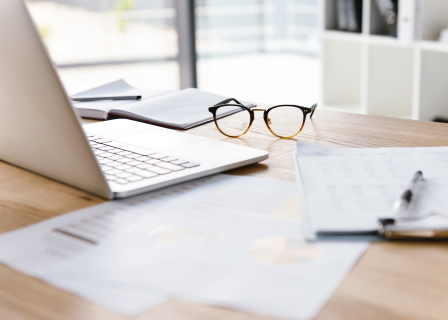 How you will use your next desk plays a key role in factoring what kind of desk you will need. Whether you are looking for a new or a pre-owned desk, both have their advantages but affordability and practical function should be at the top of your list. If you are looking for a desk for mainly computer-related work, sinding a workstation specifically designed for computer use could be beneficial. Maybe you need space for a keyboard, your computer monitor, or holes for organizing cables? Or maybe you are looking for a desk that will primarily be used for paperwork and therefore you need something with a little more space to accommodate organizational tools like shelves and cabinets? How about a combination of the two? Knowing what you plan to use your new or used desk for before hitting the store will save you time, energy, and in the long run, money.
What's the Best Desk for a Large or Small Space?
Have you pulled out that tape measurer to figure out how much space you have to work with inside your office? If step one is understanding what you use your desk for, step two should be knowing how large or how small of a desk is needed for the space you have to work with. Sometimes visualizing a desk within a space is not always enough. Finding a few old cardboard boxes or maybe even an old desk or table lying around is a way to map out an existing floor plan to see how large of a desk you need while not overcrowding an office.
What tools will you need to access while using your desk?
Are you a messy worker or do you function best when you have one task before you at a time? Your answer to this question can monumentally help you quest for your next desk and define the desk and amenities you will need. Similarly to knowing the type of work you will be doing on the desk, knowing the type of worker you are is just as important. For some, clutter is seen as a distracting factor to a workspace and as a result, productivity can suffer. For others, it is all part of a creative genius in the form of organized chaos.
Ergonomically Friendly Desks
Above all else, when you are spending long hours behind a desk, it needs to support your productivity as well as your health. Long hours sitting can be detrimental to your health both physically and mentally. When looking for a desk, you need to be aware and keep on your mind a few key aspects to finding an ergonomically sound solution. One of these is providing adequate clearance for your legs. Most desks should be between 29 and 30 inches tall. This height should also take into account your keyboard and computer monitor placement so that you are not straining your arms, back or neck to reach or see. Materials such as pens and papers should be easily accessible within arms-reach while in the seated position, you should not have to strain to reach something you regularly use during the day.
What Material is the Best for a New or Used Desk?
The answer is personal. In many ways, what works best for some may not work for others. Finding a desk is a hands-on process which means finding a space like Santa Fe Office Interiors who has a large showroom boasting various styles, shapes and designs of desks to choose from. In fact, our Kansas City area showroom is 9,000 sq. ft. and allows our customers the ability to walk through and interact with new and used furniture to find one that suits their needs. Find a model desk that you like but not in the right color, work with our team to track down and order the exact desk you love through one of our quality manufacturers we work with. From the popular and affordable laminate designs to metal or wood, the surface of the desk should complement the overall aesthetic of the office.
Should You Sit or Stand at Work?
Why not have the option of both with a desk that can raise of lower with hydraulics or a hand-crank? By incorporating a stand up desk into the workplace, it can give your back a break while promoting good posture and blood circulation. When choosing a new desk, it can be an investment so it is important to work with a quality team who can work within your guidelines of budget, size, shape and function. From wood to glass to laminate desks, new and used desks come in all shapes and sizes. They also come in building styles from the sit-stand models to L-shaped desks which allow for more surface space while having materials in close reach. How about a U-shaped desk? Traditional rectangle? Corner desk?
When you are in the market for your next desk come in to the shop and meet with our team. We are open Monday through Friday from 10:00am to 4:00pm and are also available by appointment to help fit your busy schedule. Owner operator, Jim Lust, has over 30 years of experience in the industry and is here to answer your questions. Come visit us and our inventory at our Overland Park located at 8106 Santa Fe Drive, Overland Park, KS 66204. When you are ready for your next office redesign or looking to furnish a new office space from Overland Park to Kansas City and beyond into Missouri or Kansas with pre-owned furniture, contact our team at Santa Fe Office Interiors at 913-901-8800.