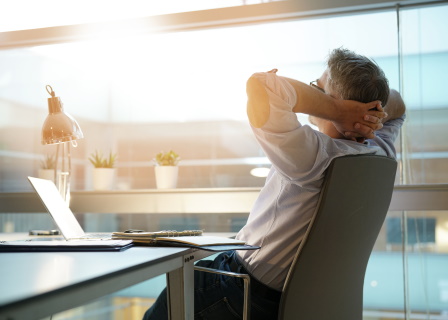 If you're like the majority of the working country, you spend most of your time in a chair. And that chair, whether you know it or not, can make or break your productivity at work and your future health. In fact, studies over the years have lead to the creation and promotion of something called ergonomics. What is ergonomics as it relates to office chairs? An ergonomic chair will help your joints stay healthy and comfortable at work. An ergonomic chair is one which promotes good posture and helps you maintain that posture throughout the work day by keeping your spine aligned naturally through various forms of support. As a result, workers feel more energized during the work day because they have not been straining their body, joints, ligaments or muscles for hours on end with no relief in sight.
Increased energy typically leads to increased productivity and positivity.
How Do I Find the Best Chair for My Office?
Choosing the right office chair can range widely from person to person and aesthetic to aesthetic. But you should choose and office chair that is ergonomically conscience, fits in your office space and provides adequate support not only for you body, but for your office functions. For instance, if you are sitting at your desk, you should be sitting up with good posture and that should be promoted by your chair. Your monitor should be at arms-length away and the chair should easily move from under the desk. There are additional functions that define a great office chair and characteristics you should look for when finding your next one.
What Are the Characteristics of a Great Office Chair?
From executive chairs to task and computer chairs, great office chairs all promote one thing- healthy posture and workplace productivity. From big and tall chairs to conference chairs to kneeling chairs, they can all be outfitted with the principles of ergonomics and function. Your favorite office chair should have seat depth adjustment, the ability to raise and lower the height of the seat, movable armrests as well as an adjustable lumbar support. But why do you need all these functions in a simple office chair? The answer is simple. How much time do you spend in that chair every day? What about every week, or even every month? It may seem insignificant, but working with a team at Santa Fe Office Interiors to help you find your next chair may be one of the smartest things you have done for your health and the future of your career and here's why.
What Affects Workplace Productivity?
Comfort is directly related to energy output and therefore productivity in the workplace. When you or your employees are tired and drained at the end of a long day, or maybe even by lunchtime, it may not be a result of a heavy workload and it could be a simple factor of bad office furniture. Compound that issue over time and your business can suffer. When you and your employees have the option to customize an office seating solution that works best for them everybody wins. Chairs are not a one-size-fits-all deal and everyone should be able to customize their tilt, height, armrest and lumbar support as they see it aligns best with their body shape, size and height. Employees who have this support in their office seating are found to take less breaks, fidget less and are not as distracted from the tasks in front of them. Today, Santa Fe Office Interior works with quality manufacturing and office furniture design brands like RFM Seating, ES Robbins, Lorell, and Cherryman. Each brand takes workplace comfort and injury seriously when designing their products because they know billions of dollars are lost each year due to lack of productivity directly related to the office environment.
What Are the Best Office Chair Brands?
At Santa Fe Office Interiors, we supply the greater Kansas City region with new and used solutions in the world of office furniture. Because of this, we see brands and furniture come and go on a regular basis, but there are obvious standouts from the crowd. We have identified those who best align with our mission of bringing top quality furniture to our customers at affordable prices. Those brands include RFM Seating who specialize in fully ergonomic office chairs to promote health and productivity on the global scale. Cherryman has widely been known for their commitment to sustainability as well as a large selection of styles complete with synchro-tile and seat sliders. Lorell is a manufacturer tiks all the boxes of style, function and affordability.
At Santa Fe Office Interiors, we know you should invest in office furniture that is ergonomically sound while matching your office aesthetic. Our showroom is ready to help you find the best seating options at affordable prices within your budget. When you visit our showroom in Overland Park, Kansas, be sure you have an idea of the shape and style of chair you are looking for to help our team best serve your needs. We will also show you some of our favorite options from our favorite brands because we know how important a good seat is. Sitting has been linked to depression, heart disease, Type 2 diabetes, muscle degeneration, back pain, and a whole slew of ailments. Swing in to check out the inventory at our 9,000 sq.ft. showroom or contact our team at Santa Fe Office Interiors at 913-901-8800. We are located at 8106 Santa Fe Drive, Overland Park, KS 66204. Open Monday through Friday from 10:00am to 4:00pm and are also available by appointment to help fit your busy schedule.