Kansas City Office Furniture Can Be Affordable and High-End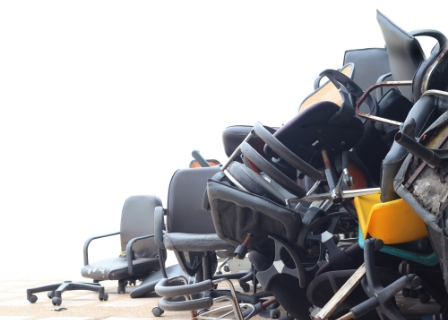 Black Friday is the time of year for the best deals on nearly anything you can think of. The latest big-ticket items from appliances, to tech, entertainment, and more, there's something for everyone's holiday shopping list.
Office furniture is also a hot commodity during this time of year. You'll see big box corporate office supply stores wheeling out their office chairs, desks, and more, at somewhat lower prices than their usual expensive markups.
However, you want to make sure that you know what you're getting, if you decide to check out one of these "deals" on Black Friday. Low prices don't always mean quality when it comes to office furniture.
In this installment of our blog, we'll show you how to find excellent new and used office furniture (including office chairs) that is both affordable and high-quality, so you can get the Black Friday deal you want without ending up with a return on your hands, or worse, an unrepairable item.
What to Avoid When Shopping for Kansas City Office Furniture on Black Friday
Although a Black Friday deal on new office furniture is tempting, you want to watch out for certain red flags. The last thing you want is an office desk that doesn't match your decor, and you definitely don't want to end up with an office chair that you find out is uncomfortable, flimsy, or gives you back pain.
Red Flag #1: You Can Only View the Furniture Online
Getting a good deal might mean heading to the Internet, but if the office furniture is not available in-store, you're not going to get a good sense of how it looks and – in the case of office chairs – how it feels. Don't be lured in with a great price if you haven't actually taken the chair for a test drive.
Red Flag #2: The Furniture is In-Store, but the Reviews Online are Iffy
Let's suppose you're shopping for a new chair, and you find one in a big box store that's been marked down for Black Friday. Here, you'll be able to give the chair a spin to see if it's comfortable, and if it looks like it would fit well with your other office furniture.
However, it's also a good idea to check out reviews online. Much like clothing, sometimes things look and feel good in the store, but it's a different story once you get home. Reviews online will let you know if the chair is comfortable for the long haul, or if the craftsmanship holds up over time.
Red Flag #3: The Black Friday Markdown is Just One Markdown In a Series
When you head over to a corporate office furniture store in Kansas City that isn't locally or family-owned, you might end up seeing a clearance or sale section that has marked-down office furniture. Take a look at the tags, and inspect the chair you're interested in. Has this item been marked down multiple times? Is this Black Friday sale just a markdown in a series of price reductions? Does the chair look like it's been returned already, or is it missing its original tags or packaging?
If you're noticing any of these details, this chair has probably been passed over multiple times this year for good reason. This Black Friday markdown is an attempt to get someone to buy the chair at a cheap price, because the business wants it off the floor. There's a reason why this chair has been sitting so long: it's not a high-quality chair that people want to sit in.
Here's What to Look for When Shopping for Office Furniture on Black Friday
Now, let's take a look at the positives: the things you should be looking for, so that you can get the Black Friday deal you want, without ending up with poor craftsmanship and discomfort.
Here's what to look for:
The store is dedicated to new and used office furniture
Instead of heading to a big box store that offers everything for your home, stick with a store that is dedicated to new and used office furniture, including office chairs. Making this choice will allow you to browse a wide variety of inventory, including affordable brands that are also exceptionally built.
Dedicated employees are on-site to discuss furniture design and comfort
When you go to a corporate store, and you want to ask questions about a new or used office chair you like, you might even have to wait for someone to come over to the furniture department. And it isn't likely that they're experts in office furniture.
This isn't the case at a new and used furniture store. These more intimate shops offer prompt and dedicated staff who love to talk about the very best, affordable furniture, and want to ensure that you're happy with your purchase.
The business is locally- and family-owned in Kansas City
A local, family-owned business has something to protect: their reputation and trustworthiness in the community they serve. Businesses like these are your best bet because their goal is to focus on getting high-quality items in their customers' hands. Big furniture stores just want to move inventory. At a local shop like Santa Fe Office Interiors, the goal for every sale is customer satisfaction.
Santa Fe Office Interiors Offers Great Deals on Office Furniture in Kansas City
Make Santa Fe Office Interiors your Black Friday destination for new and used office furniture. Our 9,000-square-foot showroom offers nearly anything you can imagine, from name-brand designers to carefully selected items that you won't find anywhere else.
The showroom rotates daily, so we're always putting out new inventory, including deals on high-quality, comfortable, and aesthetically-pleasing furniture that's just right for your office.
Come try out the superior new and used office furniture we have on the floor today. Our new and used office furniture showroom in Kansas City, every Monday through Friday from 10 a.m. to 4 p.m. Looking for something special? Get in touch with our owner Jim at (913) 901-8800, or send us a quick message online.