Choose the Best Conference Room Table to Help Your Team Shine!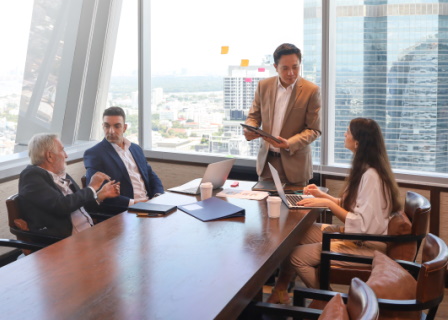 A conference room table is the central piece of furniture of any room, and it tells a lot about the room you may be walking into. This is where collaboration will happen or this is where an important presentation will be given. This is where the executives or C-suite of the company meet or this is a place where all employees can gather and collaborate.
Find out the top things you need to look for when choosing an office or boardroom table.
Top things to look for when choosing a meeting room table:
Room Dimensions: Similar to outfitting any room, you need to think about the size of the space you're putting the office table in. Make sure there is enough room around the table so people can easily get to other sides or the room. Also take into consideration the windows or doors in the room to make sure people can access them as well. You don't want your new table blocking a gorgeous view or an exit! Also, take into consideration any additional equipment or office furniture your room will need. Think audio/visual station, couch or even a podium.
Seating: Determine how many chairs you'll need in the room, as well as what types of chairs should go in the conference room. Is your space being used for informal or formal meetings? How large will the meetings be in the room? As a note, a ten foot table can comfortably seat 8 people. You'll also want to leave enough elbow room for anyone sitting at your table, even when the table is full.
Room Style: Remember that the design of the table needs to fit the rest of the room, as well as your overall office. Conference tables come in an array of designs including traditional, modern, contemporary, and more importantly in numerous shapes, like circular, rectangular, boat shaped and racetrack.
Cost: Last, but certainly not least is the cost. Remember to carefully consider how a conference room table will fit into your budget. Prices vary according to size, materials, style and if it's part of a new or old collection. Looking for a conference table on a budget? Have you considered purchasing a used meeting room table? Many Office Interior stores sell cheap used office furniture at a fraction of the price. Try Santa Fe Office Interiors in Kansas City.
Finding Used Office Furniture at Santa Fe Office Interiors
Santa Fe Office Interiors understands that an office table is a central component to any experience. When creative minds and decision-makers come together, they need a place that is not only pleasing, but is also functional. Santa Fe Office Interiors offers some of the top brands of conference room tables, all of which bring a formality to their tables and fit seamlessly into the larger narrative of an office space, regardless of size. From the executive boardroom to the creative department of a common meeting room, a conference table can make or break a room and more importantly, a business deal. Large or small, Santa Fe Office Interiors has table solutions for your Kansas City business. Looking for power/data modules for a high-tech meeting room? Santa Fe has you covered. Looking for something sleek and simple for a boardroom? We have that, too.
Office Furniture at Any Budget
Designing and outfitting an office space, regardless of the size, can be overwhelming not only in a project sense, but financially as well. Finding cheap office furniture doesn't mean you have to sacrifice quality. Santa Fe Office Interiors helps business owners save money, period. When you outfit your business with pre-owned office furniture, you'll be saving money while keeping the same quality you'd get with new office furniture.
The Best Office Furniture in Kansas City
Now that you've heard all about Santa Fe Office Interiors and what we have to offer, come check out our diverse inventory in person. Visit our 9,000 sq. ft. showroom to see the various price points and stock for yourself in Overland Park, Kansas. Santa Fe Office Interiors has a team of professionals ready to help choose the best furniture and office accessories for your space. Reach out to the Santa Fe team at 913-901-8800 or stop in the showroom Monday through Friday 10:00 a.m. to 4:00 p.m., or by appointment. Santa Fe is located at 8106 Santa Fe Drive, Overland Park, Kansas 66204.