Finding Quality Office Furniture in Kansas City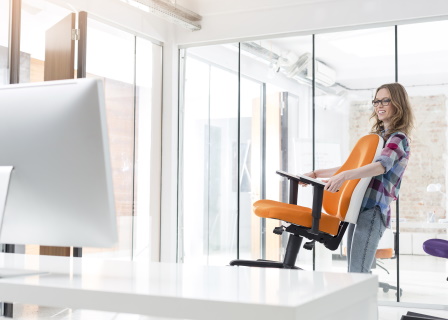 Did you know most people spend the majority of their work day sitting? Even more reason to make sure you get a dependable (and comfortable) office chair for your home office. Find out the top reasons to invest in a good new or used office chair, as well as the best office chair brands for you to check out and what to keep an eye out for.
Top Reasons to Invest in a Good Office Desk Chair
Productivity – Using a proper ergonomic office chair, that is set up correctly, ensures that you are comfortable and properly supported throughout your time sitting in the chair. Who wants to sit in a chair for hours at a time and be uncomfortable? A bad chair can hinder your ability to do a good job, and negatively affect your productivity.
Health – A bad chair can do a lot more damage than you think. Neck and back pain are what most people think of when they think of sitting in an uncomfortable chair for an extended period of time. But did you know that if your body is not properly supported the circulation around your body is hindered? This can result in blood clots, as well as serious discomfort of your whole body. A good ergonomic chair takes the pressure off your body and encourages good blood circulation.
Happiness – Who knew an office chair could bring you happiness? Well it can! If you're more comfortable while sitting and doing your work, you are typically much happier. No one wants to go about their day feeling uncomfortable. Letting your chair give you a healthy posture, means you'll overall be much happier.
What to Look For
Overall, make sure your chair has a good ergonomic design. You want your chair to manually adjust so your seated posture is in accordance with your physical size and bodily proportions. Also make sure:
Backrest reclines – The chair should support your back as you lean forwards.
Armrest height adjusts – The armrest should provide support for each arm, relieving any strain on the shoulders and back
Tilt-tensioning – You should be able to adjust the amount of tension in the reclining mechanism, so you can lean back smoothly while reclining the backrest.
Backrest locking – A latching mechanism should allow you to lock the backrest's degree of tilt at various angles for better support.
Sliding seat pan – This allows the seat to pan to the front or rear, helping you find a more comfortable position that supports your thighs.
You must also check out the build of the chair. Make sure the chair's upholstery not only fits with your style but works for your comfort level. If you tend to sweat, you should look for a chair with airier mesh that expels warmth more effectively. If you get chilly, leather is better for retaining heat.
Best Office Chair Brands
Don't miss out on these top brands while searching for your new home office chair. Investing in a chair made by one of these brands will ensure you will be purchasing not only a comfortable chair but one that will be with you for the long run.
RFM Seating
RFM Seating brings top notch products to any work space (home or office). RFM offers fully customizable ergonomic seats and promotes healthy and productive workforces. Read more here.
Lorrell
An office furniture manufacturer whose products focus on style, function and affordability, Lorell takes a common-sense approach to office interiors, while holding their products to a rigorous and comprehensive standard for low emissions production. Read more here.
Cherryman
Cherryman furniture offers a wide selection of office furniture through a commitment to sustainability. They design products for the long-term, meaning their products are built to last through strength and modularity, decreasing waste from short-term consumption. Read more here.
ES Robbins
ES Robbins leads the way in innovation both in and out of the office. Offering seating accessory solutions, they've led the industry for over 50 years making ergonomic chairs sit flat and roll with ease. Read more here.
Take a Seat!
Now that you know what to look for in a home office chair, it's time to take a test drive! Sit down, make sure you are comfortable, adjust as needed and find your perfect chair.
Looking for office chairs you can try out in Kansas City? Santa Fe Office Interiors has the best office chairs on the market, including RFM Seating, Lorrell, Cherryman and ES Robbins, and a beautiful showroom to test them out!
Visit Santa Fe Office Interiors' 9,000 sq. ft. showroom to see the various office chair price points and stock for yourself in Overland Park, Kansas. Santa Fe Office Interiors has a team of professionals ready to help choose the best office chair for you. Reach out to our team at 913-901-8800 or stop in the showroom Monday through Friday 10:00 a.m. to 4:00 p.m., or by appointment. We are located at 8106 Santa Fe Drive, Overland Park, Kansas 66204.
Sit in Comfort with the Best Used Office Chairs in Kansas City
Working on a budget for your office interior furniture? Don't let financials get in the way of having a comfortable office chair. Santa Fe Office Interiors sells cheap used office furniture and chairs. Get a chair that checks off all the necessary boxes, and is basically made for you, at a fraction of the price. Something new doesn't always mean best. The best chair for you is one that you feel comfortable in. Come in and take a look at Santa Fe's used chair inventory today!