Don't make a blind decision for one of your most important purchases. Take a seat before you make a purchase!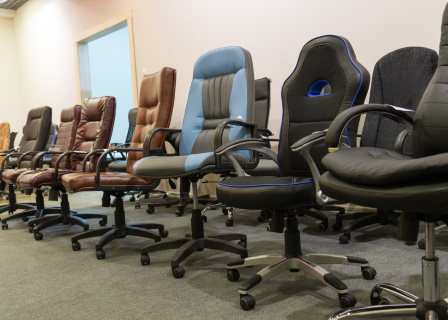 We are living in a world where the majority of people holding down a full time job are sitting for a majority of their day. Given the increase in working from home during the pandemic, and even currently, people are finding themselves sitting for much longer throughout the day.
Have you heard the phrase "try before you buy"? This phrase is especially important when looking to purchase an office chair! To ensure you get the best office chair for you, you must try it out, in person. The worst thing you can do is blindly purchase a chair off the internet (even if it is based on wonderful product reviews) and not try it out. Chair comfort is specific to the individual. Visit an office interiors showroom near you and keep in mind that there are a few things you should keep in mind when purchasing a chair:
Ensuring proper seat width and depth
These two factors in a chair are very important for your comfort. Your chair needs to have enough width and depth to support you. Standard chair width ranges from 17 inches wide to 20 inches wide. The seat depth should be large enough so you can sit with your back against the back of your chair and have 2 to 4 inches between the back of your knees and the seat of the chair.
Ensuring both the width and depth of the chair are properly adjusted will provide you with more back support and distribute your body weight evenly across the seat.
Do you need lumbar support?
YES! Lumbar support is critical for a good office chair. Everyone's lumbar spine has an inward curve that flattens when you're sitting for long periods of time. If you don't have the proper support, it can weaken the structures in your lower spine (yikes). The best office chairs have lumbar support features to make sure you get the proper fit and support for the inward curve of your back. Ultimately, helping you keep a good healthy posture for hours.
A chair with a good backrest also helps to create the ultimate chair for lumbar support, and reduces neck and back pressure. To get the right support for your lumbar region, you should look for an office chair that is about 12 to 19 inches wide.
Seat material isn't just for looks!
Looks aren't everything. While you want to make sure the fabric and material of your chair fit your decor and aesthetic, the actual material and padding is the most important when it comes to your comfort. Make sure there is enough padding that you can sit comfortably for an extended amount of time, and make sure the material can breathe. Airflow is ideal versus sitting on something with a harder surface for an extended period of time.
Now you know what you're looking for – Take a seat
Now that you've ensured proper width and depth, checked out the lumbar support and material, it's time to take the chair for a test drive. Sit down, make sure you are comfortable, adjust as needed and find your perfect chair!
Looking for office chairs you can try out in Kansas City? Santa Fe Office Interiors has the best office chairs on the market, and a beautiful showroom to test them out!
Visit Santa Fe Office Interiors' 9,000 sq. ft. showroom to see the various office chair price points and stock for yourself in Overland Park, Kansas. Santa Fe Office Interiors has a team of professionals ready to help choose the best office chair for you. Reach out to our team at 913-901-8800 or stop in the showroom Monday through Friday 10:00 a.m. to 4:00 p.m., or by appointment. We are located at 8106 Santa Fe Drive, Overland Park, Kansas 66204.
Everyone deserves to sit in comfort
Working on a budget for your office interior furniture? Don't let financials get in the way of having a comfortable office chair. Santa Fe Office Interiors sells used office chairs. Get a chair that checks off all the necessary boxes, and is basically made for you, at a fraction of the price. Something new doesn't always mean best. The best chair for you is one that you feel comfortable in. Come in and take a look at Santa Fe's used chair inventory today!