Don't buy a new office chair without looking for these features first!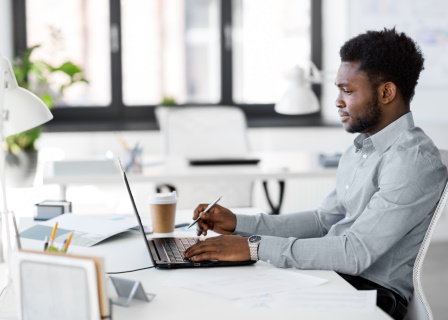 No matter where your office is (in a traditional building or in your home), a chair is the main component of your comfortability and productivity. Have you ever sat on a chair that had no back support or proper cushioning? It's all you can concentrate on. When choosing an office chair you need to ensure it has features that will work best for you, for the long run.
Make sure these five features are considered when searching for the best office chair:
Adjustable height – The option to adjust the seat height of your chair is essential in keeping you comfortable, especially during long hours of work. If your chair is too high up, you may find yourself moving forward to keep your feet on the ground, which results in poor posture. Alternatively, if your chair is too low, your knees will be higher than your hips, which can cause stress on your lower back.
Having an adjustable height chair lets you pick the appropriate level for your comfort, and gives you the ability to change the height as needed.
Quick tip: When looking for a chair with adjustable height, make sure they are easy to use and durable to use over time.
Lumbar support – The lumbar region is made up of five lower back vertebrae and are the largest and strongest in your body. This means they need support on a daily basis. Also, will lower back strains, which is common among professionals, it is important to look for a chair that is designed to provide support to this region of the body.
Some chairs are designed specifically to support the lumbar, with a seat back molded in an S-shape spinal posture. Others may not include this and a separate cushion would need to be purchased to provide this support.
Tilt control – A "slightly reclined" posture may help in protecting your spine while sitting at your desk. Having the ability to angle your seat back is another important feature to look at when selecting an office chair. You want to look for a chair that allows you to tilt back, so that the back of your chair is at a 100 or 110-degree angle.
Mobility – Are you moving around a larger desk or constantly shifting over to talk to a coworker? If so, you want to make sure your office chair is mobile! Many office chairs alet you pivot in your seat, shifting the direction you are facing, as well as let you lock the chair in place to maintain stability. If you are looking for a chair that lets you move, make sure it is durable and built to survive daily use and movement.
Materials and padding – Office chairs come in many different shapes, sizes, colors and fabrics. While the look and feel is important, whether this is a chair for a home office or larger corporate space, you must prioritize sustainable comfort over style. A chair that is visually appealing may not provide the support your body needs to sit for many hours. This is why it is important to test out any office chair you are looking to purchase. An image and reviews may look great online, but you cannot truly confirm that the chair will be comfortable to you unless you try it out yourself.
Looking for office chairs you can try out in Kansas City? Santa Fe Office Interiors has the best office chairs on the market, and a beautiful showroom to test them out!
Visit Santa Fe Office Interiors' 9,000 sq. ft. showroom to see the various office chair price points and stock for yourself in Overland Park, Kansas. Santa Fe Office Interiors has a team of professionals ready to help choose the best office chair for you. Reach out to our team at 913-901-8800 or stop in the showroom Monday through Friday 10:00 a.m. to 4:00 p.m., or by appointment. We are located at 8106 Santa Fe Drive, Overland Park, Kansas 66204.
Everyone deserves to sit in comfort
Working on a budget for your office interior furniture? Don't let financials get in the way of having a comfortable office chair. Santa Fe Office Interiors sells used office chairs. Get a chair that has the features you consider necessary, and is made for you, at a fraction of the price. Something new doesn't always mean best. The best chair for you is one that you feel comfortable in for an extended amount of time. Come in and take a look at Santa Fe's used chair inventory today!