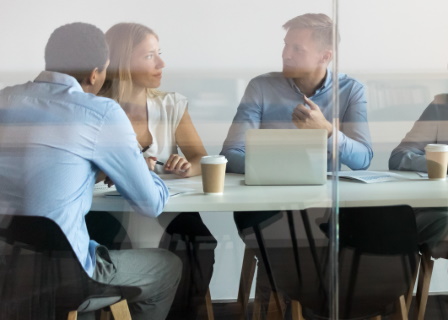 Santa Fe Office Interiors serves the greater Kansas City area from our 9,000 sq. ft. showroom in Overland Park, Kansas. Through working with the top furniture brands in the industry, we are able to outfit any office or commercial space with options that compliment your aesthetic preferences. From rustic to classic, modern to contemporary styles, we have seating, desks and storage solutions for any space. Working with top brands like Cherryman allow us to not only customize a look, but also customize the furniture to our client's needs. Looking for that perfect corner office desk with built-in storage compartments? Cherryman is one of the top manufacturers to bring you what you want. With five lines of high-quality furnishing products to choose from, Cherryman is a perfect fit for Kansas City businesses looking to upgrade their office furniture.
Cherryman Office Furniture Overview
Desks, Bridges, Hutches and Storage
This is furniture with a wide selection of commercial office options from Cherryman, a manufacturer with a commitment to sustainability and long-term use. They work to decrease the mentality of short-term consumption by creating a top-of-the-line product across all their styles. The promotion of quality materials that last a lifetime also means that the furniture's functionality and comfort should last equally as long. With a focus on ergonomics, Cherryman provides options such as synchro-tilt and seat slider adjustments that will fit and support you now and in the future. Quality can sometimes mean limitations in styles and supply, however, Cherryman promotes both in a nearly endless array of customization so that you get the perfect office furniture that will last a lifetime. Their commitment to sustainability means understanding environmental impact and using renewable and recycled materials whenever possible. Cherryman designs products for the long-term and attaches a 10-year warranty on their furniture, meaning they are confident in the strength and modularity of their pieces. Offering Veneer bridges in traditional and transitional styles with scalable solutions allows companies to design spaces from private offices, conference rooms and even reception areas. Their Ruby line, for example, features Cherryman's signature paprika cherry finish while their Jade series has a chestnut cherry or henna mahogany finish. Looking to modernize? Add the optional frosted white glass accents for a sleek, new look.
Product Line Aesthetics: Ruby, Jade, Emerald
The Ruby line is made up of desks, bridges, hutches, storage and bookcases that offer a sleek design. They are all-in-one modular solutions allowing customers to adapt the pieces to the space and change them as they see fit. Privacy screens allow the sense of being alone while leaving an area with an open feel. The Jade line is a profiled, solid timber edge which matches the finish. Available in a diverse range of furniture pieces, Jade comes in desks, bridges, wardrobe combinations, presentation boards and even large conference tables. Premium grade wood veneer is the top finish on the desks with options for tackboard fabric on the backsplash. While the finish is wood, the overhead storage comes with finished glass or open. From a beautiful Port Figured Mahogany to Cognac Cherry, the Emerald line brings a traditional and sophisticated look, enhanced by an optional inlay of ebony black timber. Emerald offers bookcases, lateral file storage, pedestals and bridges among other pieces for any office space.
Verde
Laminate Espresso and Laminate Latte bring a premium grade finish to three-ply constructed furniture. Storage towers, mobile storage, and desks create the fully modular Verde collection line that brings a contemporary look to Kansas City offices and home businesses. Subtle, precise and compact in scale, Verde has a refined aesthetic with aluminum accents integrated wire management and thoughtful construction focused on efficiency without sacrificing function or style.
Amber
Timeless design characterizes the Amber line for work environments. Built by Cherryman means it was built to last and has found its niche with a vast array of products with multiple finishing options. Looking for an office furniture collection that maximizes your return on your investment? Amber is unparalleled in value and boasts Valley Grey, Hard Rock Maple, Sienna Mahogany, Park Walnut, Black Cherry and Mocha Cherry finishes to fit any space and style. The Amber collection is also fitted with seamless integration of cables and power cords in the tech-savvy office environment.
Seating Options Available: Atto, Zetto, Eon
Ergonomic solutions in the world of office seating is the only way forward for your office and employees. Cherryman knows this and understands the value in having a one-stop-shop to find the exact function in a chair and the exact style to match your space. From black mesh and arm pads to white frames to a full color spectrum in between, customizing your perfect chair is only a Cherryman catalog away. Having a four position locking chair for optimal comfort with a contoured seat, or the Zetto task chair model, equipped with an advanced synchro-tilt with a seat slider adjustment, this brand has thought of it all. The full depth and range in their furniture is why our team at Santa Fe Office Interiors works directly with Cherryman to bring their products to the Kansas City area. From task chairs to guest chairs to conference-style seating, all are quality builds with fully customizable functions. For instance, the Eon line is available in both black and white frames with several options for upholstered fabric. The task model has seat sliding ability with an advanced synchro-tilt adjustment that can be assembled with or without armrests.
Convinced Cherryman furniture is for you? Reach out to our team at 913-901-8800 or swing by our showroom location at 8106 Santa Fe Drive, Overland Park, Kansas 66204. We are open Monday through Friday, 10:00 a.m. to 4:00 p.m., or by appointment. Regardless of the style or size of your current or future commercial space in the Kansas City region, Santa Fe Office Interiors is ready to accommodate your next office transformation. Cherryman offers a wide selection of modular laminate furnishings and our team of experts are ready to help bring a powerful first impression to your reception lobby or workspace.