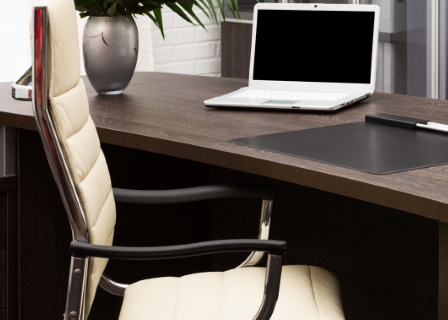 Since the dawn of time, desks have been at the center of nearly every organizations decisions at some point or another. Presidents have signed major bills into law, successful companies can trace their roots to the desktop work surface strewn about with blueprints or dreams sketched out onto napkins. At Santa Fe Office Interiors, we know that as a professional, much of your time may be spent at a desk and we aim to find the perfect desk for all of your productivity needs. But with all the desk options spanning centuries, how do you know which is the best desk? Let's take a look at used desks and what you need to look for when buying a pre-owned office desk. In the greater Kansas City region, we specialize in providing businesses large and small with the best in pre-owned office furniture, especially desks. Where is a furniture showroom in Kansas City? Come visit us and our inventory at our Overland Park location, located at 8106 Santa Fe Drive, Overland Park, KS 66204 and talk with our staff!
Why should I buy a used desk?
You're probably asking yourself, "Why buy a used or pre-owned desk'" when you can get one brand new? That's a great question and one our team at Santa Fe Office Interiors hears all the time and the answer varies from person to person, office to office. Are you engaging with the public and holding meetings day after day with clients where maybe your workplace aesthetics are high on the priority list? If that is the case, we often hear that our clients would be more comfortable with brand new furniture because of first impressions. But what is more impressive than a beautiful traditional solid wood desk? Again, the type of furniture and aesthetic comes down to you and your office needs. If you haven't pursued the used desk route, we suggest it for several key reasons.
What are the main reasons I would buy a used desk?
For starters, you are saving money on office furniture which could help lower your overhead costs, free up capital for future investing in your company or maybe providing those hard-working employees a bonus. Whatever you do, you can bet you will be saving money in the long run while accomplishing the same goal- to furnish your office with a desk. Need another reason to buy a used desk? How about joining the eco-friendly movement and lead the way for area businesses to recycle their furniture instead of buying new. Each year, countless pieces of office and commercial furniture is produced and shipped around the world. This production and distribution leads directly affects fossil fuel consumption and waste back into the environment. Buying a used desk from Santa Fe Office Interiors can help reduce that footprint and your business can be an ambassador for intelligent reuse of perfectly fine material at a fraction of the cost.
What should I be looking for in a used desk?
Dimensions of the desk
Whether large or small, room dimensions and the measurements of where the desk will be is important information when you are shopping for a desk, new or used. There is nothing worse than falling in love with a desk only to find out it won't fit your office space. So before visiting our furniture showroom in the greater Kansas City area, break out that tape measurer and take notes on the length, width and depth of the space.
Ergonomically friendly
The height and depth of the desk is important and shopping for a used desk allows you to see it in person as well as take exact measurements. You can even pull a chair up to the desk to make sure the height suits your size. Having a desk too low or one too high is detrimental to a productive work day and can be a literal strain on your body over time.
Try before you buy (sort of)
The beauty of shopping for used desks in person is that you are able to see and touch the desk before you commit to purchasing it. Ordering from a catalog has its benefits, but nothing is quite like seeing the exact desk up close and personal. In our showroom, pull up a chair and have a seat. Pretend you have to write something, or use a pretend keyboard to make sure the height is what you find comfortable. Access to materials and keeping them organized is important, so invision your belongings and office supplies on the potential desk. Does it feel like the right fit?
Check for damage, support system and parts
Our team at Santa Fe Office Interiors offers the highest quality in pre-owned office furniture which we check over ourselves. However, it is important for you, the customer, to do a thorough check on any desk to double check it is what you want, does not have any major damages and has all the correct hardware in place.
Try out a standing desk
Ever wanted to change your posture and position at work? Buying a used desk from a showroom allows you to try all sorts of styles to see what you may have been missing. From standard rectangular desks to L-shaped or U-shaped desks, we don't just stop there. We have a range of standing desks and more we can order that have been gaining popularity over the past few years. Come in and see for yourself what all the hype is about.
Our staff at Santa Fe Office Interiors in the greater Kansas City area will guide you through the process and help you browse our showroom or brand brochures to make sure you find the best desk for your workspace. Whether you are shopping for pre-owned desks or you want to check out new inventory from the top brands in the business, we are here to help you. When you are in the market for your next desk come in to the shop and meet with our team. We are open Monday through Friday from 10:00am to 4:00pm and are also available by appointment to help fit your busy schedule. Owner operator, Jim Lust, has over 30 years of experience in the industry and is here to answer your questions. Come visit us and our inventory at our Overland Park located at 8106 Santa Fe Drive, Overland Park, KS 66204. When you are ready for your next office redesign or looking to furnish a new office space from Overland Park to Kansas City and beyond into Missouri or Kansas with pre-owned furniture, contact our team at Santa Fe Office Interiors at 913-901-8800.