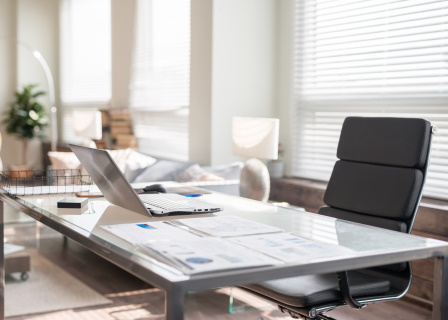 Is a chair really just a chair? Beyond some sort of sentimental value we place on objects, what makes a chair more than just a chair? Can it be quantified? Can we quantify comfort or happiness? And how do we really know when we have found the best office chair in the whole world? Or better yet, how can we find the best office chair near me? Before spiraling into an existential crisis, let's dive into what is a chair and what types of chair design best suits your needs. The chair has been around since 3,100 BC but has not always been used day to day or in the majority of people's lives. In fact, the chair was often indicative of dignity or authority. Hence, chair of the board. But in the 16th century, the chair became a fixture throughout society and entered the lives of everyday people. Today, a chair is one of the most basic pieces of furniture for a home or office setting.
Such a common item in the 21st century means that there are a near infinite number of options to choose from when selecting an office chair. Whether color, style or function, the options truly are endless in the world of office seating. Fortunately, Santa Fe Office Interiors in Overland Park, Kansas serves the greater Kansas City region with office seating solutions. Their highly regarded team of office furniture professionals help get you in your modern-day version of a throne. An ergonomic throne of course. And the benefits of shopping for a chair today versus in the 16th century is a reliable mode of transportation to Santa Fe Office Interiors and a reliable delivery option straight to your door.
Finding The Best Office Chair
Directions to find the best office chair in Kansas City Metro
Finding the best office chair near you in the Kansas City metro area is simple. In fact, let's say your office is in the Financial District near E 10th Street and Grand Boulevard. Head south on Grand Blvd. toward E 11th St., turn right onto Truman Rd. then hop on the I-35 S. Follow I-35 south to US-69 south. Then use exit 231B for US-69 south/Metcalf Ave. Continue on US-69 south onto Metcalf Ave, then turn right after Dunkin' Donuts on the right. Make a left onto Conser and at the traffic circle, continue straight onto Santa Fe Drive. Our 9,000 sq.ft. showroom is located at 8106 Santa Fe Drive, Overland Park, KS 66204 and our eager team and experienced staff are waiting to assist you to find the best office chair for your needs. When you visit us in Overland Park, Kansas, we will show you some of our favorite options from our favorite brands because we know how important a good seat is.
How will I know the best office chair when I see it?
A guiding light from the heavens may not appear and shine on your next office chair, but an experienced professional at Santa Fe Office Interiors may be the next best thing. Knowing what your next office chair will look like and how it will feel depends a lot on what you are looking for in office furniture. You can start by asking yourself, what are your needs for the chair? From big and tall-friendly chairs to task chairs to conference or executive chairs, each chair is different while all have the capability of enhancing a healthy and therefore productive workplace environment. Some examples of the many functional and style-driven options found in many office chairs and seating solutions are depth adjustment, lumbar support, height adjustment, armrest customization and many more posture-encouraging features.
Best office chair companies and what to look for
In the world of office chairs, there are several brands who stand out. While each manufacturer is unique with their own style and functionality built into their line of chairs, the common ground is that each manufacturer produces a quality chair and catalog of office furniture readily available through Santa Fe Office Interiors. From RFM Seating's inventory spans fully customizable, ergonomic, health promoting chairs for a productive work environment. ES Robbins leads the industry in solutions led through innovation. For over 50 years, they have outfitted commercial spaces with state-of-the-art pieces. Lorell leads the industry in style, function and affordability, holding their products to a rigorous and comprehensive standard, making them a leader in production quality as well as promoting low emissions through quality craftsmanship. Cherryman has a commitment to sustainability designing their products for the long term demographic looking for mobility, strength and affordability. Express offers a Heavy Duty line, a perfect solution for employees around 300-400 pounds which comes in various styles. Finding a quality build at an affordable price can often become expensive and complex. But at Santa Fe Office Interiors, we offer incentives to help you and your business find a new look while keeping costs down.
Buy 10 chairs and get a 10ft. conference table for FREE!
Buy 12 chairs and get a 12ft. conference table for FREE!
Buy 11 chairs from selected lines and get the 11th FREE!
SAVE 10% on RFM "Big & Tall" and "24/7" seating!
Finding the best office chair starts with finding a location with a team of professionals willing to help you through the process from start to finish. Contact our team at Santa Fe Office Interiors at 913-901-8800 or swing by Monday through Friday from 10:00am to 4:00pm. We are also available by appointment to help fit your busy schedule. A good office chair is important and knowing where to look and what questions to ask will lead you to finding your ideal throne. Look for functionality, support, mobility all in a style that matches the aesthetic of your office.