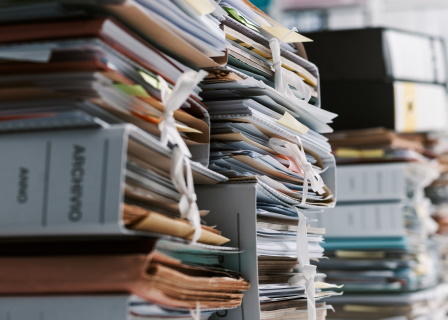 An organized workspace helps reduce stress while also encouraging coworkers to declutter their desks and offices. Not only that, but by reducing clutter and stress in the office simultaneously boosts levels of productivity and happiness among employees. Ready to get organized? So are we! Well, our team at Santa Fe Office Interiors in Overland Park, Kansas is ready to help you through our vast inventory of storage and filing solutions. Efficiently using your space will save you time, help encourage a structured environment and could also reveal a lot more usable area within your commercial building or home office.
Benefits of an organized office
As we previously mentioned, there are benefits to a clean and organized desk space. Not convinced? Let's dive into them a bit more. While there are some obvious benefits and visual clues of having a clean desk- you look more professional, you'll save time (and money) not looking for misplaced items, you'll have more open space- there are also psychological benefits to keeping organized. For instance, people with tidy spaces are more likely to make healthier choices about their food, they typically have improved mental stability, their focus improves, stress is lowered and their productivity level increases. An organized work place and space encourages workers to feel routine, structure and work efficiently. Think of it as leading by example.
Isn't storage box-like and ugly?
Thankfully, office storage solutions have come a long way since the military barracks-style of metal filing cabinets. In fact, storage solutions now can be bold and fully customized to fit any space and aesthetic. In our 9,000 sq.ft. showroom in the greater Kansas City area, our filing and storage pieces show just how vast your options really are. Our team of experts is ready to help find your next solution and if we don't have the exact style you are looking for, we can order it through one of several manufacturers we trust. From a modern or contemporary style to a more traditional solution, we have office storage solutions to fit any space, style and aesthetic. Stop by our showroom to check out our inventory and meet with a member of our team to help you navigate your options and take that step toward minimizing office clutter.
Throughout our extensive showroom in Overland Park, Kansas, we have filing and storage systems aimed at providing businesses with a way to stay organized and professional. Over time, businesses of all shapes and sizes accumulate everything from data to paperwork to 'stuff' and there must be a way to organize and cull such material. That is why we work with Mayline, a manufacturer leading the way and offering an array of solutions for filing and storage. With the Quick-Ship program, their products ship within 72 hours allowing you to get what you need when you need it. Swing by our showroom in Overland Park, Kansas to talk with a member of our team and look at the pricelist and color brochure for Mayline products that run the gamut from the large, high density storage solution on the Mobile 1000 to the Mobilizer, a two-drawer filing system with a lid.
Mayline Mobile 1000
Looking for a storage and filing solution for a huge amount of records? The new 1000 series is a mobile aisle that allows for easy mobility around obstructions. A three-pronged handle operates the system to easily move 10,000 pounds of shelving and files with minimal effort. If you and your business are interested in traditional filing solutions that also offer a wide variety of storage options in a secure environment, Mayline's Mobile 1000 may just be the ticket. With an easy-to-add and relocate design, the storage solution supports a system up to 30 feet long and will provide a design service to help find the best solution for your space.
4-Post Shelving
A 30 foot filing system holding over 10,000 pounds of material on the extreme side for your office? Try Mayline's 4-Post Shelving solution as one of the most efficient, economical solutions to your filing and storage needs. Through greater visibility, it has a one-touch retrieval system while also accommodating larger items such as file boxes. Their stationary shelving is easily customizable and mobile, allowing you to configure it in a number of ways that work for you and your team. Our team at Santa Fe Office Interiors understands that storage solutions are not a one-size-fits-all answer to organizing. It is important once you start with a solution, you understand where you may be in 5-10 years of files and records. Storage expansion is an important piece of the puzzle in any office. If you start small, be sure you can add components and grow over time.
Mobilizer
Many of our clients at Santa Fe Office Interiors are seeking a solution for small, mobile storage for their home or commercial office space. Something which their employees can use that does not take up space and has multiple functions. The Mobilizer is a perfect solution for letter-size hanging files constructed with heavy steel and locking caster wheels. This mobile unit fits under most desks and comes with a sliding top or drawer, both of which lock. Depending on your needs, they are also outfitted with a bottom shelf.
Our team and owner, Jim Lust, at Santa Fe Office Interiors can be reached at 913-901-8800 and are ready to answer any questions you may have as well as discuss everything from lead times to delivery and pricing. Looking forward to working with you soon! Our showroom is located at 8106 Santa Fe Drive, Overland Park, KS 66204 and we are open Monday through Friday from 10:00am to 4:00pm. Stop in and talk with our team to get you set up with storage and filing solutions for your business. If those times do not work, feel free to make an appointment and stop by whenever it is convenient for you and your schedule.