Top 10 Office Furniture Recommendations From the Experts at Santa Fe Office Interiors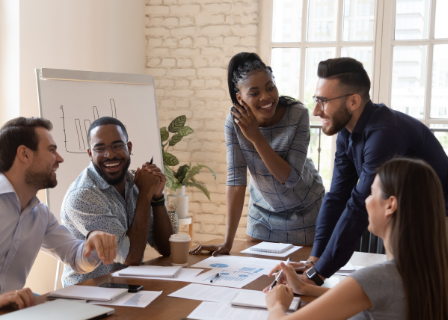 As a startup in Kansas City, you're not a stranger to thinking on your feet, rolling up your sleeves, and getting the job done to take your business to the next level. To stay energized for the long workday ahead, you need the right space and the office furniture to match.
At Santa Fe Office Interiors, we sell flexible, reliable, and budget-friendly new and used office furniture in Kansas City that's perfect for your fast-growing startup. Which is why we came up with the top 10 essential pieces of office furniture you need for your new space.
1. A Dry Erase Board to Spark Creativity
There's no better place to collaborate than at a dry erase board. This office furniture essential can help your team come up with creative ideas, problem solve, or just jot down ideas. In fact, it's one way many companies generate their big ideas.
Our office furniture experts at Santa Fe Office Interiors think you can't have too many dry erase boards. They're the perfect accessory to your conference rooms, break rooms, and executive offices.
2. Conference Tables for Meetings
Having a startup means you need to look buttoned-up for your important meetings. When your team needs to gather for a meet-and-greet with a new client or a collaboration with another company, it's best to have them sit at a conference table.
Not only will you look incredibly professional, but your team will have enough space for items like laptops, notepads, and, of course, a hot cup of coffee.
3. Standing Desks to Stay Comfortable During Long Hours
When you're getting your startup up and running, it means long hours at the office. It's no secret that sitting for long periods of time is bad for your health. Standing office desks are an easy way to improve your blood circulation and ease back pain from sitting.
As a bonus, standing at your office desk for only a few hours of your day can burn up to an extra 1,000 calories in a week, which means you can worry less about the bagel you had for breakfast this morning.
4. Ease Back Pain With Ergonomic Office Chairs
Even though we love a good standing office desk at our used office furniture store in Overland Park, standing the entire workday isn't ideal. That's why you need to take a seat in an ergonomic office chair that supports your back and keeps your body aligned.
You can get your entire team top-quality used office chairs at Santa Fe Office Interiors. We'll even give you a free conference table when you buy 10 or more office chairs. Ask our team about special discounts on big-and-tall seating, too!
5. Excellent Lighting to Stay Productive
Did you know poor light leads to headaches and visual fatigue? When your team isn't operating at 100 percent, it can really eat into their productivity – or worse – cause them to call in sick with a migraine.
No one likes to work with a headache. Our office furniture experts recommend using as much natural light as possible. It improves the mood of your entire team, reduces headaches, and gives your team more energy throughout the day.
6. Storage Solutions to Keep Organized
Nothing looks worse than a cluttered office, which is why you need to invest in storage solutions for your startup. However, startups are stylish and innovative. That means you can't choose your basic filing cabinets.
Talk to the professionals at Santa Fe Office Interiors about your style, budget, and what items you need to store, and we'll find office furniture that fits your needs exactly.
7. Privacy Partitions for When You Need a Room in an Instant
If you have a small office, having multiple conference rooms might not be an option. Privacy partitions are an excellent way to build an extra room instantly with zero construction.
They're ideal for job interviews, video conference calls, or for creative employees who need extra peace and quiet to be productive. You can also purchase glass partitions from our used office furniture store that provide privacy and natural light simultaneously.
8. Guest Seating to Make for Great First Impressions
Finding the right guest seating for your office is more difficult than you think. You need to make sure it represents your brand and fits your space. Oversized office furniture is super comfortable, but it may be too bulky for your waiting area. Your startup might do better with something smaller and more modern.
The best way to know which kind of guest seating is best for your space is by visiting the 9,000 square-foot showroom at Santa Fe Office Interiors. Our experts can help you choose stylish and timeless guest seating that will always create a great first impression for prospective clients.
9. A Coffee Maker and Supplies to Keep Your Team Extra Happy
Everyone loves free perks when they're in the office – but what has research shown to the most coveted perk at work? Free coffee! That's right, out of all the reasons your employees come to the office, it's the free coffee.
That's why you need to make sure your break room is filled with all the essentials for your employees to pour a hot cup of joe. The team at our office furniture store in Overland Park recommends a coffee maker, large trash can and recycling bin, and storage solutions for things like sugar, creamer, and spoons.
10. A Great Attitude and Passion for Success
Although we have the best used office furniture in Kansas City, nothing can replace your positive attitude and passion for your business. When the days get long and work gets tough, only you can lead your team to success.
When you support your team with incredible leadership and a productive workspace, you can be sure your startup will reach the stars in no time!
Find Stylish and Affordable Used Office Furniture in Kansas City at Santa Fe Office Interiors
Don't supply your startup with overpriced and underwhelming office furniture from a big box store. Instead, visit Santa Fe Office Interiors where we have top-quality used furniture in Kansas City that looks and feels brand new.
To learn more about purchasing office furniture for your startup or to get expert advice on setting up your space, call Santa Fe Office Interiors at (913) 901-8800, send us a message online, or simply stop by our showroom during business hours.
We also sell Phoenix Fire Files and Safes. Ask a member of our team about how you can keep your important documents protected from fire, water, and theft.