Plus, Tips on How to Reset and Recenter Before You Burn Out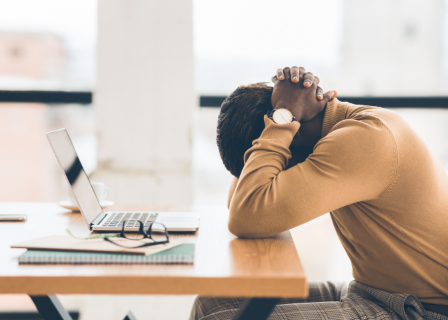 Have you felt a little off at work lately? You're not alone. In fact, 52 percent of America's workforce feels burnt out. So how do you know if you're suffering from burnout, and what can you do to feel a little better during your workday?
Take a look at our Kansas City office furniture store's top signs you're burning out at work, and find out how you can improve your mental health to reset, recenter, and refocus.
1. Waking Up Is Hard to Do
Mornings can be tough for everyone, but when you wake up feeling dreadful or nauseous without a medical explanation, it could be a sign of burnout. Your body is fantastic at letting you know it's stressed out.
When you keep bottling your emotions about work and pushing your feelings away, you might notice physical symptoms in the morning like ache and pains, fatigue, nausea, and headaches.
What to Do: Many experts agree that getting extra exercise and amping up relaxing activities are good ways to combat the physical symptoms of burnout. If your symptoms won't go away, it might be time to reach out to a medical professional.
Often, many physical symptoms from spending time at your desk also can be prevented with ergonomic office chairs. On days when work is taking extra concentration, the lumbar support from a high-quality office chair can take pressure off your back and neck.
2. You've Been Making Simple Mistakes
Does it feel like your day starts out productive, then you realize your day has been filled with minor mistakes that you normally wouldn't make? It doesn't mean you're a poor employee or not cut out for the job; it's probably a sign that you need to take a break.
What to Do: Make sure you schedule time away from your office desk throughout your workday. That way, you can come back to work with a fresh focus and new perspective on your current task.
3. You're Not Interested in Making Friends at Work
Research shows that having friends at work makes you healthier and happier, because it makes work worthwhile, satisfying, and more fun! When you're burnt out, you stop attending events like lunches, meeting office parties, and company retreats.
This can lead to feelings of isolation, which may intensify other feelings of burnout. If you find yourself ditching the best parts of work to spend time alone, it's a telltale sign you need a break.
What to Do: When work has you down, spend more time investing in yourself. Reconnect with old friends, rekindle old hobbies, and swap office furniture for a well-placed lawn chair in the sun. Try to connect with at least one person from your workplace. They might be able to help you navigate your feelings and give you more confidence to socialize with your co-workers.
4. You Aren't Motivated to Work
Did you know burnout and depression share many of the same symptoms? For instance, constantly feeling physically and emotionally drained, becoming easily irritated, and feeling underappreciated are all signs of burnout and depression.
Burnout symptoms can go way past unproductivity. Some people may withdraw from friends, family, and co-workers.
What to Do: It's important you don't make any fast decisions when you feel burnt out at work. Reaching out to coworkers you trust, talking to friends and family, and finding an online community for support are all fantastic ways to reconnect with people and reignite your passion for work. However, scheduling an appointment with a medical provider is always a good choice when you can't shake the overwhelming emotions from burnout.
5. Your Physical Health Isn't Great
Along with feeling fatigued and irritable, you may notice the most obvious sign of burnout – the deterioration of your health. That's because burnout often causes health concerns like an increase in resting heart rate, insomnia, weight loss or weight gain, or constantly feeling like you have a cold.
Often these symptoms start out small, but can grow much bigger over a long period of time, which can make other health conditions unassociated with burnout much worse.
What to Do: When your health suffers from spending too much time in your office chair at work, it's time to take a vacation. You'll be surprised by how much better you feel with extra sleep, good food, and spending time doing things that make you happy.
If you don't see an improvement after a few weeks of feeling burnt out at work, contact your medical provider to see if there is another issue that might cause issues with your health.
When You Beat Burnout, We Have the Used Office Furniture in Kansas City That Has Your Back
At Santa Fe Office Interiors, we value the mental health of all the people who live in Kansas City. We think providing affordable, high-quality new and used office furniture to keep you comfortable at work all day long is the best way for us to help you avoid burnout.
The team at our locally owned used furniture store can save you time, money, and stress by helping you choose ergonomic office furniture that suits your style and budget – and you can take your office furniture home today, instead of waiting for a big box store to ship it to you.
Visit our 9,000 square-foot showroom in Overland Park to purchase used office chairs and desks, conference tables, storage solutions, chair mats, and so much more. If you have any questions about our inventory, call us at (913) 901-8800 or send us a message online. We'll get back to you as soon as possible!