Five Items You'll Want to Include in Your Kansas City Office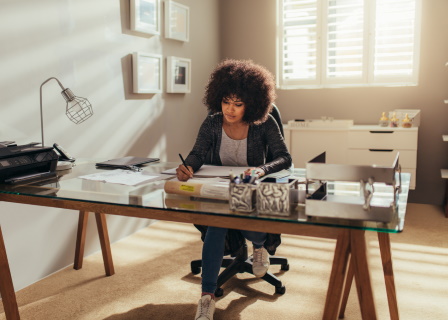 When it comes to planning out your home office, there are numerous things you can do to set yourself up for success. Ideally, this should be a place that not only feels comfortable to be in for 8+ hours a day, but you should also feel inspired to be productive and have all the tools you need to get your work done. The main cornerstones of any home office are going to be a computer with reliable (and hopefully, fast) internet service along with an office desk to put it on. The computer and desk are going to serve as your core workstation. But what else do you need beyond that?
Here at Santa Fe Office Interiors, we've had the opportunity to work with several folks who are trying to achieve the perfect office space. Drawing off our many years of experience, here are the five small office accessories that make a big difference in making home offices leap from ordinary to extraordinary.
#1 – The Use of Natural Light
People tend to overlook natural light, but it is scientifically proven to improve people's mood, which is a key ingredient to a well-functioning office. It also saves on the electric bill and puts less strain on the eyes when looking at a computer screen. Natural light is one of the unsung heroes of most office spaces, so try to use it wisely. If you are able to station yourself near a window that gets natural light, it can add exceptional brightness to the space that will carry over to your work.
#2 – The Use of Color
Color is a wonderful low-key asset that can be covertly used to set the tone of an office. Want to feel excited and inspired? Try incorporating shades of yellow, red, and orange. Need a more tranquil vibe? Blues and greens will offer a peaceful, relaxed mood. Of course, the effect of any given color has on a person is subjective, so you might need to test the waters using either a color wheel, color personality quiz, or by visiting your local paint supply store and seeing which shades trigger your inspiration or focus.
#3 – The Office Chair
The office chair is potentially the most important item on our list of small office accessories. Think about it…this is the item you're going to sit in every day for at least 40 hours per week. If the chair isn't comfortable or causes pain to flare up in your neck or back, you're going to feel it, and getting any work done is going to become a real challenge.
A high-quality office chair can be a hefty upfront cost, but our advice to you is to invest in your comfort. Pick out the chair that allows you to be your most productive self and is ergonomically correct. If you're shifting and squirming in your own seat all day, you can try adding padding to the seat or a contouring pad to the backrest. Santa Fe Office Interiors sells both new and used office chairs for all shapes and sizes, so don't hesitate to come by our shop if you're in the market for the perfect office chair. Trying before you buy is a smart move.
#4 – Chair Mat
If you've acquired the perfect office chair, then you need the perfect office mat to go with it. The wheels on office chairs can wreak havoc on your carpet, which is why we're big fans of the ES Robbins chair mats. Their Natural Origins line is the first in clear chair mats that use a carpet-friendly cleat system that won't cause any wear or tear. ES Robbins makes variations of the chair mat for both sitting and standing desks, and they even make a foldable version. This sleek accessory will add a modern aesthetic to your home office and allow for a smoother roll in your office chair.
#5 – Organization (and Organizational Accessories)
Consult any list of top tips or tricks on how to be successful, and being organized is always going to be near the top. The efficient worker is well organized. They have the perfect filing system and know where each and every single resource is so they can utilize it at a moment's notice. In the digital world, that means having all your files and documents clearly labeled and organized on your hard drive.
In the physical space, files and office supplies need a place to go in order to keep your home office from becoming a mess. If your job requires you to keep lots of physical files on hand, you can't really go wrong with getting a filing cabinet. Not only will it keep your files organized, but it'll keep them safe and secure.
Another great organization accessory are storage containers for keeping supplies. You can use these to keep all your office supplies safely stowed away and organized when not in use. Storage solutions are an inexpensive way to keep your area clutter-free so that you can stay on task and focused.
Come by Santa Fe Office Interiors Today
Here at Santa Fe Office Interiors, we've helped thousands of customers find the perfect balance in their home offices so that they can be in a productive and bright environment all day long. Not only do we carry the best new and used office furniture in the Kansas City area, we're also competitively priced for those who are working within a tight budget.
The best way to see what Santa Fe Office Interiors can do for you is by visiting our store at 8106 Santa Fe Drive in Overland Park, KS. We have a huge selection of top-quality furniture in our showroom that can meet any home office need.
Call us 913-901-8800 for any questions or to schedule a personal appointment.