Things You Can Do to Optimize Your Kansas City Office Space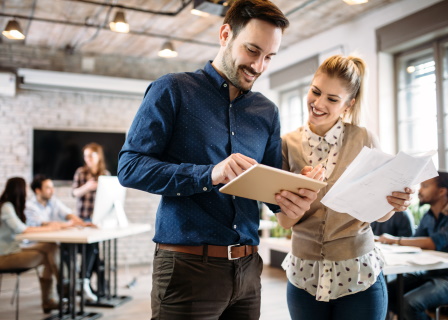 In a COVID-19 impacted world where working remotely will soon be winding down, many managers are taking this as an opportunity to reevaluate their office needs. Truth be told, the past year has revealed that some office workers simply don't need to be on-site in order to effectively do their jobs. In fact, some companies have reported their productivity actually went up during the work-from-home period since typical work distractions like crosstalk aren't a factor.
However, that doesn't change the fact that physical offices are going to be coming back in a big way over the course of 2021. That means adapting back to office life and doing what's necessary to set up returning employees for success by providing them an environment that's conducive to collaboration and productivity. For those employees that have regular face-to-face interaction with each other or share common areas in the office, management will need to be cognizant of their needs and what's going to best serve the office's overall look and feel.
Key Questions to Ask When Designing Your Office
When it comes to designing your office common areas, there are a few key questions that you want to keep in mind to ensure you're giving your workforce what they require to be successful.
How many of our employees require a space for face-to-face collaboration sessions? What needs to go into this space for their usage (whiteboards, deskspace, etc.).
How many of our employees require the usage of a private office space for either uninterrupted work or for private meetings?
How many of our employees will require the use of flex office space? This would be employees that will not have a dedicated office or cubicle, but will be coming into the office on a semi-regular basis and need the ability to plug in and work.
What are the company's neutral zone needs? That would include break/lunch areas and large conference rooms for meetings.
These are all questions you should be asking yourself as you reintroduce your employees to office culture. You'll notice though that the core of each one centers around the employee and what they need in order to be productive.
Go with Mobility and Open Concept
Over the course of the last year, the open concept floor plan and flex workspace has allowed employees to come in and do their work, but without the commitment to any one particular cubicle or office. That sort of flexibility in the workspace has been a boon for managers who haven't been able to have the entirety of their workforce on-site, and it's an advantage that they'd like to retain moving forward in 2021. Being mobile – adaptable – can only work to your benefit.
A few products that allow companies to do this are office structures and furniture with wheels (aka mobile furniture). With a typical office, cubicle walls are erected and they will remain unchanged for several years because putting them up is such a large production. With mobile partitions and desks, you get all the privacy and workspace you had before, but with the added benefit that these items can be shifted around to meet the needs of your floor plan and current headcount of employees. And, of course, no mobile workforce would be complete without a set of high-quality office chairs on wheels. If the goal is to make your workforce as comfortable as they are adaptable to change, make sure to invest in office chairs that are ergonomically correct and provide ample lumbar support and cushion.
Outfit Your Neutral Zones
In 2021, many companies are taking a second look at what they can do to make their offices as comfortable as possible. That goes beyond making sure the main conference room is as slick and stylish as it can be. Many managers are making their break rooms and common areas a priority because they now understand the need for comfort in the workplace. Working from home for the past year has changed many people's viewpoints on what an office needs from an aesthetic standpoint.
For those areas in which employees will congregate – either to unwind or to collaborate – don't be afraid to go off the beaten path when it comes to furniture and design. A few nice couches and armchairs can reduce the stuffy corporate vibe and give your office a more relaxed, homey feel. Also, bright colors and the incorporation of natural light have proven to be highly effective in elevating the mood and productivity of employees. If your current office is nothing but neutral colors (whites, browns, etc.) then it might be high time to mix things up a bit.
Come by Santa Fe Office Interiors Today
Santa Fe Office Interiors is working with several companies – both big and small – who are trying to find the perfect balance or mobility and comfort so that their employees can be at their most relaxed and comfortable when they return. We sell new and used office furniture here in the Kansas City area, including partitions, desks, office chairs, and anything you may possibly need for your newly revamped office environment.
The best way to see what we can offer you is by visiting our store at 8106 Santa Fe Dr. in Overland Park, KS. We always keep a large stock and wide variety of products on our showroom floor.
Call us 913-901-8800 for any questions or to schedule a personal appointment.