How to Get Back to Business, Impress Your Clients, and Keep Your Employees Happy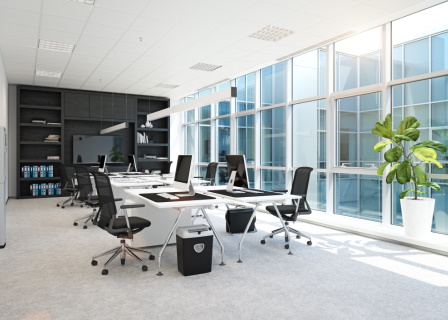 Your employees need a lot more than coffee to stay productive at work. Office furniture and supplies are essential for everyday operations, regardless of the purpose of your office.
However, it's difficult figuring out what you need, and what you don't. Especially if you're setting up a new corporate office in Kansas City.
Santa Fe Office Interiors is here to make outfitting your corporate office easy! We've come up with a list of must-haves for your new corporate office, so you can get back to business.
Choose the Right Office Desks for Your Team
There are many things you need to consider when you're looking for office desks for a corporate office. It's not just about getting enough desks for your entire team, it's also about choosing the right desks for the work your employees will be doing.
For instance, if your employees primarily work with computers, you'll need office desks to accommodate cables, keyboards, mouses, mouse pads, and multiple monitors. You may want to create flex spaces, where employees can work away from their assigned desk. Additional gathering tables or adjustable desks are ideal.
At Santa Fe Office Interiors, we have new and used office desks at affordable prices. From simple task desks to standing desks, we have the desks you need for your corporate office. We even have stunning executive desks, too!
Every Corporate Office Needs Conference Tables
You can't have a corporate office without quality conference tables. They'll play host to your team's meetings, business strategy discussions, and professional socialization. Plus, a high-quality conference table will build your legitimacy with your clients, whether they are in your office in person, or just tuning on a video-conference call.
Just make sure your conference tables are large enough to fit everyone who is invited to your meeting. Having a space at the table leaves your employees feeling valued, which leads to a positive work environment.
At Santa Fe Office Interiors, we make shopping for new and used office furniture in Kansas City a cinch! Talk to a member of our team about how you can get a free conference table when you purchase 10 or more office chairs. We carry lots of top-quality brands and styles to choose from, so call us or stop by to find out more about our inventory.
Install Wall Whiteboard and Markers to Inspire Your Employees
Computers certainly are necessary, but nothing beats hashing out ideas on a whiteboard. Find a space in your office to set up a large whiteboard and provide seating. This will encourage your employees to collaborate and socialize with people outside of their departments.
We recommend having whiteboards in your conference rooms and in your break room. That way, you can brainstorm with your colleagues during meetings and while you relax during lunch. You might even want to create a brainstorming room for your team to gather and hash out their ideas.
Make sure you have plenty of markers available in a well-stocked office supply room. Santa Fe Office Interiors has storage and filing solutions to keep the supplies in your corporate office ultra-organized.
Keep It Comfortable With Office Chairs and Client Seating
When your employees sit in ergonomic office chairs, they are more productive. That's because ergonomic chairs aid in decreasing back pain from sitting at a desk all day. Low-quality office chairs lead to poor posture, which results in chronic neck, shoulder, and back pain – and potentially worker's compensation claims.
Investing in the right office chairs for a corporate office keeps your employees healthy and happy. Talk to our experts, and we'll help you pick new or used office chairs that are comfortable and cost-effective.
While you're at it, don't forget to purchase client seating. Santa Fe Office Interiors has a wide selection of comfortable and stylish client seating that is sure to impress any guest!
Cut Down Distraction and Reduce Noise With Partitions
Open-office settings are becoming a popular way to set up corporate offices in Kansas City. However, it can lead to your employees getting distracted and becoming unproductive. Thankfully, you can still have an airy open-office, and cut down on distractions with partitions.
The best part about partitions is that they are cost effective. You can construct a mobile office without renovating, and use partitions to reduce noise and cut out distractions.
At Santa Fe Office Interiors, we recommend adding glass partitions to your corporate office, because they maximize natural light, reduce noise, and enhance your office aesthetics at the same time.
Don't Forget About The Big Electronics
Searching for corporate office furniture in Kansas City always includes big electronics. Of course, your team will need computers, but your office will need its own electronics.
For instance, most offices, even the small ones, still use printers and photocopiers. Many documents, such as contracts and invoices, need to be signed and filed away. You might also need quality copies of receipts and other paperwork.
It's also a good idea to invest in digital projectors and flatscreen TVs, too. That way, your corporate office will have all the modern necessities your team needs to get their work done.
Searching for Affordable Corporate Office Furniture in Kansas City?
Turn to Santa Fe Office Interiors located in Overland Park, where we have a huge showroom filled with office furniture waiting to be put in your corporate space. From big and tall office chairs to simple storage solutions, our office furniture store has what you need to keep your employees comfortable and your office looking spectacular!
We're open Monday through Friday, so feel free to come by and check out our inventory. You can always call us at (901) 901-8800 or contact us online, too! Ask us how you can get up to 50 percent off catalog orders through Santa Fe Office Interiors, so you can really save on upgrading your office.