7 Ways to Prepare For Your Employees to Return to the Office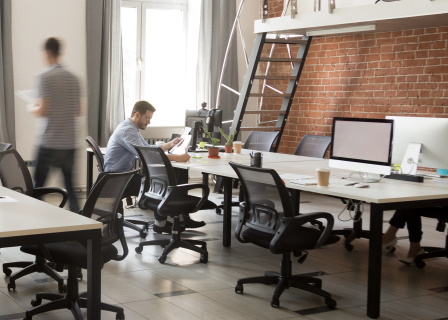 Heading back to the office after more than a year of working from home may bring out a lot of mixed-emotions from your employees. Many people have become used to the comforts of home and dread going back to a corporate building.
As you venture back to the office, it's very important to take what your employees have enjoyed when working from home and adapt them to your office space. The right office furniture can make any space feel warm and welcoming.
So if you're stuck scratching your head over which office furniture is best for your business, take a look at these seven tips from Santa Fe Office Interiors on how to set up your office for America's great return to work.
1. Incorporate Art You Know Everyone Will Love
Finding office decor that's meaningful does a lot to motivate your staff and lift their spirits. Don't just settle on boring pictures and paintings or cheesy motivational posters.
Whether you work in finance, agriculture, hospitality, or healthcare, experts agree that abstract art is the best choice for any workspace. It's a great way to connect, communicate, and spark creativity in an instant.
2. Upgrade Your Office Chairs For a Healthier and Happier Staff
No one enjoys working eight (or more) hours in an uncomfortable office chair. When your team is getting ready to return to the office, make sure they have ergonomic office chairs to sit in. Employees who don't have proper seating usually take more days off work to contend with back pain than a team who has comfortable office chairs.
You don't need to spend your entire budget to get high-quality office furniture in Kansas City. We have everything you need at Santa Fe Office Interiors. From cubicles to conference tables, our experts have your corporate space covered.
3. Lighting Is Much More Important Than You Think
Harsh office lighting has been shown to cause eyestrain and trigger headaches. That's because it's doing a lot more than you think. Not only does traditional office lighting shine down on your employees, it reflects off desks, and flickers throughout the day.
When you're looking for office furniture in Kansas City, consider adding in lamps with softer, warmer bulbs. Your employees will be more productive, and the warm lighting will bring out the color in your decor.
4. Make Sure You Have Big Enough Desks For Everyone
When you're at work, your office desk is your home away from home. Make sure you have office desks that can fit multiple monitors, a keyboard and mouse, office supplies, and a few personal items. Remember, if your entire team is returning to the office, you'll need enough desks for everyone.
At Santa Fe Office Interiors, we have a 9,000 square foot showroom filled with new and used furniture in Kansas City. You can find standing desks, executive desks, task desks, and more when you visit our store in Overland Park. Stop by or schedule an appointment, and we'll be happy to help you choose the right office desks for your corporate office.
5. Add In Stylish and Comfortable Extras to the Break Room
Your break room is a great place to add in comfortable furniture and unique artwork. When your employees have a comfortable place to relax, they'll be more likely to collaborate and get inspired by their colleagues.
Naturally, you'll need tables and chairs for lunch, but many employees agree – free coffee is the best part of their break rooms. Keep your employees happy and caffeinated by stocking your break room with everything they need to make a great cup of joe, including sweetener choices and a range of flavored creamers.
6. Reduce Distractions and Keep Productivity High With Partitions
It's not a secret that socializing is one of the biggest reasons your employees are unproductive. Partitions are an excellent way to decrease distractions in the workplace. Having the ability to create a wall and move it when you need to makes partitions an essential element in any open office space. They also cut down on echoing noise, so your team doesn't feel like they have to work in silence.
At Santa Fe Office Interiors we have several kinds of partitions to suit your space. For instance, you can maximize natural light and reduce noise with a glass partition. This means they'll be able to receive the many benefits of natural light, while also staying focused on work.
7. Encourage Your Employees to Add Personal Touches
When your employees love the space they work in, they're bound to be more productive. Encourage your team to bring in small personal items, like pictures, knick-knacks, and artwork their children created.
There are even many plants that are perfect for an office setting. Think about adding jade plants, spider plants, or peace lilies to tables and desks in your office. Having plants in your office has been shown to help you recoup after demanding activities and lower your stress levels.
Turn to Santa Fe Office Interiors for Incredible Office Furniture in Kansas City
When your employees return to the office, welcome them to an upgraded space that makes them feel at home. Santa Fe Office Interiors has new and used office furniture to fit any style, space, and budget.
Our team has more than 30 years of experience of selling office furniture in Kansas City, and knows exactly how to help you set up your corporate office to impress your employees and clients alike.
Take our new and used office furniture to your office today! To schedule a tour of our showroom or discuss our inventory, call us at (901) 901-8800 or send us a message online. Make sure you ask us about our storage and filing solutions, too!