Stay Focused With Proper Sitting Posture and the Right Office Chair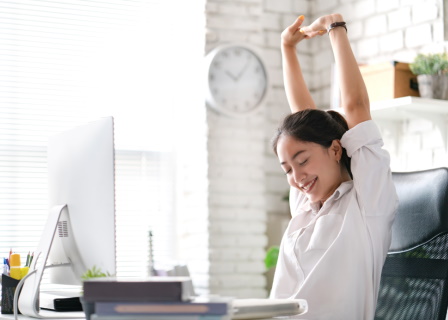 Are you tired of feeling tired? Back, neck, and shoulder pain from sitting at your desk all day can really take it out of you. That's why correct sitting posture is essential for your health and well-being.
Take a look at these top five benefits of sitting-up straight, and find out why we have the office furniture in Kansas City you've been looking for to put you on the path to perfect posture!
1. Reduce Low Back Pain
When you sit or stand for a long period, it puts a lot of stress on your lower back. It specifically puts extra pressure on your facet points (the joints connecting your vertebrae), intervertebral discs, ligaments, and muscles. To reduce back pain, experts recommend moving around every 20 to 30 minutes.
You can also do bridge exercises to stretch your chest and strengthen your core, which will gradually reduce back pain and improve your posture.
The Right Office Chair for the Job: At Santa Fe Office Interiors, we recommend RFM Mesh office chairs. This leading brand in office furniture offers fully customizable, ergonomic seats to promote a healthy spine and keep you sitting up straight during work hours.
2. Ease Headaches
Did you know poor posture can lead to tension headaches? That's right! Increased muscle tension in the back of your neck over-stretches your muscles and can make them weak over time. By correcting your sitting posture, you can ease tension headaches and get back to focusing on work.
It's easy to be distracted by what needs to be done at work, but check in with your body often and monitor your posture. Some experts recommend keeping a note on your desk that reminds you to realign your body into proper posture.
The Right Office Chair for the Job: RFM seating makes Big and Tall office chairs that can accommodate up to 500 lbs. Ask the team at our office furniture store in Kansas City about the Evolve BT series, which elevates ergonomic seating to the next level.
3. Decrease Wear and Tear on Your Joints
Sitting or standing in a crooked position, such as crossing your legs, leads to hip strain and can wear your joints down. Over time, you might notice increased pain in your low back and hips. You could use a lumbar roll or a towel to support your natural lumbar curve, but experts recommend investing in an ergonomic office chair.
Try your best to keep your legs uncrossed and your feet flat on the floor. If you're working at a standing office desk, then be sure to not rest your weight on one side of your body. You'll notice your hip and back pain decrease over the course of a few weeks.
The Right Office Chair for the Job: Don't settle for an old towel to support your back. Instead, check out the used office chairs at our office furniture store in Kansas City. We have a huge showroom filled with affordable new and used office furniture, so you can outfit your whole home-office without breaking the bank.
4. Increase Your Energy Levels
When you keep excellent posture throughout your workday, your muscles are being used as intended, which means they'll be less tired. You may notice you have more energy to enjoy the activities you love when work is finished for the day.
A great way to strengthen your sitting muscles and improve your posture is by working on your obliques with torso twists. Just make sure you don't overextend yourself, or you might make your back pain worse.
The Right Office Chair (Mat) for the Job: Many people are unaware that pushing away from your desk puts an incredible amount of pressure on your low spine and back muscles. A good way to protect your spine is by investing in a chair mat. At our office furniture store, we recommend ES Robbins chair mats. This women-owned business offers sustainable chair mats at affordable prices.
5. Reduce Tension in Your Shoulders and Neck
Having your head tilted forward at your desk all day puts strain on your upper back and neck. This overworks your back, neck, and shoulders because you're only using the posterior muscles of your neck to hold up your head.
Set reminders on your phone or calendar to realign your posture throughout the day, and to make sure your shoulders are away from your ears. Many people compress their bodies while typing on a computer or even eating a good meal, so it's important to check in with your body and adjust it as needed.
The Right Office Chair for the Job: If you're looking for office chairs that combine ergonomics with affordability, then we recommend Lorell office chairs. Combine one of their office chairs with their active desk solutions, like a standing desk, and you can kick back and neck pain to the curb!
Find Office Furniture in Kansas City at Sante Fe Office Interiors, and Start Sitting Pretty
When other big box stores in Kansas City only have display models of office furniture, Santa Fe Office Interiors has a huge showroom filled with new and used office furniture waiting for you!
Find ergonomic office chairs, standing desks, chair mats, storage solutions, and so much more when you visit our new and used office furniture store. To visit our showroom or talk to our experts about the right ergonomic office chair for you, call us at (901) 901-8800 or send us a message online.
Santa Fe Office Interiors has all the new and used office furniture in Kansas City you need to outfit your corporate office. Ask us about how you can get a free conference table when you buy 10 or more office chairs!