And Where You Can Get the Best Office Furniture in Kansas City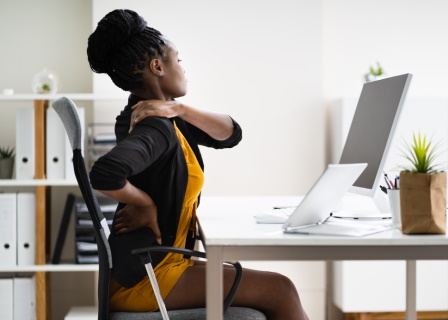 Another day, another sore back. If you've been feeling the pain of working in an old or low-quality office chair, then you feel it at the end of every day. You've heard the term ergonomic tossed around with office chairs – but what does it really mean?
Take a seat and relax while we explain the basics of ergonomic office chairs, and how you can find high-quality office furniture in Kansas City at a fraction of the price when you shop at Santa Fe Office Interiors.
What Is Ergonomics?
Simply put, ergonomics is the study of people working efficiently and comfortable in their environment. Ergonomics looks at how you need to move during the workday, searches for a balance between sitting and standing, and considers how office furniture needs to be manufactured in order to cause you less pain while you work.
Are Task Chairs and Ergonomic Office Chairs the Same?
While all office chairs seem the same, they are very different. Task chairs are great for short periods of time, but usually won't work for a full forty-hour work week. Here's a quick look at why a task chair may not work for you like an ergonomic office chair:
Task Chair
They make these office chairs to slide neatly under a wide variety of desks, which give them limited height adjustments. They may or may not have armrests and offer different levels of back support from low to medium. Task chairs are the perfect solution for those who only spend a few hours a day at their office desk.
Ergonomic Office Chair
Ergonomic chairs have high backs, armrests, and are ultra-adjustable. They are designed with advanced features that are intended to decrease physical pain and promote good posture while you're working at your desk.
Many are customizable, which means you can easily adjust them to fit your body. An ergonomic office chair is the ideal solution for those who spend the majority of the workday at their office desk.
Shop for Office Furniture in Kansas City Like a Pro
When you walk into a large corporate store to look for office furniture, your selection is extremely limited. You may find a lot of display chairs, but the store may not actually have the office chair you want in stock. That means you might end up choosing a chair you don't want, or end up waiting weeks for a new office chair to be delivered.
When you shop for used furniture in Kansas City at stores like Santa Fe Office Interiors, you get to take home your office furniture right away, and it's just as high-quality as furniture right out of the box.
What Are Features of a Great Ergonomic Office Chair?
If you've never worked while seated in an ergonomic office chair, then you've been missing out! Look at all the incredible features of these office chairs that can make your workday much more comfortable:
Adjustable Height
This allows you and anyone who sits in your office chair to pick the correct height level for long-term comfort. Adjusting the height keeps your hips even, which limits the risk of straining your back.
Lumbar Support
If there is one thing ergonomic office chairs are known for, it's back support. High-quality ergonomic chairs are designed to give the section between your hips and chest, also known as your lumbar region, plenty of protection while you're working throughout the day.
Materials and Padding
Regular office chairs vary widely with their construction. However, the best ergonomic chairs are made with supportive and breathable materials that prioritize comfort over style.
Tilt Control
Many people don't realize how important tilt control is when it comes to their office chair. Experts agree that a slightly reclined posture helps protect your spine while you're sitting at your desk. Ergonomic chairs tilt back so that the back of your chair is at about a 100 degree angle.
Which Ergonomic Office Chair Is Right for Me?
Whether it's for a home office or somewhere else, choosing an office chair is a personal decision. You need to be sure the seat is wide enough, that you have enough back support, and it will fit in your office. The best thing to do is find an office furniture store in Kansas City with a large inventory, so you can try before you buy.
What Other Office Furniture Do You Suggest?
If you're suffering from back pain while you work at your office desk, then getting a standing or adjustable height desk along with your ergonomic office chair might be the solution to an easier workday. Not only do these office desks take pressure off your lumbar area and promote excellent posture, they burn more calories than a traditional office desk, too!
I Don't Have a Lot to Spend – Where Can I Get Used Office Furniture In Kansas City?
When you're looking for high-quality used office furniture that will last, then turn to Santa Fe Office Interiors. Our 9,000 square foot showroom is filled with used office chairs, desks, conference tables, storage solutions, and so much more to make working from your office a whole new experience.
If you'd like to schedule a tour of our showroom or ask us about our ergonomic inventory, call us at (913) 901-8800, contact us online, or swing by our used furniture store in Overland Park. Make sure you ask our experts how a privacy partition can eliminate distractions and keep you productive at work while you're here!