Find Budget-Friendly Used Office Chairs, Desks, and More In-Stock!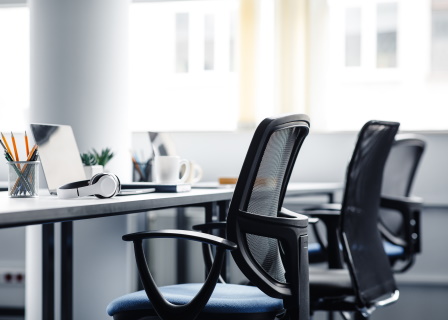 Are you ready to upgrade your office with new furniture? Don't waste your time in stores that don't have what the office furniture you want. Instead, head to the professionals at Santa Fe Office Interiors. We have the best new and used furniture in Kansas Citythat looks great and priced right. Take a look at these top 5 reasons Santa Fe Office Interiors is the only place to get office furniture for your business.
We have an Incredible Selection of Office Furniture in Kansas City
How many times have you gone into a big box store only to find you have one or two practical options of office furniture to fit your space and budget? Don't turn to the internet and have your furniture delivered in pieces. Visit our 9,000 square foot showroom that has an unbeatable selection of furniture. Look at all the ways you can outfit your space with our used office furniture:
Office Desks
Santa Fe Office Interiors has a desk for every kind of work. Our used office desksare perfect for paper pushers, computer techs, and everyone else in between. We have the best brands of standing desks, L-shaped desks, and receptionist configurations. If you don't find the office desks you're looking for, we would be happy to discuss custom options!
Office Chairs
Your office chair is just as important as your desk, which means you need to find the right one to give your body the best posture while you're seated. This could mean a chair that has a more supportive back or one with a wider seat. Don't just head to an office supply store and pick the cheapest new office chair they have available. Come to Santa Fe Office Interiors where we have the right chair for your office.
We even have used office chairs for conference tables and big & tall seating. Talk to our team about how you can get enough seating for your entire office at an affordable price.
Storage
An office needs more than just desks and chairs. It needs reliable storage, too! Santa Fe Office Interiors has bookshelves, file cabinets, and fire protection to keep important office materials and documents organized. Each office space requires different storage solutions, so make sure you talk to our team about the right options for your business.
Partitions and Dividers
You love your coworkers, but sometimes you need to cut out the chitchat and get to work. Installing partitions and dividers are a cost effective and practical way to get privacy and productivity in the workplace. They give you the ability to rework your office space and use natural lighting to your advantage.
Office Furniture in Kansas City at Affordable Prices
It's not a secret that new office furniture can be expensive, especially if you need to supply an entire office with quality desks and office chairs. At Santa Fe Office Interiors, we think everyone should have access to office furniture that allows them to work comfortably and matches their style.
That's why we sell used office furniture that looks like new. You can find everything you need to furnish your office at deep discounts. Plus, our inventory is always changing, which means we have something for everyone. Ask us how you can get a free conference table when you order seating for your office.
Office Furniture That's In-Stock, So You Don't Have to Wait
Does it feel you can't get a hold of anything you need for your office? Today's supply shortages have affected the availability of office furniture in the United States. However, that doesn't bother us, because our 9,000 square foot showroom has plenty of used office furniture in-stock. Here are just some brands we carry:
ES Robbins
Express
Cherryman
Conset
Mayline
RFM Seating
Safco
You don't have to worry about waiting weeks for your office furniture to be delivered, because you can take what you see in our showroom home. Plus, you never have to be concerned about missing parts or pieces. Santa Fe Office Interiors only sells high-quality used office furniture in Kansas City that you can rely on. We are always happy to answer questions about our inventory, so never hesitate to talk to our team about used furniture for your space.
Office Furniture in Kansas City for Corporate and Home Office
The past few years have really changed the way we work. If your office has you working remotely, you're going to need used furniture in Kansas City that keeps you productive in the most relaxing place you can think of – your home!
Setting up your office at home is a lot different from outfitting a corporate setting with used office furniture. You're going to need to think about your space and how to fit everything in your workspace comfortably. Santa Fe Office Interiors has office chairs and desks that are perfect for a home office. Schedule a tour of our showroom to see all the ways our office furniture can help you cultivate a productive work environment at home.
Shop Used Office Furniture at Santa Fe Office Interiors and Support Small Business
Nothing shows how much you love Kansas City, by supporting small businesses. Santa Fe Office Interiors is locally owned and is conveniently located in downtown Overland Park. Our family owned furniture store is dedicated to cultivating lasting and personal relationships with our community.
When you buy new and used office furniture from Santa Fe Office Interiors, you're not only getting high-quality office furnishings, you're getting a team passionate about providing you with the right equipment to make your business stand out. Call us today at (913) 901-8800 to request a tour of our showroom or contact us online. We can't wait to hear from you!