Bring Back the Cubicle to Give Employees Back Privacy and Personality with Office Furniture in Kansas City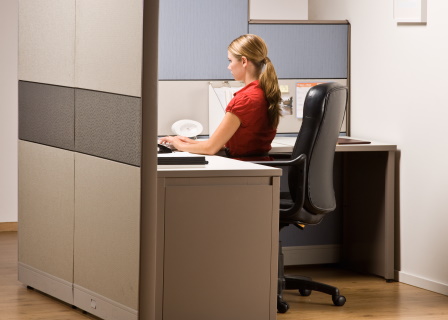 What was once "out" is back "in" again! Gone are the days of open floor plans and space to allow complete collaboration. For a while the thought was to create open space and access for employees within an office space. These spaces would have office furniture with connected seating, very low or non-existent walls or guards between employees, white noise pumped into the space to block out the excess noise of everyone being together, and sometimes office tables in an open area for meetings and group discussions. The thought was that the "openness" would lead to increased collaboration and productivity, whereas the opposite has happened with increased employee stress levels, number of sick days taken and promotion of anxiety and depression.
You want to create a work environment that your employees are comfortable in and one that encourages them to do their best work. Find out the top four reasons why your employees love having their own work space:
Reduces Distractions – Not only are people's work habits very different but so are their personalities. Some prefer to communicate to co-workers via instant message or email and others prefer in person conversations or phone calls. Also, based on your job, you may need to be more interpersonal compared to other roles. This is a recipe for distraction. An open space creates noise (phone calls, conversations, etc.) that can be extremely bothersome to someone that needs to concentrate to get their work done. A cubicle space significantly reduces these distractions and helps to block out outside noise.
Privacy – Along with reducing distractions, having privacy is a main reason why employees want to work in a cubicle and not in an open floor plan setting. It is important that employees know that an employer respects their privacy, especially in their working environment, but also the privacy of the work they are doing. If an employee is working on a confidential project that other team members should not know about, they should have the working space to ensure their work is kept private. This is also for the benefit of the company, not just the employee.
Personalization – They can make the space their own; keeping within any office decor guidelines of course. Especially in this day and age where many people have gotten used to their own home offices, this allows them to recreate that within an office space setting.
Organization – Most furniture in offices with open floor plans lack storage space, not only for paperwork or documents but for personal items. Employees prefer a cubicle space so they can not only make it their own but they can set up space to optimize their organization.
Create the office of your and your employee's dreams – outfitted with everything you need for employees to work their best, be productive and increase overall job happiness in your office. Looking for the best furniture stores in Overland Park, KS to supply you with new office desks for sale or new office partitions for cubicles? Visit Santa Fe Office Interiors. From ergonomics, functions, and visual appeal, a cubicle design in an office can promote efficiency, productivity and comfort for employees in the workplace.
At any budget
Creating an ideal office space for your employees (with cubicles), regardless of the size, can be overwhelming not only in a project sense, but financially. You shouldn't have to forgo quality furniture in your space if you are on a budget. Looking for cheap office furniture to fit your budget? You don't have to buy new office furniture, outfit your office with pre-owned cubicle solutions – keeping the same quality, but saving the money. Used office furniture Kansas City is an option for you.
We'll help you out!
Now that you've heard all about Santa Fe and what they have to offer for office furniture and cubicles, come check out their style and diverse inventory in person. Visit Santa Fe Office Interiors' 9,000 sq. ft. showroom to see the various price points and stock for yourself in Overland Park, Kansas. Santa Fe Office Interiors has a team of professionals ready to help choose the best office furniture solutions for your space, whether it's a new office desk for sale or something that is used. Reach out to our team at 913-901-8800 or stop in the showroom Monday through Friday 10:00 a.m. to 4:00 p.m., or by appointment. We are located at 8106 Santa Fe Drive, Overland Park, Kansas 66204.