Be Your Most Productive with an Organized and Functional Office Space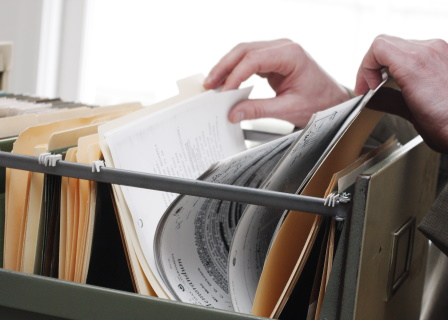 Your office space, whether in a corporate office building or at home, should be your space to excel at the work you are doing without clutter or disorganization. Did you know that clutter and a mess in your office is costing you important time and money? Spending time looking for lost paperwork and searching through clutter costs you six working hours a week! And clutter also equals increased stress. People who lack organizational skills, or forgo setting themselves up for success with an organized office space, report health issues such as sleep apnea and high blood pressure. Why cost yourself time, money and stress when all you need is a productive office space that allows you to focus on getting your work done?
Find out the best ways to organize your office and get on the road to increased productivity, and overall satisfaction in your day, below:
Top Four Office Organizational Tips
Get a filing system – While a lot of documents and files are digital, hardcopy papers and files are not going away (especially for industries like Law, Finance and Education). Even if you have digital files, a handful of paper files can make your office space look messy, and the clutter can have an effect on your work. Invest in great office filing solutions to conquer the clutter and use a filing system:

Create an archive file – When work is finished make sure to complete the project by adding all documents to an archive folder
File papers or document weekly – don't leave them out and about for longer than a week
Create a meeting and WOr (waiting on response) folders – This lets you know where to go for paperwork or documents that are in process.

Establish "Work" zones – Make a clear distinction between the space where work gets done and the space where work is stored. Imagine doing your work on a pile of papers – not the most efficient use of space or your time. Invest in office storage for your space and even office partitions. This will allow you to have a physical separation between your working space and your storage space.
Reorganize your desktop – Now that you've established work zones and filing systems, you want to make sure your working space is ideal for productivity, creativity and the best output. Your desk should only hold the items you need to do your work, such as writing utensils, staplers, paper clips – your office supplies essentials! It is also important to keep your computer equipment orderly, whether you're using a desktop computer or laptop, to decrease clutter by storing cords.
Clean out your drawers – Start fresh with clean drawers (and don't forget to get on a schedule to clean items out). We can tend to throw unsightly items into our drawers so they are out of sight, resulting in them being out of mind. Go through your drawers and properly file anything that needs to be put away or dispose of items that you no longer need.
Now, all you need to do is get office furniture and storage to create the ideal space. Looking for the best furniture stores in Overland Park, KS to supply you with new office furniture? Visit Santa Fe Office Interiors. From traditional, modern and contemporary styles that fit your aesthetic, Santa Fe has limitless storage and filing options for you. From filing cabinets for binders and books, to office shelvers to modular shelves, Santa Fe is here to help you find the filing and storage solutions that are best for you. Remember, the key to be organized and save space is to maximize storage capacity and minimize distracting clutter!
At any budget!
Organizing your office space for filing and storage systems, regardless of the size, can be overwhelming not only in a project sense, but financially. You shouldn't have to forgo quality furniture and storage in your space if you are on a budget. Looking for cheap office furniture to fit your budget? You don't have to buy new office furniture, outfit your office with pre-owned storage solutions – keeping the same quality, but saving the money. Used furniture in Kansas City is an option for you.
We'll help you out!
Now that you've heard all about Santa Fe and what they have to offer, come check out their style and diverse inventory in person. Visit Santa Fe Office Interiors' 9,000 sq. ft. showroom to see the various price points and stock for yourself in Overland Park, Kansas. Santa Fe Office Interiors has a team of professionals ready to help choose the best furniture and office storage solutions for your space. Reach out to our team at 913-901-8800 or stop in the showroom Monday through Friday 10:00 a.m. to 4:00 p.m., or by appointment. We are located at 8106 Santa Fe Drive, Overland Park, Kansas 66204.