Create the Perfect Lounge Area to Increase Your Employee's Productivity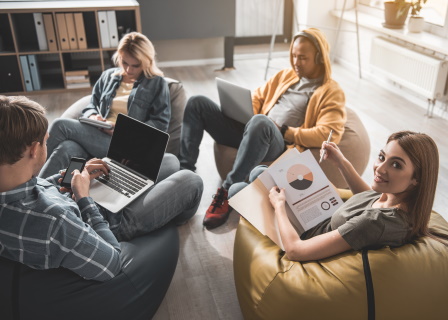 Comfort and collaboration are the two things that are key for any office lounge area. Gone are the days of employees sticking to their desks, and only mingling around the water cooler. Employees want the flexibility to work in areas other than their desks and to meet with other employees or guests besides a basic conference room.
Employee lounge areas are known to improve productivity in your employees. Find out how below:
It helps employees to unwind. No matter what industry you are in or work you are doing, employees need breaks throughout the day. A short break and conversing with other employees in a lounge space leaves employees feeling refreshed and less stressed. A kind exchange with a coworker or a meaningful discussion on a business topic can help employees give their brains a quick reboot to excel throughout the rest of the day.
Adds flexibility. Lounge areas and spaces give employees the opportunity to step out of the box and work in a different location. These spaces are often used for group meetings and brainstorming sessions. Trying to think of a new idea? Grab some coworkers for a chat in the lounge area! It is the ideal location for non-formal meetings.
Increase attractiveness. Did you know that 93% of workers in the tech industry are more inclined to remain at a business that creates space for them to meet, relax and recharge? Creating a unique and comfortable space is enticing with new employees and helps current employees know that you care about their needs.
Where you sit is important, but what is the most important is where you get the work done. When creating a lounge space for your employees, make sure you get the ideal Lounge tables for your space. What should you look for?
Tables where you can multitask. You want your space to be versatile. Make sure your space is set up to solve for anyone's space needs. If a team is heading to the space for collaborative sessions, you want to make sure there is a writing surface available. If an individual employee is stopping by you want to make sure there is a table available for them to write on or place their laptop for typing.
Versatile Side Tables. Side tables can help solve for a multi-use space. A smaller side table can help provide you with high functionality in a sleek and compact design. Make it easy for employees with built-in electrical outlets, lighting and other decorative items.
Personal tables. When you're working separately from a team you are most likely looking for your own table to take notes or comfortably sit and type on your laptop. Personal tables allow you to do this while sitting in a shared lounge space.
Now, all you need to do is get office furniture, lounge tables and office desks to create the ideal space. Looking for the best furniture stores in Overland Park, KS to supply you with new office furniture? Visit Santa Fe Office Interiors. From traditional, modern and contemporary styles that fit your aesthetic, Santa Fe has limitless storage and filing options for you. From many styles of lounge tables to functional chairs, Santa Fe is here to help you create the best employee lounge area for you. Remember, the key to a great office space is one where employees can collaborate or work independently!
At any budget!
Creating the best lounge space for your employees, regardless of the size, can be overwhelming not only in a project sense, but financially. You shouldn't have to forgo quality furniture and storage in your space if you are on a budget. Looking for cheap office furniture to fit your budget? You don't have to buy new office furniture, outfit your office with pre-owned lounge solutions – keeping the same quality, but saving the money. Used furniture in Kansas City is an option for you.
We'll help you out!
Now that you've heard all about Santa Fe and what they have to offer, come check out their style and diverse inventory in person. Visit Santa Fe Office Interiors' 9,000 sq. ft. showroom to see the various price points and stock for yourself in Overland Park, Kansas. Santa Fe Office Interiors has a team of professionals ready to help choose the best furniture and office storage solutions for your space. Reach out to our team at 913-901-8800 or stop in the showroom Monday through Friday 10:00 a.m. to 4:00 p.m., or by appointment. We are located at 8106 Santa Fe Drive, Overland Park, Kansas 66204.