Shop Office Chairs Near You at Santa Fe Office Interiors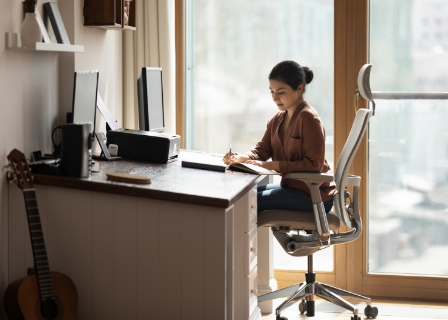 We spend a majority of our weekdays sitting in an office chair, yet some people still settle for just any ol' chair they can find. The truth is, your office chair matters. Selecting an ergonomic chair comes with many benefits, and can have a positive impact on you from the inside out.
In this guide, we'll reveal five benefits that come with using an ergonomic chair, and how you can purchase one of your very own at our Kansas City used furniture store.
#1 – Improves Physical Health
Let's face it. Trying to keep your torso, neck, arms, and legs aligned in your office chair all day is impractical, and most people consider their posture the least of their concern when the stress of the workplace takes its toll. Poor posture can then stimulate back pain, hip pressure, and neck strain.
Luckily, ergonomic chairs do most of the work for you. They're specifically designed to support body alignment, ultimately leading to less stress and tension built up in the body. Unlike other office chairs, the backrest of an ergonomic chair is made to support the natural curve of your spine and your entire back. Their design also includes a headrest that works to sustain good posture and reduce stiffness in the neck and shoulders.
#2 – Supports Emotional Well-being
Back pain is the beginning of a slippery slope towards negative emotional wellbeing. It can cause psychological stress, which might then prevent physical activity, resulting in intensified pain and even more stress. In more severe cases, back pain may also lead to depression and anxiety.
With that in mind, it's important to prioritize your physical and emotional wellbeing, especially if you're spending most of your day sitting in an office chair. Consider exercise, meditation, and following a healthy diet. However, there's a way to ensure your time spent sitting isn't causing back pain in the first place, and it's by purchasing an ergonomic office chair near you.
#3 – Customizable and Adjustable
One size doesn't fit all when it comes to office chairs. While traditional office chairs are only height-adjustable, ergonomic chairs offer four to eight points of adjustment, allowing you to make accommodations for your comfort.
Customize your chair to fit your torso, the arch of your spine, and your height. The seat, armrest, and lumbar support can all be modified to support your posture, bringing your neck, shoulders, elbows, waist, and knees all to right angles.
#4 – Promotes Focus
When you're under less stress, it'll be easier to focus. Once you're focused, you'll notice an instant boost in your productivity. You'll be able to get more work done faster, and maybe even produce better work, too.
What's more, you won't be distracted and waste time trying to get comfortable. An ergonomic chair will support your specific body type, allowing you to turn your attention to what's most important.
#5 – Provides Comfort
Ergonomic chairs are more comfortable than a traditional office chair, thanks to their user-friendliness. They can be attuned to your personal body type, support proper posture, and help you stay focused. Comfort creates a more manageable and enjoyable workday, promoting more productivity and efficiency.
Strive for Success with a New Office Chair
As you can see, your office furniture makes a difference. Back pain and other bodily discomfort has a direct impact on your physical and emotional well-being, as well as your productivity and efficiency. The easiest way to promote success in the workplace is by purchasing an ergonomic office chair.
The good news is that you don't have to break the bank to replace your current office chair. At Santa Fe Office Interiors, you'll have access to high-quality used office furniture for an unbeatable price.
Shop Office Chairs Near You at Our Used Furniture Store!
At Santa Fe Office Interiors, we offer a huge selection of both new and used office chairs near you, including ergonomic options. Our 9,000 square foot showroom is stocked with office furniture from the top brands on the market. When you shop our used office furniture, you can expect quality and durability for years to come.
Looking for more furniture to fill your at-home or commercial office space? We also stock other pieces of used office furniture, including desks, partitions, tables, storage, and filing solutions.
Transform your office space today with Santa Fe Office Interiors! Tour our showroom by giving us a call at (913) 901-8800 or sending us a message online.
We look forward to hearing from you soon!