Kansas City Used Office Furniture Can Complete Your At-Home Office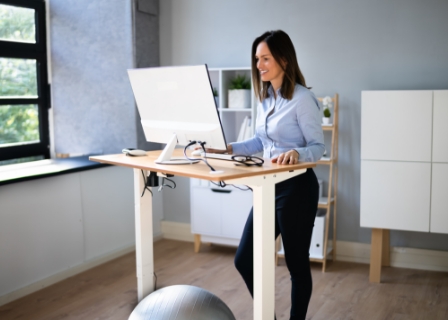 Working from home has its perks. You don't have to worry about commuting, you can attend meetings from the comfort of your pajamas, and overall, you get to practice better work-life balance. Although working from home has its benefits, it can sometimes be difficult to focus and get things done when your office is just a few steps away from your bedroom.
What can make a huge difference in your productivity is your workspace. Luckily, there are simple upgrades you can make to your home office to promote productivity.
And we can help! At Santa Fe Office Interiors, we offer Kansas City home office furniture that is sure to advance not only your space, but also your efficiency.
#1 – Use an Ergonomic Chair
A long day of sitting isn't ideal for your physical and emotional well-being. It can cause poor posture, back pain, and other concerns, which can then have a negative affect on your productivity levels. Working from just any office chair can make these issues even worse.
To boost productivity, be selective about your office chair. Ergonomic office chairs work to correct your posture as you sit, providing you with the highest level of comfort throughout your entire day. These chairs are adjustable, meaning they can be customized to suit your specific body measurements.
An ergonomic office chair allows you to get things done without any back pain. Also, you won't have to waste time trying to get comfortable. Your chair will already be adjusted to your preferences, allowing you to get started right away and be productive from the get-go.
You don't have to buy a brand new chair either. Our used office furniture store near you has quality ergonomic desk chairs for an affordable price.
#2 – Let the Light in
Poor lighting makes you less motivated and can also strain your eyes, leading to deteriorated eyesight, fatigue, and headaches. To promote a productive workspace, utilize natural light as much as possible.
Opening your blinds will keep you awake throughout the day and boost your productivity. If your home office doesn't receive a ton of sunlight, don't worry. You can still enjoy the benefits of natural light by using an LED desk lamp to optimize the lighting in your home office. Bright lightbulbs can mimic sunlight, and some lamps even give you the option to adjust the brightness and color temperature levels to your liking.
#3 – Upgrade Your Desk
Like we've previously mentioned, prolonged sitting can have serious consequences. Not only can it harm your cardiovascular, metabolic, and mental health, but it has also proved to cause poor organization, time management, memory, and attention skills. These are all factors that correlate to your productivity.
So, how do you prevent sitting for an extended period of time when you've got work to do? Upgrade your desk! Height-adjustable desks can rise and lower, allowing you to stand as you work and reduce the amount of physical stress put on your body throughout the workday. They have been proven to diminish mental fatigue, which can then stimulate your thought process, allowing you to focus and be more productive.
At our Kansas City used office furniture store, you'll have access to a selection of office desks, including height-adjustable options. Visit our showroom to try out the desk for yourself and see if it would be a good addition to your at-home office.
#4 – Declutter Your Space
A messy space can create a messy mind. For a more productive home office, declutter and organize your belongings. Clear your desk and only make room for what's necessary, like your computer, keyboard, mouse, and perhaps a notepad to jot things down.
Anything else should be stored away and out of sight until you need it. Storage and filing cabinets look nice in your space and can ensure important papers, books, and other items are kept safe. You'll feel less stress knowing everything has a place and is easily accessible.
Upgrade Your Workspace with Used Office Furniture in Kansas City!
At Santa Fe Office Interiors, we offer a wide variety of used office furniture that can transform your home office and boost your productivity. Shop ergonomic office chairs, height-adjustable desks, storage solutions, and more! At our Kansas City office furniture store, you can choose between a selection of styles – from traditional to contemporary – so you're sure to find furniture that fits seamlessly into your workspace.
Visit our 9,000-square-foot showroom to shop quality used office furniture from some of the top manufacturers for an unbeatable price. You'll also be able to try before you buy, guaranteeing that you love the furniture before you call it yours.
To get started, give us a call at (913) 901-8800 or send us a message online. We look forward to hearing from you soon!