Upgrade Your Home Office and Improve Your Quality of Life with Used Desks for Sale from Santa Fe Office Interiors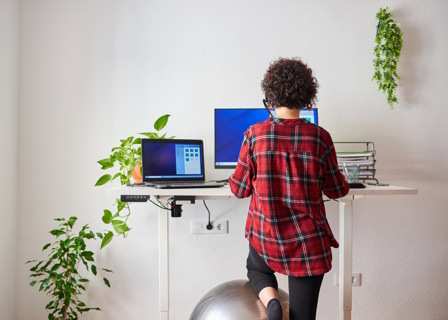 Your desk is the heart of your home office. It's where you get stuff done, brainstorm new ideas, and spend your entire workday.
And if you're going to be spending over 40 hours a week at your desk, you might as well take advantage of all the benefits a standing desk has to offer. Remote work has brought more and more standing desks into home offices, as many opportunities to stand throughout the day are lost while working from home.
Keep reading to learn about the many benefits of a standing desk and why it's a must-have in your at-home office. Then, find out how to shop our wide variety of used desks for sale at Santa Fe Office Interiors, our home office furniture store in Kansas City.
What is a Standing Desk?
A standing desk, also called a stand-up desk, is exactly what it sounds like: a desk that allows you to stand as you work. Standing desks are height-adjustable, enabling you to alternate between a sitting and standing position with ease. Their main purpose is to prevent prolonged sitting, which comes with several harmful effects of its own.
Benefits of a Standing Desk
Remote work has caused prolonged sitting to become a greater concern over the past few years. Luckily, a standing desk can prevent you from encountering the risks that come with sitting for an extended period of time, ultimately making for a healthier lifestyle and a more productive workday. The benefits of a standing desk include the following:
#1 – Reduced Body Aches and Pain
Sitting all day can lead to poor posture, resulting in chronic aches and pains throughout the body. Not only does a stand-up desk correct your posture, but it can also remove pressure from your neck and lower spine. The result is a pain-free, more enjoyable workday.
#2 – Better Mood and Energy Levels
Employees that use a standing desk have shown to have more energy throughout the day compared to those who don't. This is because standing increases blood flow, which then creates more energy and brain activity. Additionally, a standing desk lessens stress and fatigue, immediately improving your mood and satisfaction with work.
#3 – Greater Productivity
An increase in energy and blood flow also results in higher levels of productivity. More brainpower helps you focus, enabling you to become more efficient, creative, and willing to handle challenging tasks.
#4 – Lower Blood Sugar Levels
The higher your blood sugar level is after a meal, the more detrimental it can be for your health. Especially after lunch, it's important to keep your blood sugar level low. A standing desk can help. In fact, standing up after you eat can reduce blood sugar spikes by 43 percent. Standing also works to reduce your risk of developing more serious health concerns, like type 2 diabetes.
#5 – Lower Risk of Heart Disease
Sitting has a huge impact on your heart health. It can increase your blood sugar levels and cholesterol, putting you at greater risk for heart disease. To put things into perspective, prolonged sitting is so harmful that even an hour of intense exercise can not reverse its negative effects. That being said, try to get on your feet as much as you can. A standing desk makes it easy.
#6 – Reduced Weight Gain
Believe it or not, choosing to stand rather than sit can burn more calories and lower your risk of weight gain and obesity. When you sit, your body only burns the amount of calories it needs to survive. When standing, however, your leg and core muscles are activated, burning more calories overall. Swapping out your traditional desk for a standing desk is just one small change you can make to create a healthier lifestyle.
Shop Used Desks for Sale and More at Santa Fe Office Interiors
At Santa Fe Office Interiors, you'll have access to standing desks and other used desks for sale at a price you won't find anywhere else. Our furniture store in Kansas City offers both new and used office desks from the industry's most-trusted brands, including Think Global, ConSet, and more.
The good news is, you won't have to deal with the hassles of shipping and returns. When you visit our 9,000-square-foot showroom, you'll have an opportunity to try out our vast inventory of used standing desks and find one you love. And with our convenient and flexible delivery options, you'll be able to enjoy your new office furniture as soon as possible.
Don't wait! Enjoy the countless benefits of a standing desk today by calling us at (913) 901-8800 or by sending us a message online.