Shop Our Used Kansas City Office Furniture at Santa Fe Office Interiors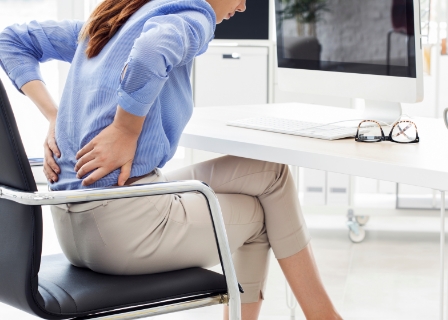 Health in the workplace has become a hot topic in the past few years, as more and more people have realized the direct impact office furniture has on both our physical and emotional well-being. Fortunately, ergonomic office furniture has made its way into both at-home and commercial office spaces as a way to support employees and improve their health over time.
Whether you're considering making the switch to used ergonomic office furniture or just want to learn more about the connection between your furniture and health, this guide is a great place to start. At our Kansas City used office furniture store, you'll have access to quality ergonomic office furniture for a great price.
What is Ergonomic Office Furniture?
Sitting all day can take a serious toll on our body, especially with the wrong furniture. Traditional office furniture can cause poor posture, leading to back pain, hip pressure, and uncomfortable neck strain. Ergonomic office furniture is specifically designed with the employee's comfort in mind.
Ergonomic furniture is made to ensure that the user's body remains in a safe, comfortable position throughout the workday. It can be adjusted to the user's body and encourages proper posture. Unlike traditional office furniture, ergonomic options have been proven to advance productivity, efficiency, and overall well-being.
Try a Height-Adjustable Desk
It's common knowledge that prolonged sitting isn't great for our health. In fact, it can worsen stress and anxiety, and increase the likelihood of physical health issues, such as obesity, heart disease, and other concerns. Luckily, ergonomic furniture has changed the way we get work done by implementing height-adjustable desks into both at-home and commercial office spaces.
Like their name suggests, height-adjustable desks are able to be modified, giving the user an option to stand while working. Standing as you work has incredible health benefits and provides you with an energy boost, keeping you active and creative the entirety of the workday. It lessens fatigue and promotes circulation within the body, which can greatly impact your physical well-being.
The benefits of height-adjustable desks don't stop at your physical health. They've also been proven to reduce anxiety and improve mental health within the workplace.
At our Kansas City office furniture store, we stock a variety of height-adjustable desks from some of the top brands. Shop ergonomic options from ConSet and Think Global.
Swap Out Your Office Chair
When it comes to office chairs, you'll want to invest in one that can support you throughout the workday. Ergonomic office chairs are specially designed to maintain body alignment, reducing tension and stress within the body. These office chairs feature a backrest that assists the natural curve of your spine and a headrest to prevent stiffness in the neck and shoulders.
Additionally, ergonomic office chairs are completely customizable to your specific body type, providing you with utmost comfort. They typically offer four to eight points of adjustment, including seat height, seat width and depth, lumbar support, armrest, headrest, and recline and tilt controls. The versatility of ergonomic chairs allows you to practice good posture regardless of your height and bring your neck, shoulders, elbows, waist, and knees to a 90 degree angle.
Ergonomic office chairs correct your posture, which then reduces back pain, prevents strain in the neck, and enables you to avoid a number of health problems down the line.
Our Kansas City home office furniture store offers some of the best, most reliable brands for ergonomic seating. When you visit our 9,000 square foot showroom, you'll have access to office chairs from RFM Seating, ES Robbins, and more reliable manufacturers.
Shop Ergonomic Office Furniture in Kansas City at Santa Fe Office Interiors
At Santa Fe Office Interiors, we provide the Kansas City area with new and used office furniture for an affordable price. Our 9,000 square foot showroom is filled with quality office furniture from some of the most trusted brands on the market. Our inventory is ever-changing, so you never know what you'll find at our Kansas City office furniture store.
Shop a selection of used office furniture to fill your workspace, including desks, office partitions, tables, seating, and storage solutions. We offer a variety of styles, ranging from traditional to contemporary, so you're sure to find something that will complement your space perfectly.
Ready to tour our showroom and find the newest addition to your at-home or commercial office? Give us a call at (913) 901-8800 or send us a message online!