Our Flexible Delivery Options Make Your Purchase Hassle-Free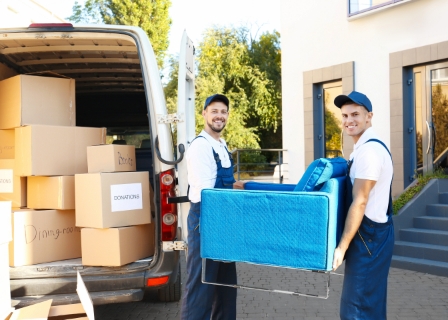 These days, you can buy almost anything and everything online, including office furniture. And when you find the perfect furniture to fill your workspace, you'll want to have it right then and there. Ordering that new office chair online is convenient, but can come with a lot of risks before it arrives at your front door. That's why we recommend getting it personally delivered by our team.
At Santa Fe Office Interiors, we offer worry-free local delivery, guaranteeing you'll receive exactly what you initially fell in love with at our showroom in mint-condition. If you live in the Kansas City area, your office furniture can be delivered right to your door for an affordable price!
Keep reading to discover all the benefits of our one-of-a-kind delivery option, and why you'll want to have your office furniture delivered.
1. You Won't Have to Wait
The hardest part about shopping online is waiting for your purchase to finally arrive. When you get your office furniture delivered, you won't have to wait to enjoy it. If you find something you absolutely love in our showroom, you can take it home with you that same day!
Office furniture isn't small, and it definitely isn't light as a feather, either. When you get your furniture delivered, you won't have to worry about any heavy-lifting or if your car has the necessary capacity to haul your items home. Our team takes care of it all, and our delivery options are flexible, convenient, and ready when you are.
2. Your Furniture Won't Get Damaged
Packages go through a lot before they end up on your front porch. On the way to their final destination, they get moved, tossed, and thrown regardless of the word "fragile" stamped on the outside. This could result in broken or damaged pieces that aren't an easy fix. Not to mention, you'll have to wait even longer to be sent a replacement piece.
Getting your furniture delivered ensures that your items will arrive undamaged and in perfect condition. Our team knows how to properly handle furniture, and will treat it with extreme caution when transporting it.
3. You'll Avoid Expensive Shipping Costs
Ordering large items online, like office furniture, can result in a hefty shipping fee, and suddenly cause your total cost to skyrocket. This can quickly take more money out of your pocket than you were originally anticipating.
You'll only have to pay a small additional fee when you utilize our delivery service at Santa Fe Office Interiors! We strive to be an affordable resource for quality office furniture, so when you visit our showroom, we'll provide you with accurate delivery pricing information based on the items you purchase.
4. Your Furniture Will Arrive on Time
Today's supply shortages have made it more difficult to get your hands on the office furniture you want. Shipping creates an opportunity for delays and backordered items, and there's nothing more frustrating than receiving your furniture later than you were expecting. When this happens, you then have to decide if it's really worth the wait.
At Santa Fe Office Interiors, our 9,000 square foot showroom only contains office furniture that's in-stock, meaning you won't have to wait weeks to put it to use. You'll have immediate access to some of the best and high-quality brands on the market, including ES Robbins and Safco. We also keep you updated on lead times and other details regarding delivery, so you can stay informed and in-the-know before you make your purchase.
5. You Won't Have to Put Your Life on Pause
If you've ever ordered something online, you know how inconvenient it can be to make sure you're home and available when your package arrives. Unfortunately, it isn't uncommon for packages to be stolen off of porches, and you can't always be sure someone is able to get to the door right when your long-awaited office furniture is finally delivered. In reality, you shouldn't have to put your life on hold to outfit your workspace.
Our delivery service is hassle-free and extremely flexible. We understand you have a busy schedule, so we work with you to decide the best time to deliver your furniture. Our team is more than happy to drop off your office furniture at a time that works for you.
Don't Wait! Shop Our Kansas City Home Office Furniture!
At Santa Fe Office Interiors, we offer a variety of both new and used office furniture to complete your at-home workspace. Our small business is locally-owned and -operated in downtown Overland Park, and we're passionate about forming lasting relationships within our community.
Our Kansas City used office furniture store is the perfect place to shop quality and affordable pieces to incorporate into your home office. We carry desks, tables, office chairs, and even storage to organize your space!
Ready to tour our showroom? Call us at (913) 901-8800 or send us a message online. We can't wait to hear from you!