Your Office Furniture Can Make a Huge Difference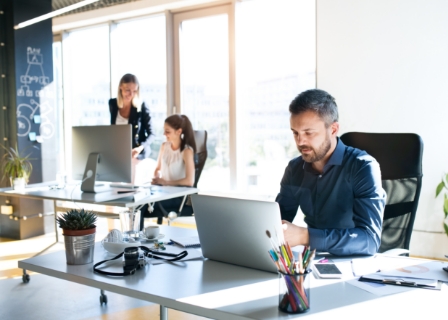 Furniture matters. The way you fill a room can completely change its entire feel, mood, and energy. This is true for any establishment, including a house, office, or business. When furnishing your workplace or at-home office, it's important to create an organized, yet comfortable and relaxing atmosphere. But it isn't just about comfort. Your office furniture also plays a part in productivity and efficiency.
To get the most out of your office space, you're going to need quality furniture. You don't have to spend a fortune, either. At our Kansas City home office furniture store, we offer new and used furniture in great condition that will completely revitalize your space.
Without further delay, here's the difference that quality office furniture can make.
#1 – Opens Up the Room
Although furniture can take up a lot of space, it can actually open up a room when it's arranged properly. For small offices, you'll need to be especially strategic about your setup. Placing furniture along the perimeter of the room allows for optimized space. You may also consider using multi-functional furniture to make the most of your space and enable more movement. For example, opt for a desk with built-in storage to organize and declutter.
#2 – Promotes Collaboration
While you may not realize it, your office furniture has an impact on employee collaboration. Rather than cubicles and individual workstations, investing in conference tables and ample seating can not only open up the space and make it more comfortable, but also encourage interaction among employees.
Taking down these walls can make employees feel more approachable and provide them with a sense of independence, which then creates more efficiency within the workplace.
#3 – Supports Wellness
The office furniture you use affects your health, so you'll want to purchase quality pieces that will provide you with the support you need. Standard office chairs are rarely adjustable, making it easy to slouch and hold poor posture. Not to mention, sitting at a desk all day can have a negative impact on your physical and mental health. Fortunately, ergonomic furniture has made its way into homes and offices.
Ergonomic office desks are incredibly versatile and can be customized to fit your needs. These desks are adjustable, ensuring that your arms and wrists stay at a neutral position to prevent any straining. They can also be raised, allowing you to stand while you work and minimize back pain.
Similarly, ergonomic office chairs are specifically designed to keep you comfortable as you work. Assisting the natural curve of your spine, they provide lumbar support to reduce back pain and encourage correct posture as you get things done.
Quality furniture pieces – like ergonomic chairs and desks – keep you comfortable, ultimately leading to greater productivity and less fidgeting.
Where Can I Find Quality Office Furniture?
At Santa Fe Office Interiors, we stock new and used furniture for your office or at-home workspace. When you shop our Kansas City used office furniture, you'll have access to some of the best manufacturers on the market for an affordable price. If you aren't quite sure what to look out for, don't worry. Here are a few of our favorite manufacturers that you'll find in our 9,000-square-foot showroom.
ConSet provides desks that can be adjusted by their height, offering a standing option to those who are looking to change the way they work.
Think Global's eO+ modular panel and desk system can be used as individual workstations, or you can combine them for the perfect area to collaborate with the team.
RFM Seating is a leading manufacturer that offers fully customizable seating for your office or home. Tailor everything to your liking and how it fits you best, from the fabric and size of seat to a variety of adjustment options.
Cherryman prioritizes sustainability and designs commercial office furniture that is made to last. Shop a collection of ergonomic chairs and office desks equipped with plenty of storage.
Shop Used Office Furniture at Santa Fe Office Interiors!
At Santa Fe Office Interiors, we stock affordable, new and used office furniture to fill your space. Shop desks, seating, and more for a price you won't find anywhere else!
Ready to revamp your office space with quality furniture made to last? Visit our showroom located at 8106 Santa Fe Drive to find what you need.
If you have any questions about our Kansas City used office furniture, send us a message using the form on our website.
We can't wait to help you outfit your space!