Follow These Tips to Save Big and Get the Most Out of Your Shopping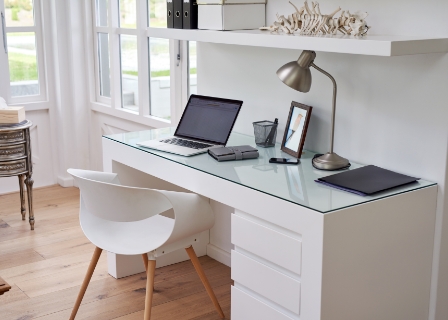 More and more people are starting to do all their shopping online, making Cyber Monday the new Black Friday. As the country's most popular online shopping holiday, this is the best time to take advantage of limited-time sales on items both big and small. And if you've been waiting for just the right moment to replace your office desk, this is the perfect opportunity.
With a never-ending selection of online retailers right at your fingertips, it can be difficult to know where you'll find the best office desk at the best price. Fortunately, there are things you can do to prepare and make sure you get the most bang for your buck.
1. Look to the Past
Although retailers don't always have the exact same deals from year to year, looking at their past Cyber Monday sales can help you know what to expect. You might be able to predict if a certain retailer is going to mark down select items, offer free shipping, or provide you with other ways to save.
Doing your research will give you insight into which websites might offer you a better bargain, and which ones may not be worth it.
2. Explore All Your Options
In a race against both limited time and quantity, it may be tempting to purchase the first office desk you come across, but don't complete your order just yet. Take the time to look through a variety of retailers and assess which ones are going to save you the most cash.
To avoid getting lost in an abyss of open tabs, it's a good idea to scribe each retailer's offerings on a piece of paper. Include the name of the retailer, their Cyber Monday deal, and what the final cost of the product would be. This will help you stay organized and determine where you'll get the best deal on your new office desk.
3. Start Early
Early bird gets the worm, right? Most retailers offer their Cyber Monday sale for at least 24 hours, and sometimes even before the actual holiday begins. To have as many choices as possible, wake up early – or stay up late – to beat the virtual crowd. This will also grant you more time to make a conscious, cost-effective decision.
4. Account for Shipping and Other Add-Ons
What seems like a steal at first glance may end up costing you more than you anticipated. On your search for the best bargain, make sure to account for shipping and other additional costs, such as tax, that are going to impact your total.
Shipping large items, like office furniture, can raise the total cost and result in almost no savings at all. Opt for retailers that offer reduced shipping costs or another delivery method to make sure you're getting the best deal possible.
5. Shop Used
Most buyers initially look for brand new products, but shopping used is another tactic that can help you score a great deal. "Used" doesn't mean low quality. Used office furniture stores are a great place to find gently-used, quality office furniture for an affordable price.
Purchasing used furniture can not only save you a significant amount of money, but it's also better for the environment and helps to reduce waste. With so many benefits, a used office desk is the way to go.
Save Big on Your Office Desk When You Shop Our Used Furniture in Kansas City!
At Santa Fe Office Interiors, we stock a vast selection of both new and used office desks from some of the most-trusted brands on the market. No matter your space, we have a desk that will complement it perfectly! Choose from wood, laminate, steel, and wood veneer for both traditional and contemporary styles.
A desk can make or break your workspace, which is why it's so important to select the right one for you. When you stop by our 9,000 square foot showroom, you'll be able to see all of our new and used office desks for yourself!
You won't need to worry about shipping, either. We offer hassle-free delivery options for no added cost. When you purchase one of our used office desks, you won't have to break your bank for high-quality furniture.
To get started, give us a call at (913) 901-8800 or send us a message online.