Get the Best Second Hand Furniture in Kansas City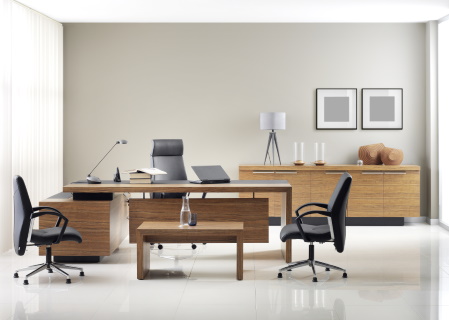 The market for used office furniture has changed, even within the past year and half. Knowing that an employee can spend 15 hours a day sitting at their desk or in their cubicle makes people much more aware of the furniture, and it's materials, that are surrounding them. People are aware of how sitting can affect their health, and also how the materials and what they are sitting on affect them. Construction quality, ergonomics and cost are always top of mind.
But now COVID-19 has made a large effect on how important office furniture materials are. Everyone is even more aware of germs, how they are spread, how they live on surfaces and much more because of this virus. With this awareness also comes awareness of furniture made of toxic oil-based finishes, formaldehyde and lead paint.
There are more factors now than ever that go into the types of materials you need to look for when purchasing office furniture. Here are the top three elements that you MUST take into consideration when looking for office furniture:
High-Quality Office Furniture: Choosing office furniture of high quality, specifically investing in non-toxic furniture that meets ANSI and BIFMA standards immediately eliminates certain toxic elements in your workspace.
Green Office Installation: You have to think past your four office walls, carpeting and ceilings. Choosing a low-VOC, eco-friendly paints, non-toxic wall systems, structural elements that can be thoroughly and easily sanitized, and air purification systems to help remove viruses, allergens and pollutants from the air. Having a Green office helps to also decrease the worries of COVID-19 within the office.
Regular Sanitization: Consider items that are easy to clean and sanitize on a daily basis. You can purchase furniture that is already made from antibacterial materials to help support a clean and healthy environment. All furniture purchases, like office tables and office desks, should be able to withstand regular sanitization and still look great!
Find office furniture solution for you at Santa Fe Office Interiors
As a furniture provider in the greater Kansas City area, Santa Fe Office Interiors offers our customers a large line of quality pre-owned and new furniture products to fit any economical range and need. Whether you are operating your business in your home, a commercial space or an industrial space, our 9,000 sq.ft. furniture showroom in Overland Park, Kansas is also equipped with inventory to meet every style and function. Not only do we offer top of the line products and fixtures for your interior office space, our immense and always rotating selection spans the range from workstations and desks to conference tables, storage and more. Being a successful, local-focused business since 2005, Santa Fe Office Interiors continues to provide the Kansas City business community with furniture to fit their office environments and succeed in style and comfort.
Not only does our showroom offer a place to browse and test fixtures and furniture for your office space improvement projects, we also work closely with the top brands in office furniture to provide our clients the best solutions. This often means consultations to browse a number of catalogs on hand and order directly through the manufacturer to assure you get the best product for your space.
At any budget!
Organizing your office space with furniture that has materials that meet these standards, regardless of the size, can be overwhelming not only in a project sense, but financially. You shouldn't have to forgo quality desks in your space if you are on a budget. Looking for cheap office furniture in Kansas City to fit your budget? You don't have to only look for new office desks for sale, outfit your office with pre-owned storage solutions – keeping the same quality, but saving the money. Second hand furniture in Kansas City is an option for you.
We'll help you out!
Now that you've heard all about Santa Fe and what they have to offer, come check out their style and diverse inventory in person. Visit Santa Fe Office Interiors' 9,000 sq. ft. showroom to see the various price points and stock for yourself in Overland Park, Kansas. Santa Fe Office Interiors has a team of professionals ready to help choose the best furniture and office storage solutions for your space. Reach out to our team at 913-901-8800 or stop in the showroom Monday through Friday 10:00 a.m. to 4:00 p.m., or by appointment. We are located at 8106 Santa Fe Drive, Overland Park, Kansas 66204.