No Matter Which Desk You Choose, Used Desks For Sale Are For You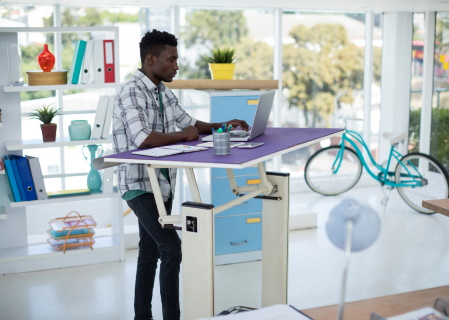 Nowadays, when people are spending the majority of their working day at their desk, it's more important to have active desk solutions for employees. Sitting for too long is bad for your health – increasing the risk of diabetes, heart disease, and it can even shorten your lifespan! While we know standing benefits you it may not be fitting for the work you do.
Find out the pros and cons of a standing desk below:
Pros
Standing Desks Keep You Moving. You already know this, sitting itself causes a host of problems. Issues like back and neck pain are usually caused by staying in the same position for far too long, which is why a standing desk can come in handy. A standing desk naturally encourages people to move around and add variations to the way they move their bodies. This movement reduces the risk of those nasty health problems that sitting is blamed for
Get Rid of the Afternoon Slump! Have you felt the dreaded post-meal afternoon slump? This happens a lot more when you are sitting, if you're standing, blood sugar levels return to normal much sooner when a person is standing versus sitting. You can beat the slump by getting a standing desk.
Burn More Calories. An excellent benefit to standing that can affect your waistline is that you burn more calories. A study found that in an hour, someone sitting at their desk burned 80 calories and the person standing at their desk burned 88 calories. While not drastic, you can see how standing is slightly more beneficial in terms of burning calories.
Cons
Standing All Day Can Be Tiring. Standing upright on wood floors from 7-8 hours a day can be pretty tiring. This can result in muscle fatigue, soreness, and general tiredness. Just ask someone, like a hairdresser, who works on their feet all day!
It Can Cause Damage to Your Joints. While a standing desk can alleviate some back pain, it can also put just as much pressure on your knees and ankles. Even if you are in good shape, a full day of standing at your desk can leave your joints feeling sore.
Say Buh Bye to Your Favorite Footwear. Even if you enjoy standing at your desk, you can't deny that you are going to end up with sore feet after a long day. This is especially true if you are wearing tough, professional shoes, like high heels, that lack support and comfort to get you through the day. The best way to combat this pain is to wear sneakers or comfortable shoes while you are standing at your desk.
Changing up your working position not only promotes healthier habits, it also prevents back problems. An adjustable desk offers a healthy option, especially when it is equipped with an ergonomic keyboard tray. Have the best of both worlds with Lorell's Sit-to-Stand Workstations"
Lorell's Sit-to-Stand Workstations adjust quickly, smoothly and quietly and are the perfect way to increase your circulation, comfort and productivity. Lorell offers a variety of sit-to-stand workstations specific to any home or office needs and each have Quadro Electric bases, allowing for a quiet transition from seated to standing with a gentle push of a button.
Looking for a sit-to-stand desk for a small space? Try out Lorell's Height-Adjustable 20Motor Desk in the style Dark Walnut. This desk is the perfect size for your small office or home work space. It also flips up and out of the way when attached to the base for easy storage.
Looking to turn your larger desk into a sit-to-stand desk? Try out the Lorell XL Adjustable Desk/Monitor Riser. This riser holds up to three monitors, a laptop and more with a grommet mounting system.
At any budget!
Organizing your office space for filing and storage systems, regardless of the size, can be overwhelming not only in a project sense, but financially. You shouldn't have to forgo quality desks in your space if you are on a budget. Looking for used office furniture in Kansas City to fit your budget? You don't have to buy new office desks, outfit your office with pre-owned storage solutions – keeping the same quality, but saving the money. Second hand furniture in Kansas City is an option for you.
We'll help you out!
Now that you've heard all about Santa Fe and what they have to offer, come check out their style and diverse inventory in person. Visit Santa Fe Office Interiors' 9,000 sq. ft. showroom to see the various price points and stock for yourself in Overland Park, Kansas. Santa Fe Office Interiors has a team of professionals ready to help choose the best furniture and office storage solutions for your space. Reach out to our team at 913-901-8800 or stop in the showroom Monday through Friday 10:00 a.m. to 4:00 p.m., or by appointment. We are located at 8106 Santa Fe Drive, Overland Park, Kansas 66204.