Used Desk for Sale! Find the Desk That is Made For You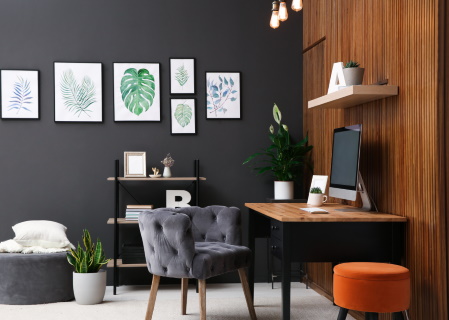 Finding the perfect desk for you is personal. This will be the place you spend a majority of your work day – so you have to make it a place that makes sense for you! There are a lot of factors to consider in your search – from storage to style to shape.
When we think of desks, we think of them beyond just being a surface. Afterall, it is a place most people find themselves for 40+ hours a week. For many people, their office desk is their headquarters and it is important to have options to configure this headquarters into the most comfortable, efficient space to promote productivity and comfort. Making or breaking desk comfort for an employee can be as simple as the height of the desk or the legroom space under the desk. For instance, we know that standing desks can be beneficial by promoting better health and lifestyle, but it can also help to engage with people. While open- floor plans are known to help build a positive, friendly working environment cultivating inclusivity and productive relationships, a clean desk communicates a professional environment and an organized employee.
Read on for a guide to what you should be looking for in order to choose a desk that is right for you!
Identify how you'll use the desk – Are you only doing computer work? Do you have a lot of files and paperwork? Do you need a desk for both? These are all questions you have to consider when looking for a desk. You want to make sure you are purchasing a desk with enough space for you to do that work you do, as well as storage you'll need.
Is it just you? – Are you going to be working in a communal work space? More than one person in the room? You may want to consider smaller desks to incorporate into the room.
What size is your room? – Do you have space constraints? What shape of desk would work best in your office? Make sure to take all of this into consideration when purchasing a desk.
Don't forget about ergonomics! – Legroom, arm comfort, and work zones. Make sure you know what is productive and comfortable for you. Are your monitors arranged correctly? Is there enough space under your desk for your legs? All of these are important things to take into consideration.
Having space on and around a desk can also reduce stress caused by unnecessary clutter which facilitates creativity and efficiency.
At any budget!
Organizing your office space for filing and storage systems, regardless of the size, can be overwhelming not only in a project sense, but financially. You shouldn't have to forgo quality desks in your space if you are on a budget. Looking for cheap office furniture to fit your budget? You don't have to buy new office desks, outfit your office with pre-owned storage solutions – keeping the same quality, but saving the money. Second hand furniture in Kansas City is an option for you.
We'll help you out!
Now that you've heard all about Santa Fe and what they have to offer, come check out their style and diverse inventory in person. Visit Santa Fe Office Interiors' 9,000 sq. ft. showroom to see the various price points and stock for yourself in Overland Park, Kansas. Santa Fe Office Interiors has a team of professionals ready to help choose the best furniture and office storage solutions for your space. Reach out to our team at 913-901-8800 or stop in the showroom Monday through Friday 10:00 a.m. to 4:00 p.m., or by appointment. We are located at 8106 Santa Fe Drive, Overland Park, Kansas 66204.
Find out the types of desks stocked at Santa Fe Office Interiors below:
Express: Express has a wide variety of desks and storage solutions which is stocked in Kansas City, which means getting furniture quickly for your business. Their desks are modular enabling custom designs and custom layout configurations to fit any interior commercial or industrial space. Additionally, we offer Express furniture at discounted rates depending on volume of furniture ordered.
Lorell: Lorell provides quality, function, and style at an affordable rate for businesses looking to design or redesign their office workspace. And because quality of products matter, Lorell tests and certifies their products to meet or exceed ANSI/BIFMA standards while backing them with a warranty.
ConSet: Looking for a spin on the traditional desk option? ConSet offers adjustable height desks allowing a solution for people who look to change their working position regularly. An adjustable desk can not only help prevent back problems, but it can also be helpful for users with wheelchairs, or those who are looking for a standing desk solution.
Cherryman: At Cherryman, they produce a variety of furnishings capable of addressing needs in a single office or a large corporate headquarters.
Think Global: Think Global stocks their warehouses with products and offers a quick shipping program should your business be under a tight redesign deadline. Their eO+ modular panel and desk system is used from customized individual workstations to team areas. Their ergonomic-forward systems provide space and comfort.
Harmony Collection: With the Harmony Collection, atmosphere is everything in order to enhance productivity and creativity. From beauty to quality to functionality, this collection understands the balance between an overly stimulating office environment and an overly isolating workspace.